Our annual analysis of chief executive pay in the largest academy chains once again reveals a huge disparity in the salary of chief executives and the size of their organisations.
For the first time we analysed the pay per pupil, as well as the pay per good or outstanding school.
Sir Dan Moynihan, chief executive of the Harris Federation, topped both our tables. As we have previously revealed, his pay rose from £395,000 in 2015, to £420,000 last year.
That works out at more than £16 for each pupil and is nearly four times as much as the £4.32 per pupil paid to Jon Coles, chief executive of the United Learning Trust.
Unions have claimed that academy reforms – such as pay deregulation – have resulted in soaring salaries that drive "massive disparities".
Pay rises across the chief executives in the top ten chains totalled nearly £90,000 – with three receiving increases of at least £20,000 in the past 12 months.
Two other trusts, however, cut their chief executive wage after recruiting new bosses. The Greenwood Academies Trust, for example, saved £35,000.
Teachers' pay scales inched up by 1 per cent again this year.
Pay rises driving disparities
The salary of Toby Salt, chief executive of Ormiston Academies Trust, rose £25,000 from £180,000 in 2015, to £205,000 last year – up 14 per cent – and was awarded on top of a £30,000 pay rise in the previous year.
A trust spokesperson praised Salt's performance, adding Ormiston had "never shied away from taking on some of the toughest challenges in education". Ormiston has taken over two new schools since 2015.
Meanwhile at the David Ross Education Trust (DRET), chief executive Wendy Marshall was awarded a £20,000 pay rise (13 per cent) from £150,000 in 2015 to £170,000 last year. The trust did not take on any new schools during those years.
Marshall is now paid more than £14 for each pupil, second only to Moynihan. DRET said it did not comment on individuals' pay.
Highest paid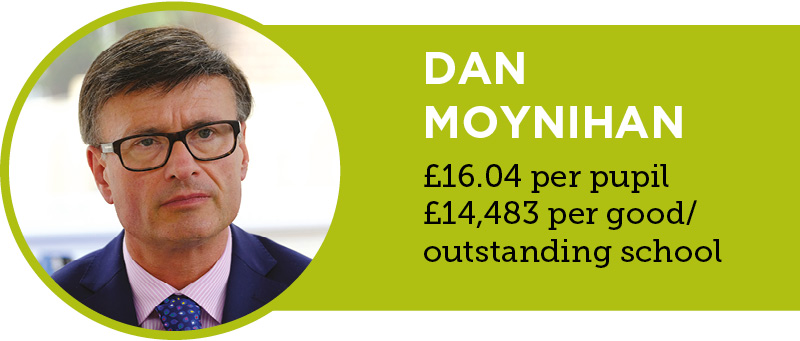 Biggest % pay rise

Lowest per good school

Lowest per pupil

The cost of outstanding schools
Our second analysis found Moynihan is paid £14,483 for each good or outstanding school, compared with just £5,244 for Ian Comfort, the former chief executive of Academies Enterprise Trust.
A spokesperson for Harris said the trust's board "recognises leadership is among the key drivers of our success, so leaders throughout our federation are rewarded for their contribution".
Moynihan has pushed REAch2 academy trust boss Sir Steve Lancashire from his top spot in our tables last year. His pay per good school dropped from nearly £25,000 to £13,000.
It follows REAch having another eight good or better inspections from 2015 – although just under half of its 55 schools are still to be inspected.
How does pay compare to other charitable sectors?
An analysis of chief executive pay at the largest 100 charities, published by Third Sector trade magazine in 2015, found healthcare charities topped the tables with salaries of up to £850,000.
The average pay across the top 100 charities was about £210,000, which is slightly above the £195,250 average pay for the 12 largest academy trusts.
Charities running independent schools also featured in the analysis. Accounts from 2015 show the highest earner at Eton College was paid at least £230,000.
The report found the overall income of charities had "little bearing" on chief executive pay.
High pay for few schools
As Schools Week revealed in February, a growing number of academy bosses are now paid more than £200,000 a year for running just a handful of schools.
John Tomasevic, who heads the four-school Torch Academy Gateway Trust, was paid at least £260,000 in 2016 – which would make him the second best-paid chief in our tables.
It's also not just academy bosses that are well paid. Sir Craig Tunstall, executive headteacher of the Gipsy Hill federation of eight local-authority maintained primaries in south London, was paid more than £330,000 in 2015.
Concerns over trustees' salary setting
Vicky Browning, from the charity chief executive leader membership body ACEVO, said any "insistence on lower pay at any cost" would result in migration to the private sector. "This would leave not only charities, but our communities worse off."
However, the National Governance Association (NGA) has lobbied the government to publish benchmark salary figures to help governing boards to set pay.
The government has not done so, but said such information was available to trusts when requested.
The NGA has urged governors to have "courageous conversations" that sometimes "should involve saying no" in pay discussions.
Lord Nash, academies minister, also wrote to chairs in October to stress the importance of establishing and monitoring policies for executive salaries so "that you and your trustees would be confident to expose them to public scrutiny".
Academy Trust CEO Pay Per Pupil

Academy Trust CEO Pay Per Good or Outstanding School