The passing of the Chartered College's patron punctuates a challenging year for the profession but the Duke of Edinburgh's support for teachers should continue to drive us forward, writes Alison Peacock
In 2017, the Duke of Edinburgh relinquished his patronage of many organisations. We were delighted that the Chartered College of Teaching was not one of them. In fact, for the past four years, he has continued to actively support the organisation and, by extension, the teaching profession which he held in great respect.
It's only a few months ago, for example, that he replied to us with a Christmas message of thanks to teachers for their work in the face of the pandemic. Echoing the gratitude of pupils, families and communities for teachers' selfless public service, he wrote: "I commend all teachers and school staff for your professional and resolute commitment throughout the past year to teaching our children and young people in the most challenging circumstances."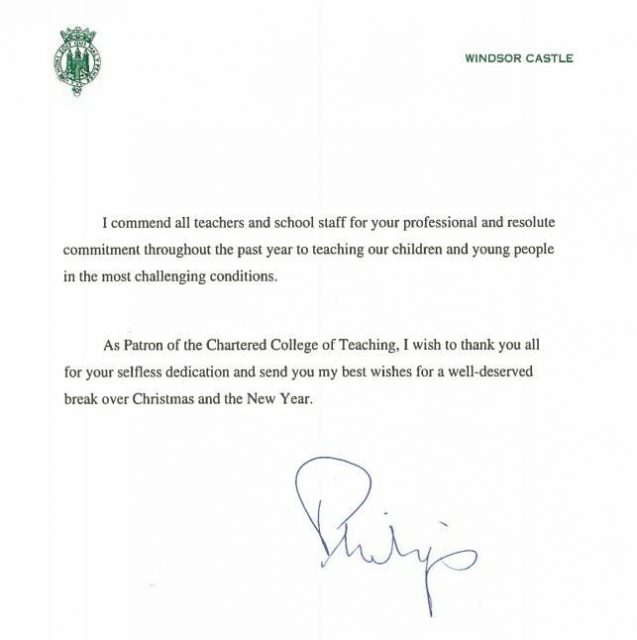 I first met the Duke when the Chartered College received its supplementary Royal Charter, supporting its refreshed role as teaching's professional body. Together with Angela MacFarlane (CEO of the previous College of Teachers), I visited him in his private study at Buckingham Palace. We discussed the challenges ahead as our newly formed organisation began its work to raise the status of the profession.
His comments were as informed and astute as his public image would lead you to expect, and he was as humourous as the countless tributes to him written over the past ten days make out. When I was invited to a small luncheon party at the palace the following year, he warmly greeted me as Patron and pretended to the assembled group that he was my 'Godfather'.
He pretended to the assembled group that he was my 'Godfather'
Needless to say, I was nervous as I sat next to him and opposite Her Majesty the Queen for lunch. But he was very skilled at putting people at their ease and his interest in education, his passion for his Duke of Edinburgh awards and his love of outdoor pursuits made for easy and enthralling conversation.
We talked about his early experiences of school at Gordonstoun. He reminisced with evident joy about those memorable occasions when his masters would suggest the boys abandon the classroom for an adventure in the hills. I countered with stories of developing a forest school and building a Celtic hut on the grounds of Wroxham Primary where I was headteacher. I recall plenty of laughter and a shared delight in the importance of education that builds respect for and love of the natural environment.
The Chartered College continued to keep in touch with our Patron, regularly sending him copies of our journal, Impact, and also updating him on our progress to support the fantastic work of our teachers.  He responded with a message of congratulations for the Founding Fellows of the College in recognition of their contribution to the profession.
Following our independence from government funding in 2020, there hasn't been much time to celebrate. We have focused on supporting teachers and all those working in our early years settings, schools, special provision and colleges through the pandemic. And today, we mark the passing of a great patron to our profession.
But on a personal level, I shall always be grateful for the wonderful opportunity I had to meet and laugh with such a dedicated, feisty member of the Royal family. The Duke of Edinburgh gave me the courage I needed to ensure our professional body would begin to thrive.  He recognised the challenges I faced as Chief Executive and in doing so inspired me still further.
And professionally, we are lucky to have had a patron so keen to celebrate the work of our teachers, who recognised their immense dedication to their students and deeply valued their work to change lives every single day.