The proportion of top A-level grades handed to students in England has increased by 2.4 per cent this year.
But headteachers have already warned of volatility among results at school and student level, after it was revealed that 39.1 per cent of centre-assessment grades were downgraded during the standardisation process.
The exams regulator Ofqual has reported that 27.6 per cent of grades issued to pupils in England were As and A*s this year, up from 25.2 per cent in 2019. The proportion of A* grades, the highest available, also increased from 7.7 per cent to 8.9 per cent.
The Joint Council for Qualifications, which represents exam boards, today claimed that standards "have been maintained" despite disruption.
But Geoff Barton, general secretary of the ASCL school leadership union, said he was "very concerned" the overall rise in top grades "disguises a great deal of volatility among the results at school and student level", and has called for a government review.
"We have received heartbreaking feedback from school leaders about grades being pulled down in a way that they feel to be utterly unfair and unfathomable," he said. "They are extremely concerned about the detrimental impact on their students."
The Sixth Form Colleges Association has also flagged concerns, after almost half of principals reported that their calculated grades were "much lower" than what they had submitted to exam boards, and more than a third reported that calculated grades bear "little or no resemblance" to performance in previous years.
Today's data shows a substantial proportion of grades – 39.1 per cent – were adjusted down by exam boards during the standardisation of centre-assessment grades provided by schools.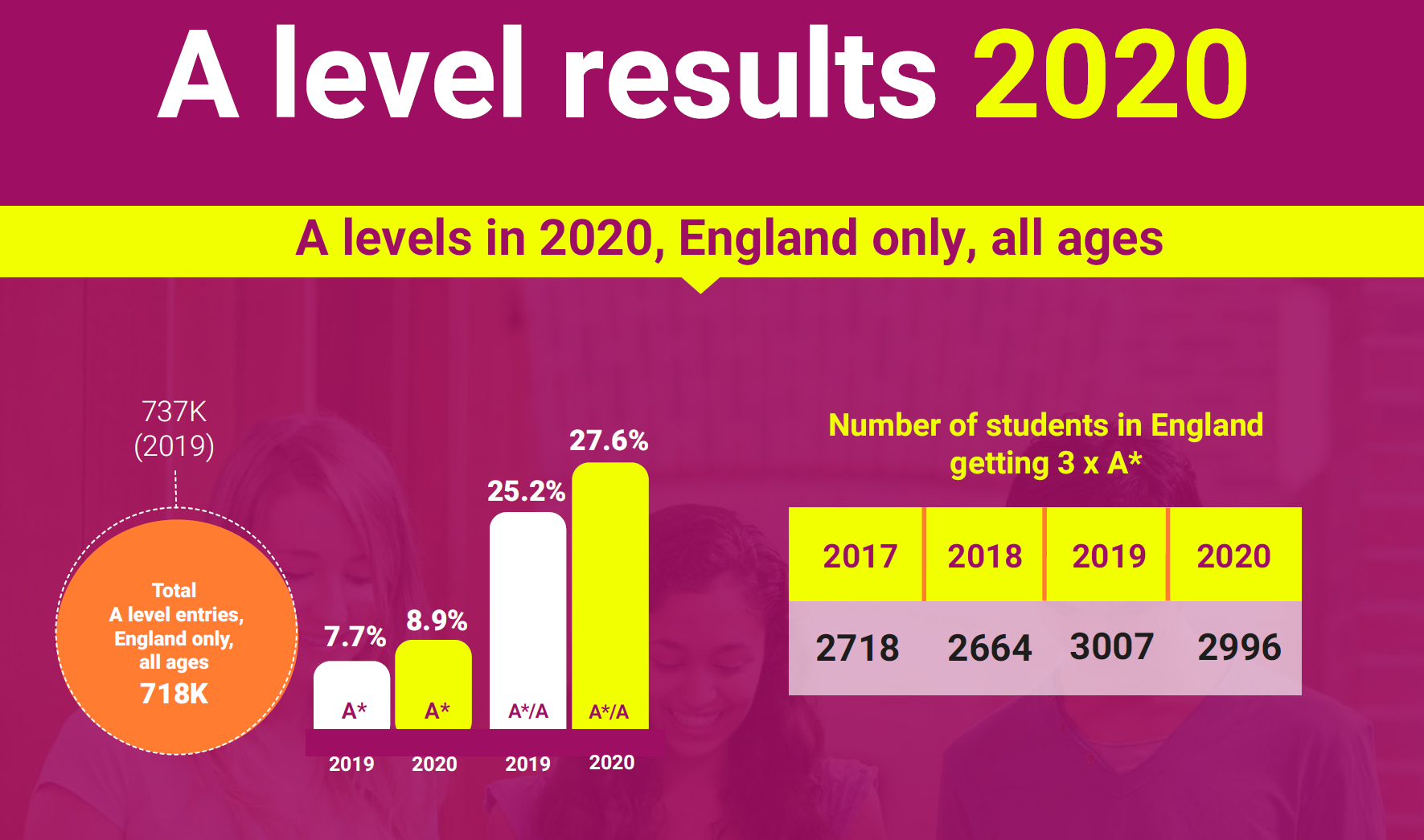 Following the cancellation of exams due to the coronavirus outbreak, schools were asked to provide centre-assessment grades to exam boards, which then standardised them to prevent grade inflation.
According to Ofqual, 35.6 per cent of grades were adjusted down by one grade, 3.3 per cent were adjusted down by two grades and 0.2 per cent were adjusted down by three grades.
Some grades were also raised during the standardisation process: 2.2 per cent were increased by one grade, 0.05 per cent by two grades and 0.01 per cent by three. But the majority of calculated grades, 58.7 per cent, remained the same as centre-assessment grades.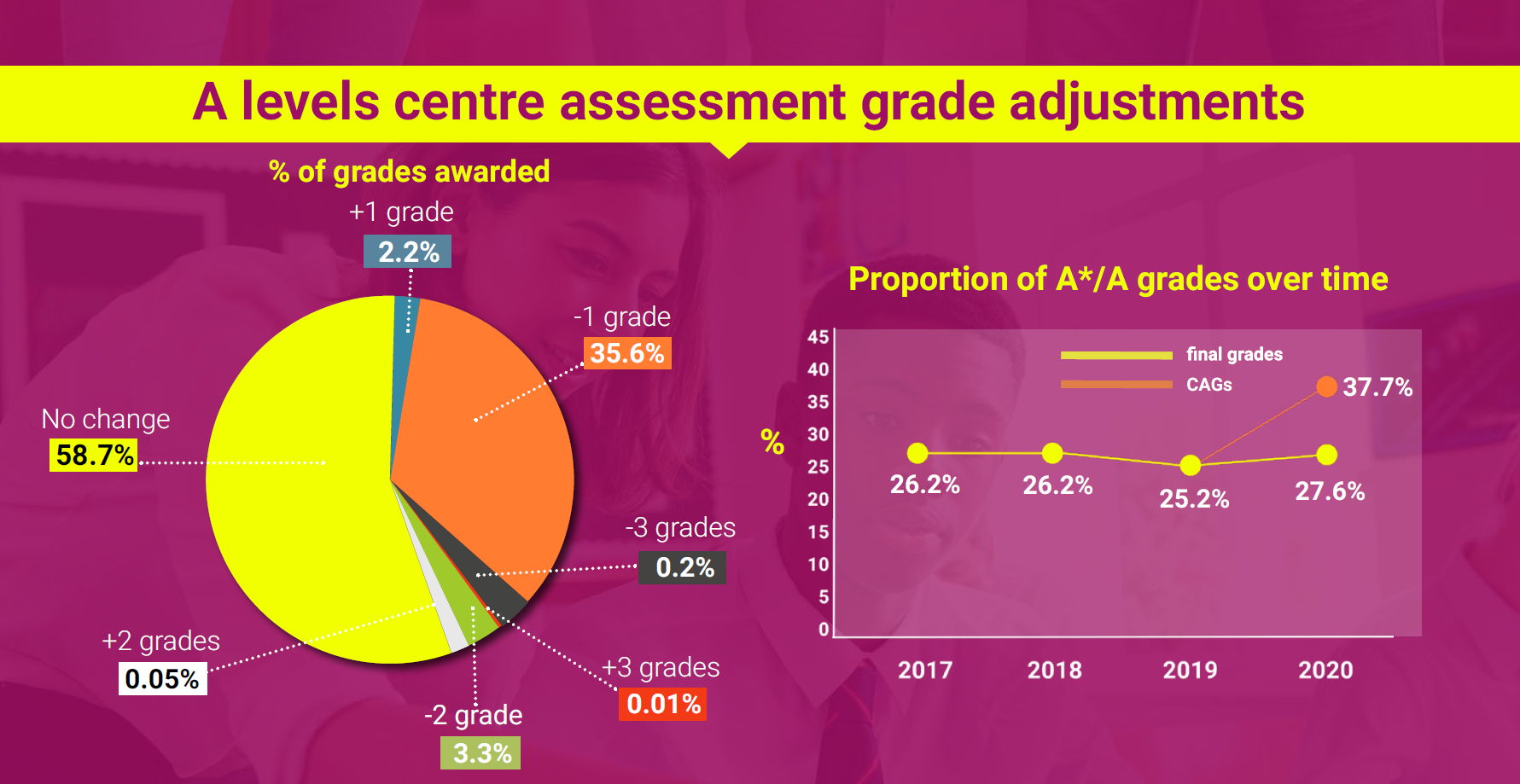 Schools are preparing for a spike in requests for appeals from pupils, especially those whose grades have been marked down via standardisation. Students can also sit alternative exams in the autumn.
Ofqual said today that had the standardisation process not gone ahead, the proportion of A and A* grades this year would have risen to 37.7 per cent.
The regulator said today that centre-assessment grades had been "optimistic", and without moderation would have "likely" led to overall national results that were "implausibly high".
Ofqual will today publish a technical report with further details of the standardisation model, along with interactive analysis of A-level outcomes in England.
Dr Philip Wright, director general of the JCQ, said: "Students across the UK receiving their A-level results today should be proud of their grades, which reflect their hard work and commitment over the previous two years.
"Thank you to all the teachers, senior leaders and exams officers whose efforts to produce the centre assessment grades will mean students are able to move on to the next phase of their education or into employment."
"This is a moment for students to celebrate their learning and we wish them all the best as they take their next steps in life."
Top A-level grades over the years
% of A* and A grades in England, 2007 to 2020
2020: 27.6%
2019: 25.2%
2018: 26.2%
2017: 26.2%
2016: 25.8%
2015: 25.9%
2014: 26.1%
2013: 26.3%
2012: 26.5%
2011: 26.8%
2010: 26.8%
2009: 26.5%
2008: 25.6%
2007: 25%
(Figures before 2010 do not include A* grade)