Schools will have to train staff in up to seven different roles and get government sign-off on dealings with the press under plans for a mass Covid testing regime due to be launched next year.
The Department for Education announced today that rapid-result lateral flow tests would be sent to all secondary schools and colleges from January.
Under the regime, staff will be tested weekly and pupils and staff identified as close contacts of confirmed cases will be tested daily for seven days, enabling them to stay in school.
But a handbook by NHS Test and Trace circulated to schools, obtained by Schools Week, has revealed the extent of schools' responsibilities for overseeing the rollout.
Here's what we learned.
1. Seven roles schools should consider
Schools "will need to consider" designating as many as seven different roles, though the handbook states one person can have more than one role.
These include a quality lead/team leader, test assistant, processor, covid-19 coordinator, registration assistant, results recorder and a cleaner.
They give an example "workforce model", but said this would depend on a school's space, how many people are involved in the process and how many tests need to be carried out.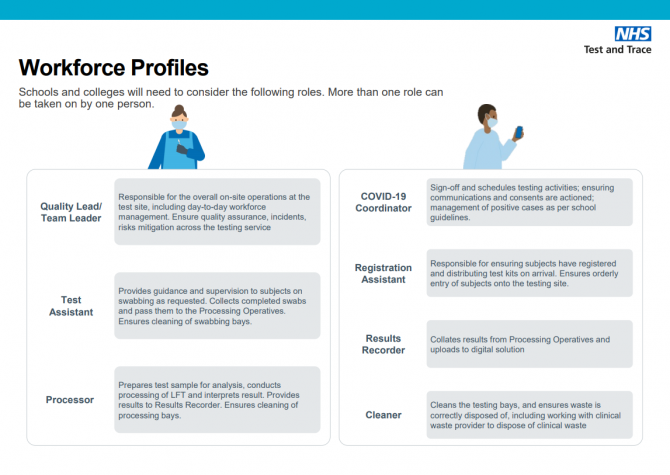 In the example given, a school aiming to test 100 people in a day would have nine staff assigned, while a school aiming to test 30 would need five. This is based on 11 to 13 tests being carried out per bay per hour.
2. Sign-off needed before dealing with press
The document says that schools' support for the delivery of communication activity is "welcomed and encouraged".
However, schools have been told they have to let the Department for Health and Social Care mass testing communications team know if they would like to "invite media, distribute press releases or conduct photography and filming on-site for external communications purposes".
They are also required to give a minimum of seven days' notice for "media communication about, including press notices or media visits".
3. Schools need to set up a 'testing site'
These can be set up in spaces of "varying sizes" provided they meet some "key layout requirements", the handbook says.
Requirements include "non-porous" flooring, the site being well lit and having good airflow.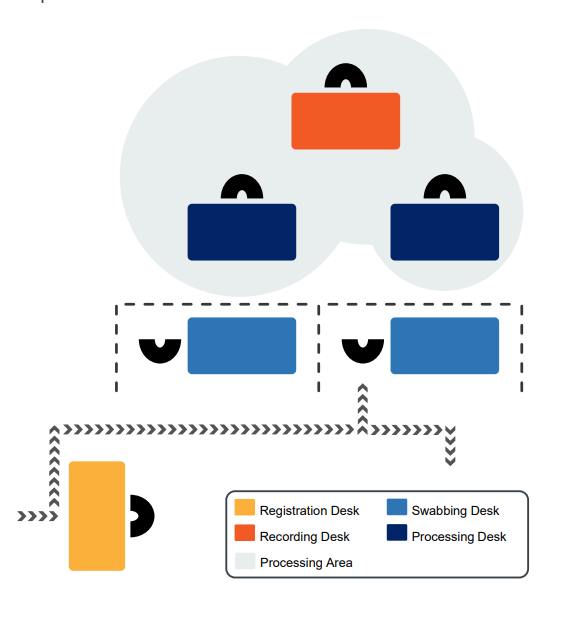 An example map shows the registration desk as the first point where someone would enter for a test, with a one-way direction of travel in place.
It says if a one way system is not possible, then enough room should be left for them to exit the room while social distancing.
Chairs for testing people on should be a minimum of two metres apart and each swabbing desk should have a processing desk no more than one metre away. A recording desk should be nearby.
Those being tested should not enter the processing area.
4. 'Positive' communication about testing 'essential'
Under a section labelled "social media guidance", the document reads that "consistent, accurate and positive communication about testing activity is essential".
They want to see "proactive public social media using agreed materials" and schools are encouraged to "monitor your existing social media channels, parents forums etc. and provide any feedback".
It is also advised to communicate "with parents and staff directly via existing school/college communication channels e.g. letters/emails home using the templates provided".
4. Schools can hire more staff
The document says that reasonable costs for additional workforce will be reimbursed.
It adds that a school may want to hire temporary staff, such as agency and contract workers, or draw on volunteers such as parents, retired teachers, Red Cross, St John Ambulance and community organisations.
School nurses can also be used, or schools can use existing staff.
5. There are up to four stages of training
Training for administering the tests starts with a 10 to 15 minute video on the testing process end-to-end. The next stage is an online information sheet about the roles and responsibilities.
The third part, labelled as key training, includes online training modules that are relevant to a specified role and a "short" assessment. It can last between 30 minutes and two hours, depending on the role.
Fourth is an onsite practice, where those involved complete a run-through of swabbing and processing procedure in a group on the first day of testing. This is expected to last 30 minutes.
The document confirms that all the testing kits, materials and training materials schools will need will be provided at no cost.
"There will be daily introductory webinars that you can sign up for. These will also be available online, in case you cannot make any of the live sessions.
"At the start of next term, many more training sessions will be available for you and your teams to attend."
6. Schools responsible for obtaining consent
As participation is voluntary, "active consent" is needed by staff, pupils or parents/legal guardians for the weekly testing and for the serial seven-day testing.
As part of the serial programme, part of the consent should include "providing their confirmatory test results to the school", the document adds.
"Each school is responsible for taking and tracking consent for participation, and communicating the purpose of the testing to develop an understanding of the service amongst the participants and wider community stakeholders."
If a staff member tests negative, they will not be informed of the test result.
7. Lateral flow tests 'work'
Concerns have been raised about the tests after research found that they can miss Covid-19 cases.
In its handbook for schools, the government accepted the tests have a lower sensitivity, but said they were "better at picking up cases when a person has a higher viral load. Hence the need to test frequently".
The government added that "in validation studies conducted by Oxford University and Public Health England, they were shown to be as accurate in identifying a case as a PCR test (99.8% specificity)."