£53 million will be made available to help multi-academy trusts (MATs) take on more schools, but the cash is supposedly reserved for trusts with "a proven record" of turning around underperforming schools.
But the Department for Education's own guidance suggests school standards will not be taken into consideration when the grants are handed out, and many in the sector are concerned it will incentivise trusts to expand beyond their means.
The fund was first called "the regional academy growth fund" but has now been renamed "the MAT development and improvement fund". It will focus on 108 areas of the country that have been identified as having "low education standards" and "weak capacity to improve".
Even though the pot has almost doubled in size this year – £30 million was handed out last time – the government said it would be more discerning in its allocations in 2017-18.
Sir Theodore Agnew, the new academies minister, claimed the fund will help "get the methods that we know are having an impact into the areas that need them most".
Giving every child access to the best possible education regardless of circumstance is crucial to driving social mobility
"Giving every child access to the best possible education regardless of circumstance is crucial to driving social mobility and ensuring there is no limit on anyone's potential," he said. "I am clear the most effective way to do this is by using the expertise and talent that exists in our school system."
In a statement released on Saturday, the government said that only MATs which have a "proven record of working with underperforming schools to improve performance" could apply.
But this is contradicted in the guidance, which states that trusts should be assessed on their plans for school turnaround and other factors like value of money and sustainability, but not specifically on their "track record" of school improvement.
In fact, even new trusts awaiting approvals and sponsorship will be eligible to apply for the funding, as long as they plan to take on two schools in the next 12 months.
Dr Mary Bousted, the joint general secretary of the National Education Union, warned that trusts are "effectively being incentivised" to take on schools which they may not be able to support.
"The criteria for accessing this fund appears to be based on trusts' own assessments of their capacity for school improvement, rather than an objective assessment of hard evidence that they have actually improved any schools' performance," she said.
Bousted believes it is a "real concern" that the government seemed unable to learn from the "failures" of the academies programme. She pointed to the recent case of the Wakefield City Academies Trust, which announced last month it would give up all its schools.
"At the start of this term, WCAT walked away from 21 schools, finally recognising that it did not have the capacity to improve them. Yet the DfE is allowing academy trusts with no track record of improving schools access to public funding for this purpose. It is reckless to say the very least."
As in previous years, most of the grants will be worth between £50,000 and £100,000, which, given the increase in the size of the overall pot, means the total handed out is likely to increase.
Angela Rayner, the shadow education secretary, has accused the government of "throwing millions of pounds of taxpayers' money at ideologically motivated vanity projects".
"Ministers said that they want to promote MATs with a track record of success, but this is not in their guidance and they're offering money to new trusts which don't even have any schools to begin with," she said.
"With hundreds more grants offered this year, it looks like the government is bribing academy chains to aggressively expand regardless of the evidence."
In 2016-17, 350 grants were handed out to academy trusts under the old regional academy growth fund. Of those, 55 were for amounts over £100,000. Two trusts, the TBAP Trust and Wellspring Academy Trust, received grants of £300,000 or more.
Growth-funding councils bite back at standards claims
Councils in areas picked out for multi-academy trust growth-funding have hit back at claims they have "low education standards" and "weak capacity to improve".
The government says the 108 areas targeted by the new MAT development and improvement fund have been picked due to concerns over education standards and their capacity to improve schools.
However, analysis by Schools Week has found that in several of the areas selected, more than nine in 10 schools are already rated 'good' or 'outstanding', prompting questions about why these areas made the list.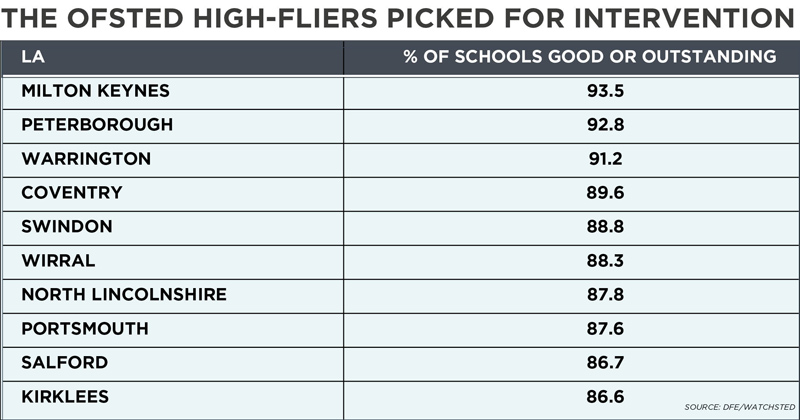 Milton Keynes, for example, has been included even though 93.5 per cent of its schools are 'good' and 'outstanding'. Warrington is also on the list, with 91.2 per cent of its schools rated the same.
Jean Carter, Labour's executive board member for children and families on Warrington council, said it was "patronising" to say the area had low standards and poor capacity for improvement.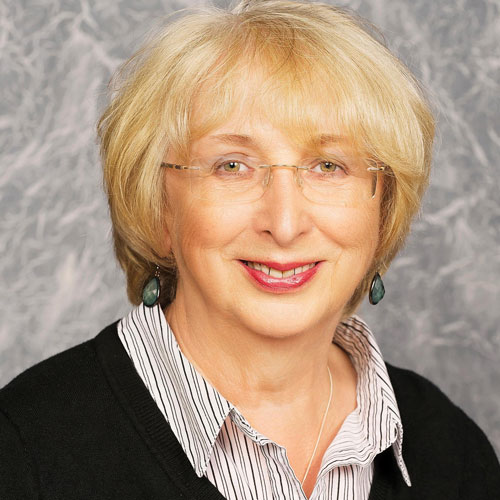 "That's not the case," she told Schools Week. "Things have been improving and we have had some good officers working on this."
She also questioned the appetite for academy conversions in the area after recent discussions about the council forming its own MAT.
"We did discuss it, but the headteachers aren't interested," she said. "I don't think it will come off, and I would prefer that it didn't."
However, she does not oppose moves to give more cash to academy chains.
"If it can improve the quality of teaching of children in Warrington, I have no objection," she said.
The list also includes the Conservative-controlled East Riding of Yorkshire, where 83.1 per cent of schools are 'good' or 'outstanding'.
Julie Abraham, the cabinet member responsible for schools in the East Riding, also disagrees with the government's view of education standards in her area.
A Conservative, she was not told about the grant programme, and pointed out the proportion of pupils in 'good' or 'outstanding' schools had risen in recent years, from a low of 52 per cent.
"As far as I'm concerned, in virtually every measure, from early-years right up to A-level, we have a steady trend in an upward direction," she told Schools Week.
"We have a low number of academies. Something like 12 per cent of our schools are academies, so it's possible it has something to do with that."
Abraham said it would be left up to individual schools to decide whether they wanted to convert.
"If they want to academise, then we want it to be organic growth. We don't want it to be forced on them. And we would want local solutions."
The Department for Education would not comment further on the metrics used to select the targeted areas.
Save