Ofqual has today published figures revealing the number of entries into summer GCSE and A-level exams this year.
The figures showed the overall entries to GCSEs had risen by three per cent from 2016 – suggesting that either more young people are taking exams, or they are taking more exams each this summer.
Schools Week has rounded up the key findings:
1. Take-up of creative subjects IS being squeezed …
The report showed that entries in every single non-EBacc subjects declined in 2017, most notably in humanities, leisure and tourism (which Ofqual said are all being discontinued under reforms) and statistics.
There has been lots of concern that the EBacc is discouraging pupils from taking creative subjects – something that schools minister Nick Gibb previously vehemently denied.
But today's release does show a considerable drop in those subjects. Entry to drama dropped by 10 per cent, performing arts down by 21 per cent, and music eight per cent.
Entries to art and design – another subject constantly brought up as being squeezed – also dropped by five per cent.
And don't forget, these drops come as the overall number of entries to GCSEs this year rose by three per cent.
Ofqual stated in its report that the figures show schools are "focusing more on the delivery of EBacc subjects".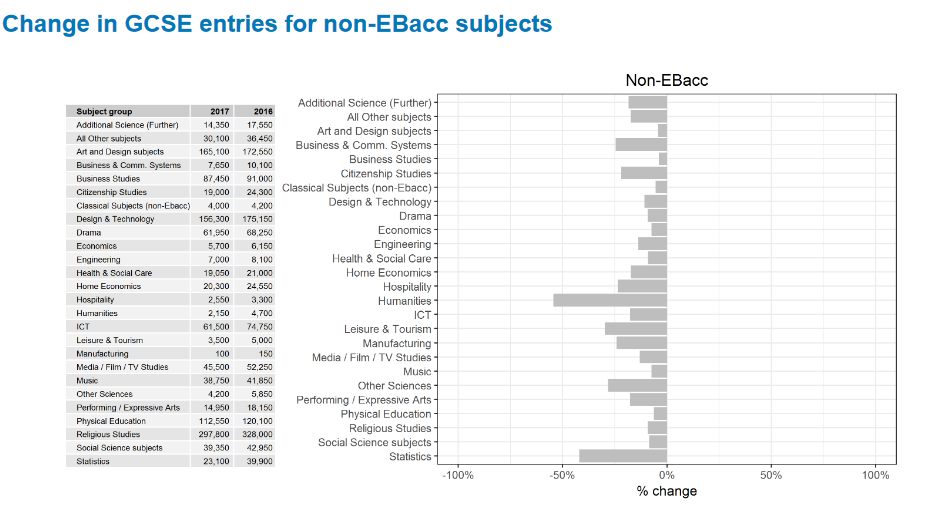 2. … but could Progress 8 actually be driving the changes?
Entries for history and languages (EBacc subjects) have fallen, as has science.
History was only down marginally, by one per cent. But entries to German dropped by 12 per cent, French down by 10 per cent, and Spanish three per cent.
This suggests the changes are being driven by other forces than the EBacc – most probably Progress 8, which is now the main headline measure for schools. Under Progress 8, pupils do not need to take all the EBacc subjects in order to fulfil the requirements. It could be that languages are therefore being dropped again with the EBacc requirements made up by other subjects.
Science is more complicated so we've explained that in a point below.
3. English entries soar after removal of iGCSEs from league tables
Today's report shows entries to both English language and literature have risen by around 50 per cent (more on that here).
Ofqual stated the rise can be explained by two factors: the removal of iGCSEs from league tables pushing more schools back to the GCSEs, and also how Progress 8 is calculated (English is double weighted if a student has taken both English language and literature, with the highest grade counting).
4. But entries to science drop off as schools await reforms
Entries to science GCSEs have dropped by more than a quarter (26 per cent), the Ofqual figures show.
Interestingly, year 11 entries into science actually increased by 12 per cent. But, the overall entries fell because of a plunge in year 10 students taking the subject (a 99 per cent fall this year compared to 2016).
Ofqual suggested this could be because students are waiting until 2018 for the reformed qualifications.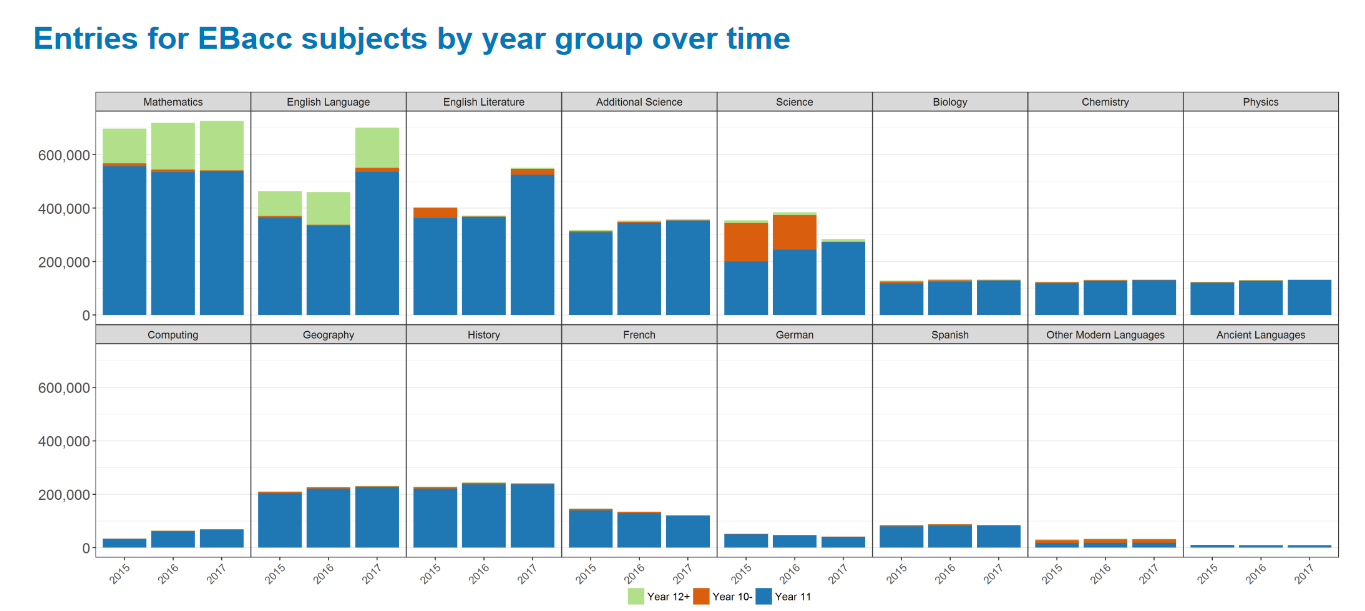 5. AS levels almost halve as government reforms kick in
The number of entries to AS-levels dropped by 42 per cent this year from 2016. This follows the government's reforms to A-levels – meaning new reformed AS subjects no longer count towards a student's final A-level grade.
The fall is much more drastic than the 14 per cent drop last year, which was the first where reformed AS subjects were decoupled (this is probably because there were still some legacy AS-levels around).
As we've previously reported, the AS change has caused huge problems for univeristies. The University of Cambridge, for example, was "forced" to reintroduce entry tests because it could no longer use AS scores to offer places.
Other than further maths (remained stable) and maths (small decrease), entries for all other subjects had "substantial decreases" – particularly engineering, performing arts, and drama.