Gavin Williamson has backed the idea of a teaching apprenticeship for non-graduates, saying that the government should not limit talent.
The new education secretary told Schools Week he believes that there are opportunities within the teaching profession to replicate the success of degree apprenticeship schemes run by firms such as PricewaterhouseCoopers and Rolls Royce.
I don't think we should be limiting opportunity and I don't think we should be limiting talent
It is the first confirmation from a minister in more than two years that an undergraduate apprenticeship route into teaching is still on the cards.
Speaking to this newspaper ahead of next week's Conservative Party conference in Manchester, Williamson acknowledged fears in the sector about the idea of a vocational route into teaching for those without a university degree, but said the government should not be limiting talent.
"I think there has been a nervousness about this approach, because there has been a nervousness about dumbing down the profession," he said.
"Quite simply, that is something that I will never allow to happen.
"But how do we create the routes into teaching? I don't think we should be limiting opportunity and I don't think we should be limiting talent, so I think what I would call a high-quality, degree-equivalent apprenticeship route – and I put a heavy emphasis on degree-equivalent – I think that's something we should always be open to and looking at."
The government began to look at its options for teaching apprenticeships in 2016. The Conservatives pledged in their 2017 election manifesto to develop a route for teaching assistants to "upskill" and become teachers, and former education secretary Justine Greening attracted criticism that year when she said that teaching should cease to be a profession only for university graduates.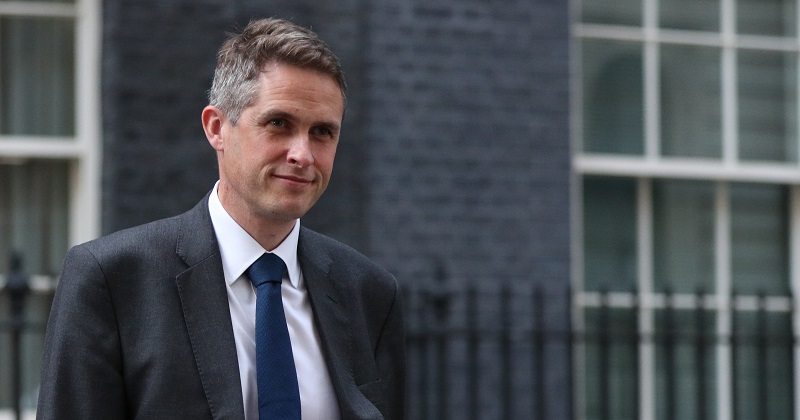 Although a postgraduate route now exists, plans for an undergraduate apprenticeship have stalled over concerns that it would mean teaching was no longer a graduate-only profession.
This year Claire Harnden, the chair of the group formed by the Department for Education to work on teaching apprenticeships, said there was still an appetite from ministers for an undergraduate route, but that concerns over the cost to schools of the route were causing problems.
Williamson, who also holds the ministerial brief for skills at the DfE, praised schemes "pioneered by organisations such as PricewaterhouseCoopers, Jaguar Land Rover and Rolls Royce".
He said: "I think, if they are able to do it at that gold-standard level, if you excuse the pun, at that Rolls-Royce level, I think there is an opportunity to do it here.
"Never, ever will it be to water down the standards that we need and expect from our teachers but I want to give everyone the opportunity to make that amazing difference in the classroom if they have the capability to do so."
Since his appointment in July, Williamson has signalled that teacher recruitment is among his top priorities. He has announced plans to raise teachers' starting salaries to £30,000 by 2022 in order to make the profession more competitive.
But he told Schools Week that he would "never ignore the importance of retention", and said he was "absolutely" committed to implementing the recruitment and retention strategy released by his predecessor Damian Hinds, which had a strong focus on keeping teachers in the profession for longer.
"I think there is so much amazing work that has been done," Williamson said, "but I don't want you to think I'm lazy and that is it done. I actually think quite the reverse.
"This is a start. I want to see us doing so much more in terms of constantly reinforcing the message that we will invest and develop teachers' careers."
LA schools to be offered cost-cutting advice
Cost-cutting consultants will be sent into local authority-maintained schools under plans to expand the advice scheme.
Gavin Williamson, the education secretary, told Schools Week that he wanted the Department for Education's school resource management advisers to be available for "all schools, and that includes local authority [schools]".
The first tranche of money-saving advisers were appointed last year at a cost of £2.3 million. Their job was to assist academies that sought help with their finances and provide "impartial, expert business advice" on how best to use revenue and capital resources.
Despite controversies surrounding the scheme, which came to a head in the spring when Schools Week revealed how advisers had suggested limiting lunch portions and replacing experienced teachers with support staff, ministers announced that the scheme would be expanded.
Williamson has now confirmed that this means schools will be able to ask the advisers for help. "What we're seeing is the largest increase in school spending in a generation," he said, "and what we do want schools to be able to do is to spend that money in the best way possible in order to deliver maximum outcomes for their students and for their staff."
The education secretary said he had not ruled out introducing full Ofsted inspections of multi-academy trusts, something that was resisted by his predecessors. "We want to work with all schools trusts to ensure they are delivering for every one of the schools that are in it," he said. "I would certainly never close off the option of a different approach."