Donations from wealthy sponsors are helping academy trusts to safeguard school trips, breakfast clubs and sports competitions as other schools are forced to axe provision as the funding squeeze bites.
Ark Schools tops the table with its hedge fund sponsors handing over £6.2 million last year, an average of more than £150,000 for each of Ark trust's 35 schools.
The David Ross Education Trust also listed donations of nearly £1 million from its sponsor David Ross, the co-founder of Carphone Warehouse. A fundraising bash raised £121,000 alone.
Parental donations are also rising. The West London Free School Academy Trust, which runs four schools, received £156,320 last year from a charity connected to the school, compared to £41,538 in 2015.
Although it is not clear how much of this was donated specifically from parents, as wealthy individuals and companies also donated to the charity, called West London Free School Foundation Trust.
But school leaders say the donations are creating an uneven playing field, with some schools axing their services to meet an estimated 8 per cent real-terms cut in school funding by 2020.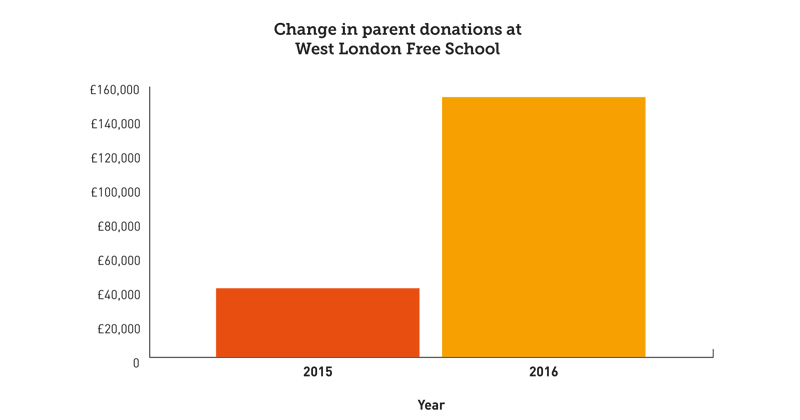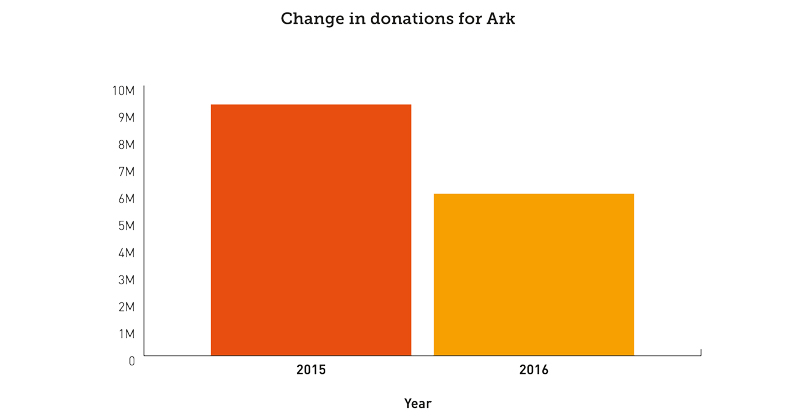 Donations are "driving inequality"
Jon Chaloner, a trust chief executive and founding member of the Headteachers' Roundtable, told Schools Week: "In terms of equality of access to excellent provision, the growth of such funding is driving greater inequality between those who have the 'right' contacts and can raise funds in this way in comparison to those who simply do not."
Ark Schools used the £6.2 million from its sponsors to fund the trust's growth, as well as to pay for its "English mastery" curriculum, bursary schemes, and music opportunities.
Ark is a charity set up to distribute the philanthropic donations of its hedge fund financiers, which include the former Conservative party treasurer Lord Stanley Fink, and Paul Marshall, former non-executive director at the Department for Education.
The David Ross trust uses office space belonging to its sponsor, the David Ross Foundation, without charge. Accounts say this equates to a £110,000 donation.
The foundation made another donation of £680,000, with Ross's donation of £121,000. The funds are used for enrichment activities that include sending pupils to a "space camp" in the US and taking part in the annual Shakespeare Schools Festival in the UK.
Some sponsors scale back donations
Schools Week's "philanthro-philes" investigation last year revealed how tens of millions of pounds are poured into schools from the pockets of multi-millionaires.
But some sponsor donations are falling. Ark Schools received £9.3 million in 2015 – nearly £3 million more than last year.
The trust said it wants to be "entirely financially self-sustainable in the future".
Accounts also show the Inspiration Trust received £37,500 from Publish Interest Foundation, a grant-making charity connected to its founder, Sir Theodore Agnew. In 2015 it donated £100,000.
Agnew also donated £40,000 from personal funds in 2015, but no such transactions took place last year.
A trust spokesperson said the donations vary from year-to-year, and usually support specific initiatives. "We're very grateful for Sir Theodore's support, not only in terms of finance but also in time, advice, and expertise."
The Harris Federation – set up by millionaire CarpetRight founder Lord Harris – received £400,000 in donations in 2015, but didn't list any for 2016. The trust did not respond to a request for comment.
Schools turn to parents
Other trusts use donations from parents to help to fund their enrichment provision.
The West London Free School Academy Trust allows parent across all its schools to set up standing orders. The "level of donations to schools" is also listed as one of the trust's key performance indicators.
Accounts show donations transferred to the trust from the West London Free School Foundation Trust for 2016 surpassed £150,000, nearly quadruple the £41,538 in 2015. Activities funded by the donations include summer productions, additional textbooks and museum trips.
Donations made directly to the foundation last year also rose to £91,149, up from £79,702 in 2015.
Toby Young, trustee of the West London Free School Academy Trust, said the trust makes it "clear that if they [parents] don't make a contribution their children will still have full access to the extra-curricular programmes".
The Holland Park School, in Kensington, west London, was given £125,000 from the Holland Park Schools Trust, an independent charity set up by donors, to fund breakfast clubs and sports clubs that the academy would "otherwise been unable to run".
It's the state's duty to fund schools
Chaloner said that while many schools "crave" such funding boosts, the knock-on effect is that schools and trusts "solely operating on public money do not have the ability to match salaries offered elsewhere".
Malcolm Trobe, interim general secretary of the Association of School and College Leaders, added it was "great people want to donate to schools".
But he warned: "The difficulty is that it's creating an uneven playing field. It always reverts to the bottom line – it's the state's duty to provide sufficient funding for schools to deliver a quality education."
The Department for Education has said the core schools budget has been protected in "real terms since 2010, with school funding at its highest level on record at more than £40 billion in 2016-17".