Hundreds of schools are using apps to employ supply teachers in a bid to cut out crippling recruitment agency fees.
But they should be "cautious" about using the online technology as its lack of face-to-face verification could lead to fake teachers heading into the classroom, say some union leaders.
A Schools Week investigation has found two organisations – Teachers Register and Sick Cover – that have launched supply teacher apps. Their processes have been likened to Uber, the taxi-request service, and Tinder, an online dating service.
Teachers and schools can use their phones to sign up, giving the same details they would to a recruitment agency but without a finder's fee once a teacher is placed.
Two other companies are testing similar technology but are running the matching services through their websites until their apps are ready. Another, Uber Education, operates solely on the web.
Something this flaky is going to attract people who may have other intentions than teaching
Despite launching less than a year ago, take-up of the apps has been rapid, with nearly 12,500 supply teachers and 120 schools using Teachers Register, and 200 supply teachers and 10 schools using Sick Cover, according to the companies.
Both aim to help schools to save hefty recruitment agency fees, which have rocketed in recent years. The annual spend by schools for supply staff reached £1.26 billion in 2014-15, soaring up £190 million from 2012-13.
Previous Schools Week investigations have found "predatory" recruitment agencies blamed for fuelling the teacher recruitment crisis by "hoovering up" job seekers and offering them to struggling schools for tens of thousands of pounds in placement fees.
Creators of the teacher supply apps claim they give schools the ability to save up to 75 per cent on their annual agency spend.
They say that traditional recruitment agencies will, for example, charge schools £200 for a teacher for a day – with only £110 of that going to the teacher. The rest is taken by the agency as a finder's fee.
The apps cut this charge to about £10 a day, although some are free (see page 9 for breakdowns of what each service offers).
Unions, however, say the apps are "clearly open to safeguarding risks" as they do not require candidates to be met in person.
Valentine Mulholland, head of policy at the National Association of Head Teachers, said: "The face-to-face meeting is the crucial point here. If you look at identity fraud it is around the fact that anybody can say 'I am Jane Smith' and they could use the details of someone who is not currently working as a teacher.
"Something this flaky is going to attract people who may have other intentions than teaching."
The apps are "clearly open to safeguarding risks"
She puts the rise of the apps down to school budgets at "breaking point" and an "out of control" teacher recruitment crisis that together have created a "perfect storm" for people to offer cheaper and accessible solutions.
Andrew Morris, head of pay at the National Union of Teachers, said schools were "desperate" for a new way to employ supply teachers that cut out recruitment agency fees. These "Tinder-like apps" could be it, he said, but warned there was a safeguarding risk if procedures were not "done properly and thoroughly enough".
The app creators say their safeguarding checks are robust, with every teacher who signs up "fully vetted" before they are put in contact with schools.
James Fall, founder and chief executive of Sick Cover, told Schools Week his app uses another company called Yoti that verifies candidates through a digital identity system.
"The teacher scans in his or her passport, they then upload a selfie and Yoti uses biometric matching, the same as border control, to check the person is who they say they are," he said.
The apps pride themselves on the speed and ease of their services, with an estimated time of just 10 minutes to register.
Teachers upload a picture of themselves and necessary details from their CV such as their work history, teaching subject and references, as well as evidence of their qualifications. They also state their day rate, which is non-negotiable.
Schools go through a similar sign-up process and once approved they can begin searching for supply teachers.
How do the apps work?
To find a candidate, schools type in the specifications they require; for example, an English teacher for five days from March 5. A list of the closest English supply teachers geographically to the school then pops up on the app and the school can decide which applicant they want to employ, based on their profile.
The chosen teacher is then given a push notification via the app and can begin talks to establish a contract, cutting out the need for a recruitment agent. Once agreed, the teacher heads to the school to begin work.
To get paid, teachers fill out time sheets via the app every week. Once completed the school receives an email and push notification asking them to approve and pay the teacher.
And if a school is really impressed with a teacher and wants to take them on full time, the apps will not charge a placement fee. Recruitment agencies usually charge schools about £10,000 if they want the supply teacher full time.
Conor Powers, communications manager at Teacher Register, said the service creates "less hassle while saving money" for users and helps those teachers who feel "harassed by recruitment consultants".
"The app is a lot less hassle and I'm making more money"
Thousands of supply teachers are signing up to apps to find work because they are "fed up with being taken advantage of by frustrating" recruitment agencies.
Robert Dann, a 32-year-old history supply teacher from Suffolk (pictured), has "reluctantly been forced" to work with recruitment agencies for the past three years because there was "no alternative".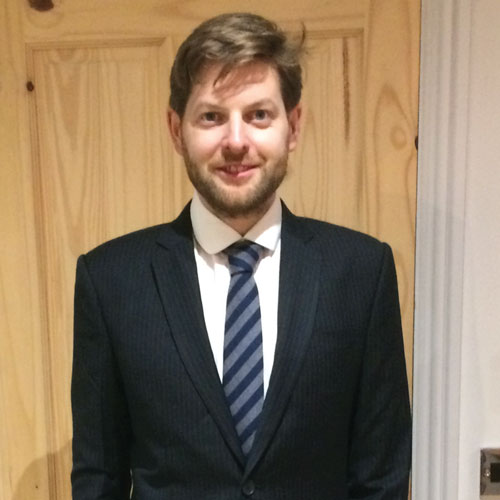 He said he has been frustrated by the agencies taking a 40 per cent finder's fee every time he gets work. He says their high fees are "crippling" education by adding fuel to the teacher recruitment crisis.
Dann stumbled across Teachers Register online in November last year.
Since signing up, he has been able to find work "a lot easier with a lot less hassle" – and is making more money.
"I had to visit some recruitment agencies two or three times, have photos taken, and all the rest," he told Schools Week. "With the app they check it all online and it is done in a flash compared with the agencies.
"Time is money when you're working for yourself so it took all of the hassle away from that. In a couple of hours I was registered and ready to work.
"Since signing up I've found work really smooth and quick. I used to stand by my phone at 6.30am waiting to see if anything came up. Then I'd have to work out where the school was and plan my journey and all the rest of it.
"With the app I instantly see where the school is, how long it will take from my house and I can choose there and then whether to accept the job or not."
Dann, who says the supply teacher apps "are a thing for now", is now in a long-term placement teaching history at a school in South Yorkshire. He has direct communication about his contract and pay with the school, something that he describes as "liberating".
What supply teacher apps are out there?
Teachers Register
Teachers Register launched its app, available on iPhone and android, in August last year and currently has nearly 12,500 supply teachers and 120 schools signed up.
The service is free for a school that books a teacher for five days in a month, but the company charges £199 if a teacher comes in for six to ten days. The price then goes up £100 for every 10 days after that.
Frequent users can pay £2,999 a month for an unlimited package.
The organisation claims to save schools up to 75 per cent on their annual agency spend.
Sick Cover
Sick Cover launched its app in September last year and has about 200 supply teachers and 10 schools using its service. Signing up is free for schools and teachers.
The app is in the early stages, but a spokesperson says that once the no-fee period days is over Sick Cover will charge a school £14 for every day a teacher is placed. He would not say what that no-fee period is.
There is no placement fee if a school wants to take a teacher on full time after coming through Sick Cover.
Teacherise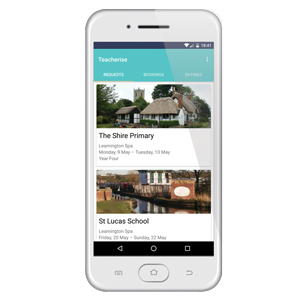 Teacherise is currently trialling a similar app to Teacher Register and Sick Cover around Warwickshire.
Its algorithms allow the organisation to "predict how good the fit" between a certain teacher and a certain class.
Using the same technology as Uber, its app will also use live traffic information to send teachers to schools that are geographically close to their homes.
Teacherise will charge schools £7 a teacher for each day he or she works at a school.
A spokesperson would not disclose how much interest it has generated as it is currently "in talks for getting extra funding".
Uber Education
Launched in July 2016, Uber Education is an online platform that puts teachers and schools in direct contact.
Teachers register with the platform and develop a profile with their subject specialism, relevant experience, fees and availability.
Schools can search for teachers in their area and make a booking direct.
Schools rate the teacher afterwards; these are then available to other schools. Teachers with low ratings are "less likely to receive bookings although they may reduce their rates to generate work", say the platform's creators.
Uber Education is free to sign up to and claims to save about 20 per cent on a school's annual agency spend.
The Supply Register
The Supply Register (TSR), launched in May last year, is an online platform that allows schools and supply teachers to find work directly with each other.
It currently is used by more than 1,000 teachers and more than 100 schools.
Unlike the other platforms, TSR does face-to-face interviews with every candidate before signing off their application.
The service follows a similar process to the other apps and platforms, but if a school cannot find a suitable teacher from its register, local recruitment agencies are automatically contacted to find an alternative.
TSR, which is currently testing an app to work alongside its website, charges a finder's fee of between £6 and £12 a day.