Students from a Nottinghamshire special school have been crowned winners of a national artwork competition judged by fashion consultant and TV presenter Gok Wan (pictured below).
A class of Year 12 pupils from Dawn House School were announced as overall winners of the 2014 Arts and Minds competition, an annual UK-wide contest aimed at promoting race equality and diversity in schools.
Dawn House teaches children and young people with severe or complex communication difficulties.
The awards ceremony at London's St James' Court hotel, organised by teachers' union NASUWT, took place last week during Black History Month.
Competitors were divided into early years, primary, secondary and special school sectors and judged in two categories — art and creative writing.
The winning entry from Dawn House — out of the more than 1,000 that flooded in this year — was a photograph entitled "What's The Problem?", which explored faith in the community.
Thomas Hitchen, one of the winning pupils, said: "We wanted to show it doesn't matter what kind of person you are, what you look like or how you dress because it doesn't change who you are. I feel privileged to win."
Andrew Metcalfe, a teacher at Dawn House, said: "We are amazed to be the overall winner. Our school is big on diversity and difference — and we all celebrate it here. These pupils are really good at photography and I am really glad that has been recognised."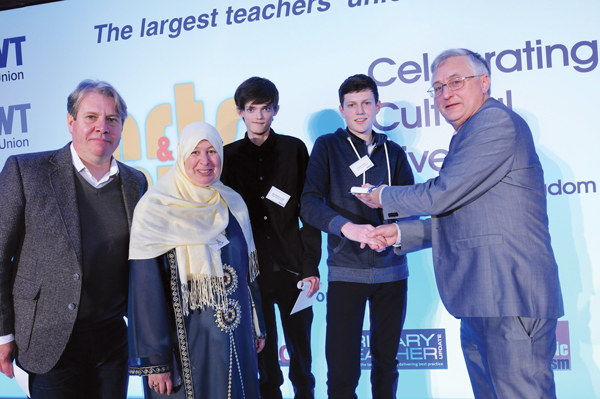 The entry had already been selected from hundreds of entries from across the UK as a winner in the special schools section.
Gok Wan said of the winning entry: "It is striking, I love the relationship between the characters, the proportions, the composition, the line work and the lighting. It is stunning.
"It is really relevant to today. The message behind the picture is about unity, community spirit, forgiveness and acceptance, regardless of where you are in the world. That is why I think it is absolutely beautiful and brilliant."
Chris Keates, general secretary of the NASUWT, said: "The standards of the entries were very high, displaying incredible talent and creativity.
"Huge congratulations to the pupils at Dawn House.
"Their powerful artwork perfectly captures the competition's message of celebrating equality and diversity. The image is clearly designed to challenge prevailing stereotypes about race and gender by pupils who themselves admit to often feeling excluded and isolated."
Dawn House School will receive £1,000 and every winning child across each division will receive a gift voucher.
Main Pic: Dawn House School winning students. From Left: Alex Kendrick-Allen and Thomas Hitchen.