Preparing pupils for the demands of a fast-changing world requires creative thinking – that's something school teachers and policy makers can agree on.
Tomorrow's jobs are going to demand creative problem-solving skills. But nearly three quarters of teachers agree there's not enough problem solving in the classroom.
Now schools can tackle this creativity gap by taking advantage of this leading creative software, thanks to the special education pricing. Primary and secondary schools across the UK can get access to Adobe Creative Cloud for just £5 per pupil a year* – giving students access to a portfolio of industry-standard software, including Photoshop, InDesign and Illustrator.
Adobe Spark and Creative Cloud apps can be seamlessly integrated to teach essential problem-solving skills into any subject, right across the curriculum. With all the inspiration and training you need to support your students.
One school where pupils – and teachers – are already benefitting is Langley Park Girls School in Beckenham, Kent. With a motto of "Unlocking potential through empowerment", it's no surprise to see Langley Park leading the way.
"As a teacher, I feel that if we don't engage with new technologies, we're going to get left behind," said Ted Fox-Joyce, Head of Visual Arts, Langley Park.
With access to Adobe Spark and Adobe Creative Cloud, students at Langley Park are embarking on an invigorating digital journey that takes them through school, to college or university and towards a bright future. Using creative apps provides the opportunity to develop invaluable life-long skills like storytelling and visual communications, whilst developing many other talents that aren't always covered by the general curriculum, like creative problem solving.
And for Generation Z, that's vital, as a survey conducted by Adobe showed. Adobe asked over 2,500 Gen Z students and 1,000+ Gen Z teachers how they feel about learning, creativity and the future. The survey showed students see themselves as team players, more creative than previous generations and passionate about making things better and smarter.
But they feel excited and nervous about the future in equal measure. And both students – and teachers – don't believe they're fully prepared for the "real world".
More than half of schools don't have access to the tools and training they need to nurture vital digital skills. The squeeze on budgets combined with a lack of time, technology and training is keeping teachers from gaining the knowledge they need to pass on.
Adobe apps are all about problem solving. And can help you easily overcome all of these barriers to teaching today.
The great news is, students can use Adobe Spark apps for free, and many schools around the UK have started using Spark to bring lessons to life.
Adobe Spark apps are simple but powerful presentation and storytelling tools that make it easier to kick-start creativity. They are, and always will be, free for schools.
Students love Adobe Spark because they can quickly and easily create and narrate videos, design posters and graphics, or write assignments, all in a visually beautiful way, ready for sharing – in class and online.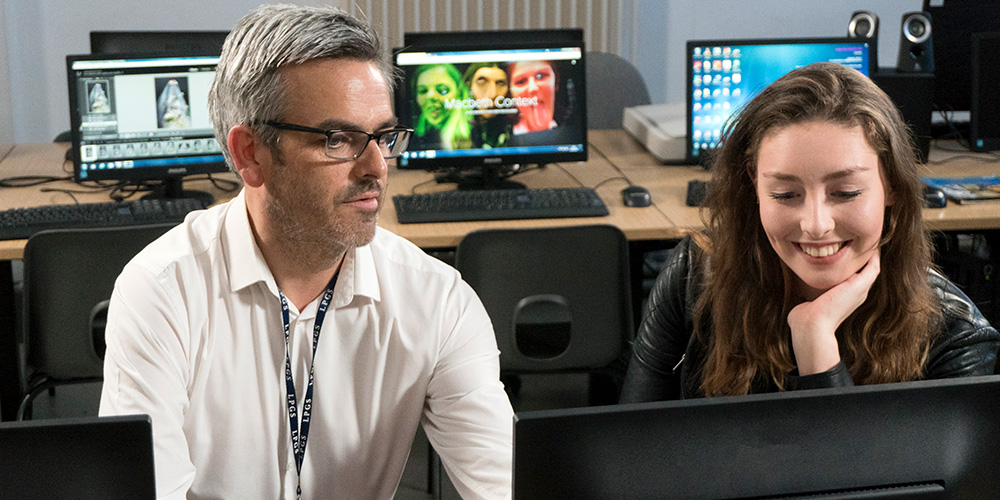 Adobe Spark works anywhere there's a web browser, so there's no need IT departments to worry about access and privacy settings. Adobe Spark offers enhanced data privacy and deployment options consistent with children's privacy laws. And they can be set up with single sign-on access using existing school IDs.
"Adobe Spark is a game changer as far as teaching and learning is concerned," says Greg Hodgson, UK Teacher & Education Consultant.
"Every student I have introduced to these apps has been able to create and share their ideas instantly. I have spent my professional life teaching young people and teachers how to use technology to become better teachers and learners, Adobe Spark is the stand-out classroom tool I know will have immediate impact."
Upgrade to Creative Cloud
Once students have developed their creative and problem-solving skills with Adobe Spark, it's time to get serious – with Creative Cloud's range of industry-standard software.
Creative Cloud gives your students access to a comprehensive set of the world's best creative desktop apps including Adobe Photoshop CC, Illustrator CC, InDesign CC and Premiere Pro CC, so they can create and communicate anything they can imagine. Not only that, but students will also gain invaluable skills that will help set them apart in the job market.
Of course, teachers also need to learn how to use Creative Cloud, and Adobe has a range of free tutorials, lesson plans and more than 10,000 teaching resources available via the Adobe Education Exchange. Tailor-made to help you teach digital media skills in your classroom and boost your own personal development.
Whatever your subject, you'll find inspiration and a wealth of self-paced courses to start from scratch or hone your skills.
"Staff are retraining and teaching themselves how to use these apps to make their lessons more interesting, more engaging and more dynamic for their students," added Fox-Joyce from Langley Park.
Now this special pricing from Adobe especially for education makes Creative Cloud available from just £5 per student, per year (for a minimum of 500 licenses).
That's a small price to pay for a brighter, creative future.
• To find out more about this Named User License offer for students and staff so apps can be used on personal devices, contact Adobe today on 0800 3892 041 or visit the Adobe Website.
* minimum of 500 licenses