A TV presenter has deleted a tweet that supported the government's back-to-school campaign.
Kirsty Gallacher may have flouted advertising rules as she did not acknowledge she had been paid to post her support. 
Schools Week revealed last week ministers were under fire for paying social media influencers, including Gallacher, up to an estimated £15,000 for social media posts promoting the campaign.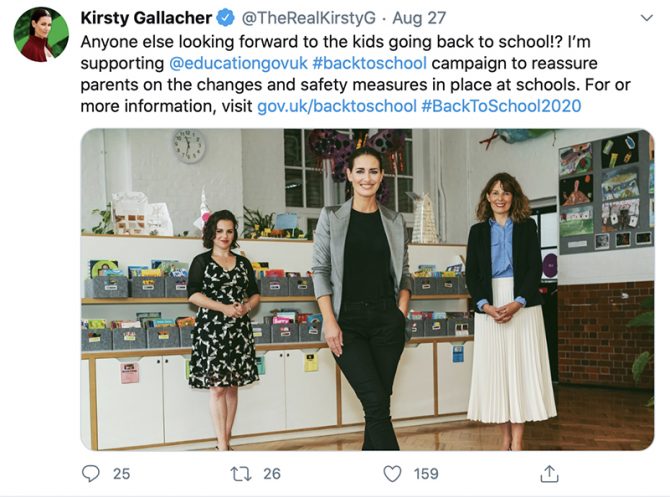 Dr Philippa Kaye, a celebrity GP, apologised after not originally including an ad hashtag in her promotional Instagram post. After being contacted by Schools Week, she amended it to include #ad and #paidcollaboration.
Gallacher tweeted twice and posted once on Instagram about the campaign – but one of the Twitter posts did not contain any reference that it was an advert.
We queried this with her agency last week, but did not receive a response. The tweet (pictured) has since been deleted. 
Tweets cannot be edited once published.
The Advertising Standards Authority (ASA) said that an influencer who worked with a brand to post content on their own channel must clearly label their post as an "ad" if they had been paid, and if the brand had some editorial control over the content. 
While it would not say whether Gallacher's post breached rules, a spokesperson added: "If an influencer did not label a post of this nature as an ad, then they would be in breach of the advertising codes."
The ASA said it had not received any complaints about Gallacher's post, so would not conduct an investigation. 
As of last week, the post had 26 retweets, including one by Gillian Keegan, the skills minister, and 159 likes. 
The tweet, posted on August 27, read: "Anyone else looking forward to the kids going back to school!? I'm supporting @educationgovuk #backtoschool campaign to reassure parents on the changes and safety measures in place at schools. For or more [sic] information, visit gov.uk/backtoschool #backtoschool2020."
Representatives for Gallacher did not respond to a request for comment.
Experts told Schools Week her involvement could cost anywhere from £4,000 to £15,000.
The government said last week that using social media influencers allowed it to "reach a wider audience than using only traditional advertising", but has refused to say how much the posts cost.