Shadow Education Secretary Tristram Hunt has provoked a Twitter backlash after telling a parent to "stop moaning" and "do some work".
Mr Hunt was responding to questions from Twitter user Thomas Mann about Labour's education policy and the lack of detail on the laboureducation website, when the shadow education secretary appeared to lose his temper.
Mr Hunt tweeted "Stop moaning. Read the speeches. Do some work. Your industry will be rewarded."
The tweet was sent at 11.06pm on Sunday, and has since been retweeted more than 90 times. Dozens of people have also responded with criticisms of Mr Hunt and predictions that he will lose his job over the tweet.
Mr Mann, a father-of-two from Lewisham, is in the process of contacting all of the major political parties about their education policies after disagreeing with plans to convert Sedgehill School into an academy.
He told Schools Week he was "amazed" by the response.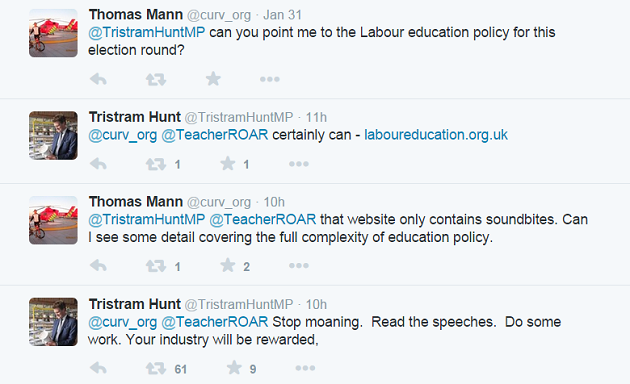 He said: "I have contacted the Greens and Labour so far, and the Greens came back with some detail, and Tristram came back and said 'look at the website'.
"I replied that the website didn't give me the detail I needed and that's when I got the response. I was amazed at how condescending it was.
"I am tired of election day politics, and I am looking for a party that will listen in-between elections. He was essentially irritated about having to supply something useful. He sees the electorate as annoying.
"Most people don't know that speeches are a way that policy gets announced. As most people have been saying on Twitter, teachers don't have time after a 70 hour week to go through speeches. It's not cool for them to have to do his work for him."
It is not known whether the use of the word "industry" is as a result of an assumption that Mr Mann was a teacher, or whether it referred to the suggested act of looking up his speeches.
Mr Mann said: "It has been suggested that he was saying my industry would be rewarded as in if I went away and spent a bit of time looking at it, but I don't know.
"If he did think I was a teacher that's even worse, because what he's saying then is that teachers are lazy and moaners."
Mr Mann said the episode has put him off voting Labour in May.
He said: "I have voted Labour in the past but I won't vote for them now. That doesn't leave me with much. I won't vote Tory because of what their policies are doing at Sedgehill.
"I don't know who I'm going to vote for but the Greens are the only ones which have come back with any detail so far."
Mr Hunt is yet to comment.