The government still faces "some challenges" over its national free school meals voucher system, the education secretary has admitted, despite the scheme now entering its fourth week of operation.
Gavin Williamson appeared in front of the Parliamentary education committee today.
Here's what we learned.
1. 'Big challenges' of FSM voucher scheme
MPs grilled Williamson on the ongoing free school meals voucher fiasco, which has left heads facing long waits to use the online service and families without food.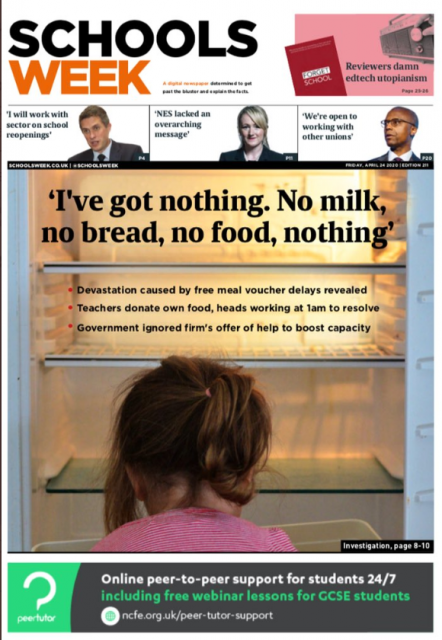 "I readily acknowledge that the level of demand for this has been exceptionally high and we've had some big challenges in terms of being able to provide schools with the level of service that we would have really wanted them to see," the education secretary told MPs.
He admitted that in the first few weeks of the scheme, there was a "slow turnaround in terms of people getting the vouchers out", but that the speed of processing had "increased substantially".
"We still have some challenges in terms of actually schools being able to access as rapidly being able to place those orders, and we're actually doing a lot more work with Edenred to speed that up," he added.
2. Edenred was 'approved supplier'
The education secretary faced questions about the decision to appoint Edenred as its chosen supplier for the voucher scheme.
The company has struggled to keep up with demand.
Williamson said Edenred "was already an approved supplier", and insisted schools had flexibility to buy vouchers from individual supermarkets in their communities.
He also didn't answer questions about why the DfE ignored offers of help from another voucher supplier, Wonde, saying he would write to MPs about the decision-making process.
3. McColl's joins scheme, but no Co-op yet
Williamson said he wanted "as large a range" of supermarkets involved in the scheme as possible, but said the make-up of some firm presented difficulties.
For example, Co-operative Food stores are not all run by the same company, but by regional branches of the Co-operative Society.
"We really want the Co-op to participate in the scheme," Williamson said, adding that convenience store chain McColl's is now "coming onto the scheme".
4. DfE working with BBC on education TV plans
Given that pupils are more likely to have access to a television than a laptop or tablet, chair Robert Halfon asked Williamson if there were any plans to use TVs to disseminate education resources.
"This is something we have been working very closely with the BBC on," the education secretary said.
"If we are in a position where we are able to do more with the BBC and the BBC is able to make more available, we are incredibly keen to do that with them."
5. Ofqual told to look at evidence of 'unconscious bias'
Instead of sitting exams this year, GCSE and A-level pupils will be given grades by their schools based a number of factors.
Labour MP Apsana Begum raised concerns about evidence pointing to "unconsious bias" against certain communities in teacher assessment.
Williamson said this was highlighted as an "area of concern" at the beginning of the process of deciding what to do with exams, and said he had told regulator Ofqual it "had to be conscious" of the evidence on that issue.
"For me, the best form of assessment is an exam. And any other form of assessment is not going to be as good as a proper exam series. But that wasn't an option," he said.
The education secretary also sought to reassure schools and parents that their feedback to Ofqual's consultation on its plans would be "properly listened-to".
6. Ministers 'concerned' about attendance of vulnerable children
Asked about statistics which shows that just 5 per cent of children deemed to be "vulnerable" attended school during the Easter holidays, Williamson admitted government had been "concerned about the number of those children attending schools".
He said social services and schools had done a lot of reaching out to families, and that the attendance figure for those pupils has since doubled.
Asked whether DfE has a "clear picture" of what's happening to vulnerable children not attending school, Williamson says there's work going on by social services "to make sure they're in touch constantly", but added: "We recognise the pressures in this area have grown".
7. SEND review report delayed
Asked about the government's ongoing review of support for pupils with special educational needs and disabilities, Williamson accepted the report would be delayed as a result of the coronavirus crisis.
However, he said the work was "still ongoing".
8. Free laptops scheme could be expanded
Academy trusts and councils are due to hear this week how many free devices they will receive for disadvantaged and vulnerable pupils in their care.
Williamson confirmed today the DfE expects to distribute up to 200,000 devices.
However, MPs are concerned that not all disadvantaged learners are eligible for free kit.
Williamson said the government would be "looking very closely at how this is going to work".
If the scheme works well, "it's something we'd like to look at, is it something that can be expanded".
Asked when free laptops will be rolled out, the education secretary said he expected the first laptops to arrive at end of May, with majority delivered through June.
9. Schools will return in a 'phased manner'
Schools have been closed to all but the most vulnerable pupils and the children of key workers since March 20, and there has been growing speculation over when and how they will fully reopen.
Asked if schools will reopen in stages, Williamson said: "I do expect schools to be opened in a phased manner".
He added: "We recognise the idea of schools returning on day one with a full complement of pupils is not realistic or practical. Government working with sector and learning from other countries, too."
Williamson also confirmed the government is "not planning to run schools through the summer".