Trips to the theatre have been taken off the timetable by schools struggling to balance their budgets, concerned drama teachers and theatre companies have claimed.
Drama teacher associations have today warned that children from low-income families will be excluded from the arts if school trips continue to be sidelined.
It follows a report from arts management magazine Arts Professional last week that found theatre performances and tours for pupils were being axed due to a drop in take-up.
Liam Harris, chairman of the National Association for the Teaching of Drama, told Schools Week that theatre in education (TiC) companies and school budgets are both facing a financial squeeze.
"Schools can no longer afford to take students to high quality, thought-provoking theatre as the sector becomes increasingly commercial."
Mr Harris, an English and drama teacher at London Nautical School, said it was through the "extraordinary" programmes of theatres such as The Young Vic, in London, that school children get to see theatre productions.
But he added: "Unfortunately, the further from the capital you drift, the harder it is to find such programmes.
"What this will lead to is a two-tiered system that says that art is for those who can afford to pay for it, rather than an entitlement for all."
Arts Professional found London's Unicorn Theatre had a six per cent drop in schools visiting last year.
Schools can no longer afford to take students to high quality, thought-provoking theatre as the sector becomes increasingly commercial.
Little Angel Theatre had to cancel shows due to dropping attendance from school groups, while touring theatre companies reportedly said finding work in schools is "harder than ever".
The organisation put this down to the number of drama teachers falling from 11,600 in 2011 to 9,600 last year – despite the overall number of teachers rising.
Holly Barradell, who sits on the executive committee of teaching association National Drama, said teachers in the subject are feeling "increasingly isolated".
"Teachers are telling us that schools aren't in a position to extend budgets to support training for a subject which is continually undermined through government initiatives."
Another concern continually raised is the impact of the English Baccalaureate (EBacc) on arts subjects.
Pupils starting Year 7 in September will be required to study English, maths, science, history or geography and a modern foreign language until they are 16.
Education Secretary Nicky Morgan  (right) has previously been criticised about the non-inclusion of arts subjects.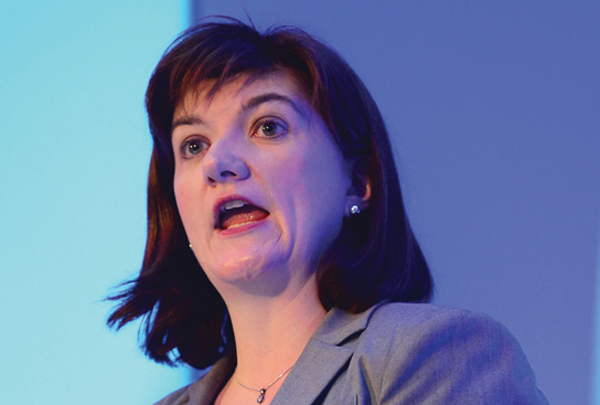 And Hywel Roberts, a former head of drama and now consultant, told Schools Week drama is "vulnerable in schools", adding: "Many students, particularly in secondary, do not get the opportunity to experience live theatre unless they are in a school where theatre is valued by school leaders, purse holders and resilient arts teachers.
"What resonates here is that policies such as compulsory EBacc narrow a schools offer rather than broaden it.
"We need to encourage our drama teachers to be creative in funding visiting practitioners. This is a huge challenge as the tide seems against us at the moment, as the report suggests."
A Department for Education spokesperson said the government is providing more than £109m to support music, art and cultural education projects this year – an increase of £18m from last year.
"At the heart of our commitment to extending opportunity is our belief that all pupils should have access to an excellent, well-rounded education – the arts are a key part of this."