The end of Michael Gove's reign as education secretary was the major educational event of the year. Most teachers and school leaders welcomed the departure of this most ideological of politicians. His successor, Nicky Morgan, moved quickly to repair relations with teachers and launched the workload challenge. Just in time before an election, the government remembered it had a duty of care to the teaching profession. More than 44,000 teachers (nearly one in ten) responded to Morgan's invitation to tell the government what is driving them to an average 60-hour working week. The government has promised a major policy response in 2015; we wait to see whether politicians understand and acknowledge the scale of a problem that has increasingly blighted the professional lives of teachers for years.
No one should be surprised that the workload challenge has put Ofsted in the dock, charged with being a major driver of the excessive and unsustainable workload piled on teachers and school leaders. The inspectorate's critics were heard more widely this year with school leaders and teachers beginning to bite back and a Commons debate about the quality and consistency of inspections.
The big question about Ofsted can no longer be ignored. Does Ofsted, an agency that inspires fear and terror in school leaders and teachers, have any place in a high-performing education system? The Labour party has committed itself to reform. Speaking in the Commons' shadow schools minister Kevin Brennan said: "Labour believes that the role of the schools inspectorate needs to be examined. In government we will ensure that the inspection process is more collaborative and that school improvement involves schools reviewing one another, and monitoring by the middle tier." ATL will release a major statement about reform of the inspection system in February.
No one should be surprised that the workload challenge has put Ofsted in the dock
This year several high profile, entrepreneurial, headteachers, once lauded and visited by Michael Gove and David Cameron, were exposed. The Public Accounts Committee (PAC) required senior civil servants to appear before it to demonstrate that academy trustees whose companies charge for services for the schools they govern, do not have conflicts of interest. The answers did not convince Margaret Hodge, the redoubtable PAC chair. This issue is not going away – expect more exposure of the misuse of school finances and unethical school governance in 2015.
There was also a tsunami of qualification and curriculum reform this year. Primary teachers are living with the loss of levels (without any real thought from the government about what should replace them) and hugely increased demands in subject knowledge (eg, computer coding) without investment or training. Secondary schools face a four-year chaotic rolling programme of changes to GCSEs, AS and A-levels. Teachers are faced with a period of huge uncertainty, unable to tell pupils or their parents what they need to know to make wise subject choices.
And after a decade-long obsession with school structures and a proliferation of school types, it was finally decided that what actually matters is the quality of teaching and leadership. This has come simultaneously with the realisation that we are heading for a teacher recruitment crisis just as pupil rolls soar. Ofsted has warned that the number of new teachers has dropped 16 per cent over the past five years, with 8,000 fewer trainees in secondary schools alone.
And finally, Educating the East End, was made for compelling viewing, showing the public just what a complex, demanding but ultimately rewarding work teachers do with young people. All three series (the latest preceded by Educating Essex and Educating Yorkshire) present schools as positive, life-affirming places. I have been completely hooked and look forward to Educating Wales next year.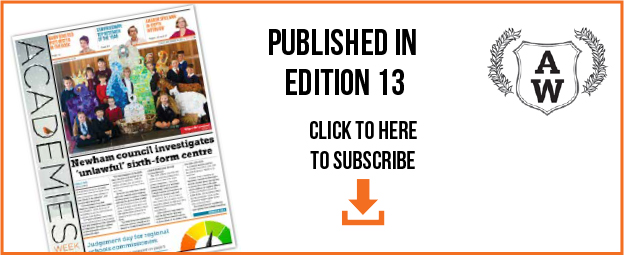 Mary Bousted is General Secretary of the Association of Teachers and Lecturers (ATL)