The exams regulator Ofqual has published its annual report and accounts for 2017-18.
Schools Week rounded up some of the most important findings from the report.
1. The National Reference Test cost £2m+
Ofqual introduced the National Reference Test last year to provide more information about the awarding of GCSEs. In its first year of delivery, 2017-18, the test cost £2.05 million. There were 27 schools that were unable to take part due to the "extreme winter weather".
The regulator received a further £2.1 million from the Department for Education for the delivery of the test in the coming year, 2018-19. Spending on the test leading up to its launch (from 2014-17) was £5.55 million.
2. Chief regulator Collier earned at least £155k
Sally Collier, the chief regulator, was paid a salary of between £155,000 and £160,000 in 2017-18, the same as last year. It means she earned more than the prime minister.
The second most highly paid member of staff was Michelle Meadows, deputy chief regulator and executive director, strategy, risk and research, whose total salary was between £110,000 and £115,000.
Meadows also received "performance-related awards" of up to £5,000 in 2017-18, as did Marc Baker, chief operating officer; Julie Swan, executive director of general qualifications; and Phil Beach, executive director of vocational and technical qualifications.
2. The regulator underspent on its budget in 2017-18
Ofqual's budget for 2017–18 was £18.35 million, 7 per cent less than in 2016-17 when it was £19.7 million.
Operating expenditure and capital investment for the year came to £18.3 million, down from £18.92 million in 2016-17, meaning the regulator finished the year £45,000, or 0.25 per cent, under budget.
Overall staff costs for the year were down by £13,000.
Ofqual also raised £30,000 from monetary penalties.
3. Ofqual spent less on trains, but more on hotels
The regulator's spending on rail tickets fell by £18,000, from £136,456 in 2016-17 to £118,314 in 2017-18. At the same time, hotel costs rose by £27,000, from £22,694 to £49,437.
Ofqual said this was due to "increased stakeholder engagement and enforcement activities".
Air travel also increased this year because of greater involvement in conferences abroad.
5. 18 whistleblowing incidents are still unresolved
Ofqual received 50 whistleblowing disclosures between April 1, 2017 and March 31, 2018, which were then referred to the relevant awarding organisation for further action.
Awarding organisations carried out investigations into 43 of the 50 disclosures. The remaining seven were not investigated because the information provided was not detailed enough.
Eight submissions resulted in further action, 17 found no evidence to substantiate the claims and 18 are ongoing.
"The disclosures received have provided us with information and intelligence to ensure that standards in regulated qualifications are maintained and allowed us to discharge our statutory obligations," Ofqual said.
"Overall, we handled 223 complaints about awarding organisations. The average number of days to close a complaint was 31 days."
6. The number of sick days halved 2017-18
In 2017-18 Ofqual staff took 932.5 sick days, down from 1,833 days in 2016-17.
That was an average of 5.1 days per employee, compared to 9.5 days per employee in 2016-17.
The regulator said the fall was mostly a result of a reduction in the number of staff who were long-term sick, who accounted for 595 days of absence this year compared to 1,226 days in 2016-17.
7. More than half of Ofqual staff are women – but they are still paid less
The report revealed that 58 per cent (or 110 out of 190) Ofqual staff members were women as of March 31 this year. However, the median gender pay gap was 14.09 per cent in favour of men, meaning women earned 86p for every £1 earned by men.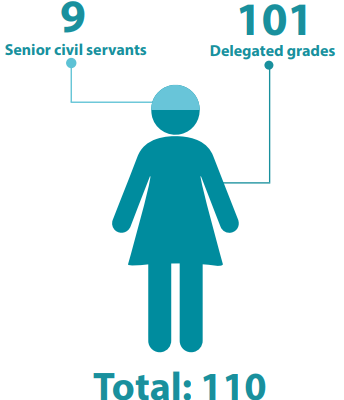 "This is largely because there are more women at the lower end of the pay range," the regulator said.
Although men and women were broadly equally represented in the top two earnings quartiles, there were almost twice as many women than men in the lower two quartiles.
There were 7.2 per cent of staff members who classified themselves as disabled and some 11.8 per cent classified themselves non-white.
Ofqual said it attends "a number of diversity and inclusion groups to keep up to date with developments".