Inspiring creativity and innovation with The Bright Ideas Challenge
The UK needs a rich and diverse pool of future scientists and engineers. Their skills are essential to supporting the UK economy and helping to tackle some of the big global challenges that lie ahead, including the need to create more and cleaner energy. And yet, EngineeringUK reports that we are facing an annual shortfall of up to 59,000 engineering graduates and technicians to fill core engineering roles. That's why, at Shell, we're committed to building on 50 years of science, technology, engineering and maths (STEM) education support, and in turn, inspiring the scientists and engineers of tomorrow. At the heart of our offer for schools is The Bright Ideas Challenge, a competition that invites students aged 11-14 to imagine bright energy ideas to power a future city.
Additionally, to ensure that young people from a far more diverse range of backgrounds can participate in The Bright Ideas Challenge, we are also newly partnered with Teach First. Working alongside state schools in challenging economic conditions, this partnership will help ensure a child's success is not limited by their background. Teach First are also working with us to ensure our resources are accessible and engaging for the widest possible audience.
The cross-curricular competition was created to inspire more young people from every corner of England, Wales and Scotland to pursue careers in science and engineering. Their challenge? To come up with innovative energy solutions to power future cities using creativity, problem solving and STEM knowledge.
The competition asks students to work together to learn about the science and engineering behind their ideas as they develop a host of transferable skills.
The Bright Ideas Challenge also provides opportunities to integrate creative, practical skills into STEM learning. Employers from a range of industries are expressing concern about how the shift away from the arts in schools is impacting on the talent pipeline. Artistic subjects are known to help students develop tactile skills and work comfortably with their hands, as they also get used to creative learning through practical activities like sketching, designing and building. The cross-curricular approach to The Bright Ideas Challenge means it provides a fun and easy way for teachers to build innovation and problem solving into their STEM lessons.
Zoe Thomson, Teacher at Woodmill High School in Scotland, one of the 2018 finalists said: "The Bright Ideas Challenge is an excellent way of reinforcing the image that engineers are creative problem solvers. The competition has inspired our learners to choose STEM related subjects."
To spark students' creative thinking and help them kick-start their entries, simply download the range of free resources at https://www.shell.co.uk/brightideaschallenge. They include a step-by-step Teacher Toolkit, Student Workbook and a Classroom Presentation centred around four mini-videos. All the resources are carefully aligned to the different nations' curriculums and career strategies, helping students develop key 21st century skills while supporting you to deliver the competition in an easy and enjoyable way.
Keen to get involved but limited on time – or looking for further guidance to deliver the resources flexibly? Brand new for 2019, our Resource Navigation Guide was created to help teachers adapt their delivery of the competition, whether it's in STEM club, part of your careers strategy or a fast-track option.
As well as providing an engaging real-world challenge for students, there is £45,000 in prizes up for grabs, with winners from every region of England, Scotland and Wales taking home a piece of the prize money. These include up to £5,000 for schools to spend on supersizing their STEM offering, vouchers for individual team members and a funded VIP experience in London, complete with an expert-led prototyping session at Imperial College London's state-of-the-art White City makerspace. The prototyping experience will work on building practical and artistic skills in an exciting and hands-on environment, preparing students to excel in the 21st century workplace. Attendees told us they enjoyed the winners' experience in 2018, with encouraging positive feedback received from students and teachers alike.
Are you wondering what sort of ideas caught the judges' eye last year?
One finalist in 2018 suggested solving the energy problems of the future by harnessing the kinetic energy of door hinges to power lighting. A tiny generator would be integrated into hinges so that every time the door was opened or closed the hinge would expand and contract spinning a generator. Over the course of a day this generator would produce enough energy to power a single light bulb helping create a self-sufficient source of lighting for busy future city buildings such as offices, schools and universities. Another team came up with an innovative idea that replicated the process of photosynthesis to capture carbon dioxide on an ambitious scale.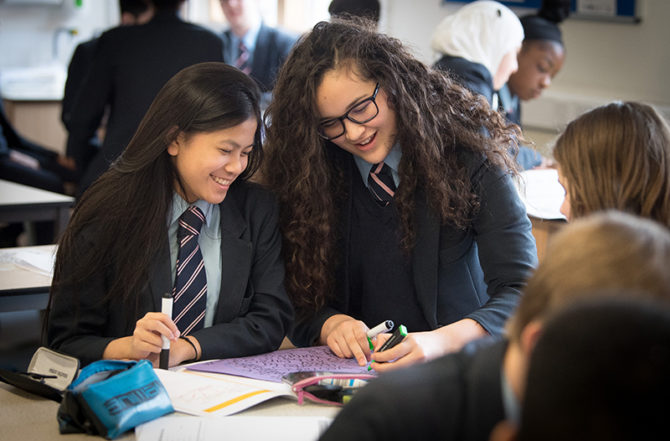 The 2018 Bright Ideas Challenge National Champions proposed a power-generating shoe that would use in-built piezoelectric discs to convert the kinetic energy of movement into electrical energy, which could be used to power personal devices. The 'Electroes' were designed by an all-girl team of four Year 9 students from an academy school in Manchester.
So, what kinds of blue-sky thinking could your students come up with – could they dazzle our judges this year and be crowned winners in your region, or even our national champions?
Visit shell.co.uk/brightideaschallenge for more information about how to enter, as well as the prizes up for grabs in 2019. Entries close at 5pm on Friday, 26 April. Good luck!