Ofsted has finally published its long-awaited research into the impact of funding pressures on schools.
The study was not supposed to be released until a few weeks' time. But the watchdog accidentally published a blog by chief inspector Amanda Spielman about it earlier this week, leading to widespread media coverage and criticism of her comments about financial management.
For the research, Ofsted surveyed 201 headteachers, conducted 18 telephone interviews with leaders, held focus groups and made research visits to 16 schools.
Here are the 10 most interesting findings from the report.
1. Council cuts mean £7.1bn cash injection won't end schools' woes
While Ofsted welcomed the government's commitment to increase the school budget by £7.1 billion by 2022-23, the watchdog warned that "even if this meets schools' immediate needs, shortfalls in local authority funding will continue to affect them".
It comes after heads responding to Ofsted's survey reported how reductions in services previously provided by councils or other public services are leading to increased costs for them.
For example, one leader told Ofsted their secondary school had increased its spending on pastoral roles because of an increase in safeguarding incidents among pupils, which they put down to decreasing local authority capacity.
Another school reported that it was having to consider whether it can afford the £17,000 annual cost of its full-time on-site police officer, after the local police force said it could no longer meet the cost.
2. Funding uncertainty makes decision-making more difficult
Schools told Ofsted that effective decision-making was "hampered by uncertainty over costs and incomes".
According to the report, the "inherent uncertainty" of the government's annual funding cycle and late announcements about additional costs to schools have "made it hard for many of the schools that we spoke to to predict what their future financial situation will be and to make decisions accordingly".
"Schools were fearful of unexpected financial pressures," it said.
One headteacher said there was "no certainty from one year to the next…therefore, we can't do long-term planning. It makes the three-year budget a work of fiction".
3. Not all schools are making 'well-thought-through decisions'
Ofsted's report concluded that although there was "a lot of evidence of schools making well-thought-through decisions using research evidence and financial benchmarking", this was not always the case.
The report said Ofsted had seen some schools "making poor decisions that had an unnecessary impact on quality of education".
Around two thirds of respondents said they used research evidence on effective use of resources to inform their decisions, a similar proportion told Ofsted their schools had used financial benchmarking.
4. Heads have 'not attempted' to monitor the impact of cuts
According to Ofsted, it was clear from discussions with heads that they had "not tried" to monitor the "complex consequences" of their spending decisions.
The research also found that school leaders were "often cautious" in claiming their response to pressures were "causally related to trends in progress and attainment data".
"For some, this was because these responses have only been implemented recently, so may not have had time to impact on progress and attainment. Others noted that other factors may have been influential."
5. Financial pressures are a 'main concern' for heads
The survey revealed that financial pressures were the biggest concern of more than half of heads who responded to Ofsted's survey, and almost 80 per cent of respondents said it was one of their three biggest concerns.
Forty-two per cent of primary school heads and 48 per cent of secondary school heads who responded predicted their school would be in debt by the end of 2019–20.
Among the biggest issues raised were rising staffing costs, increased employer pension and national insurance contributions, and cuts to local authority budgets.
6. Secondary heads prioritise maintaining attainment in core subjects
Attainment in core subjects was most likely to be the top priority reported by secondary heads in response to Ofsted's survey. Among primary school heads, it was their second most commonly listed top priority, behind pupil safety.
School leaders surveyed had "mixed views" on whether their schools' responses to financial pressure had an impact on pupils' academic
progress and attainment.
However, those who were actually interviewed by Ofsted "did not commonly describe prioritisation of test and exam scores in core subjects when making decisions about their schools' responses to financial pressure".
7. TA positions and learning resources most likely to go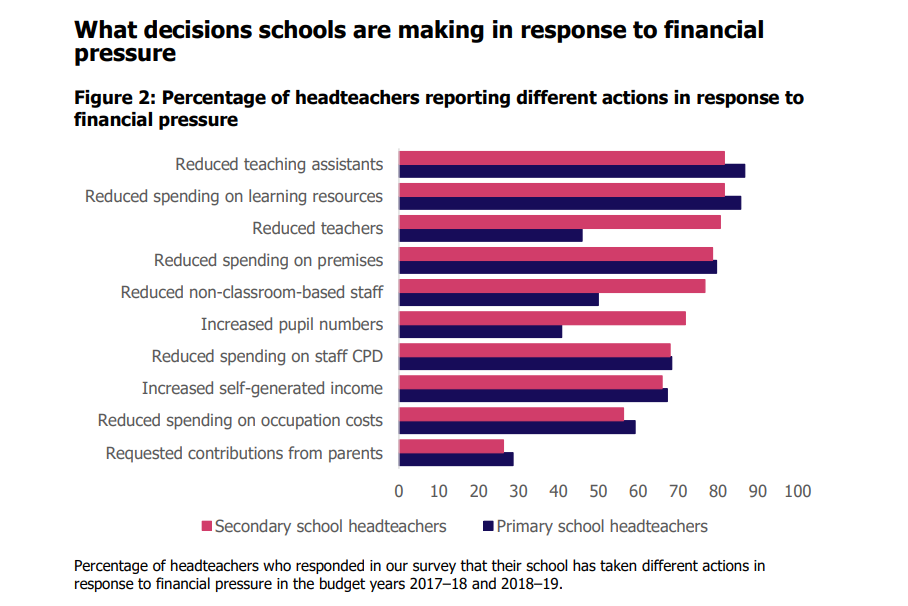 Asked what actions they had taken in response to financial pressures, headteachers and both primary and secondary level were most likely to report that they had cut teaching assistant posts and reduced spending on learning resources.
Overall, 87 per cent of primary heads and 82 per cent of secondary heads reported having reduced their TA numbers in response to financial pressure in the past two years.
However, secondary heads were far more likely to have cut teaching and non-classroom positions and increased pupil numbers (therefore increasing funding) than primary schools.
Schools also reported using less-qualified staff to reduce costs, and in some schools visited by Ofsted, higher level teaching assistants were being used to cover classes when teachers were absent, rather than the school paying for teachers to cover these lessons.
"Staff and leaders were concerned that these HLTAs were not able to provide as high-quality teaching as qualified teachers."
8. Heads are shaking up SEND provision
Eighty per cent of primary headteachers and 72 per cent of secondary heads surveyed reported that their school had made changes to the way they meets the needs of pupils with SEND "because of financial pressure".
Some schools reported moving away from a one-to-one model, whereby a TA stays with an individual pupil with high needs all day. But some of the headteachers in schools that reported having done this told Ofsted they had made these changes, "at least in part, in order to improve provision".
Schools also reported decreasing their use of external services, such as educational psychology, behavioural support and alternative provision, because they "cannot afford them".
Some reported that SENDCos have less capacity because their other workload has increased as a result of staff losses.
9. Two in three secondary heads have reduced curriculum breadth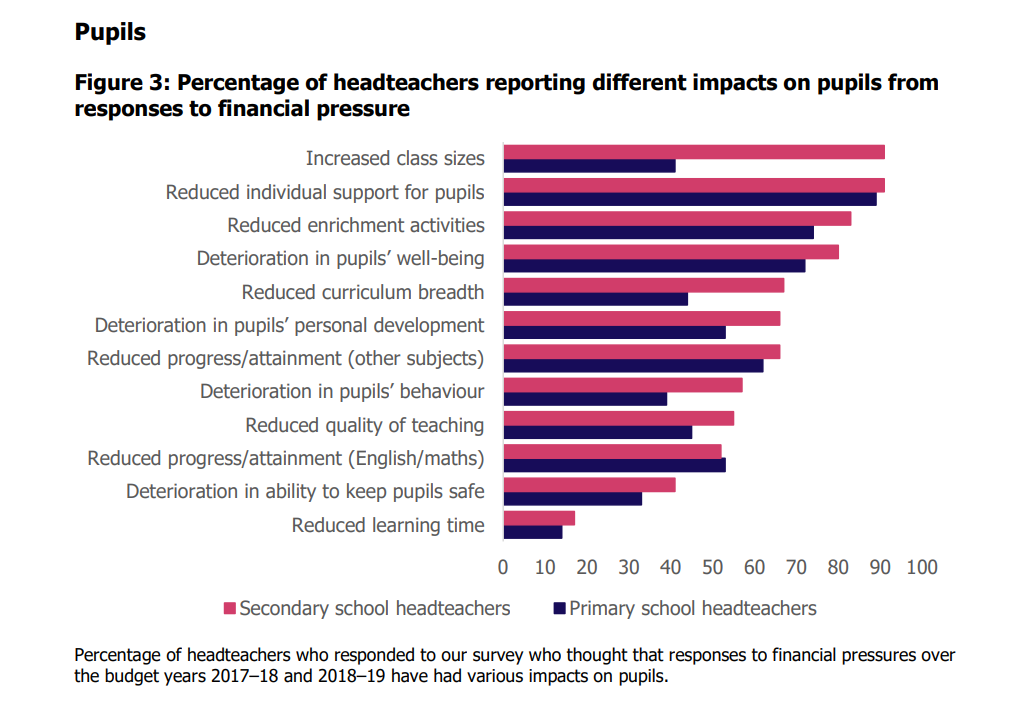 Sixty-seven per cent of secondary school heads and 44 per cent of primary leaders reported that their responses to financial pressure over the last two years "have led to some reduction in curriculum breadth in their schools".
At primary level, the subjects that most commonly suffered were computing, music, design and technology, art and design and languages.
Secondary heads reported that design and technology, languages, citizenship, music and computing were worst-affected at their schools.
10. Heads describe impact on quality of teaching and workload
Around half of heads surveyed said their schools' responses to pressures had led to reduction in the quality of teaching. Pupils have also reportedly experienced less continuity of teaching staff, the report found.
And more than half of heads reported financial pressure had had a "major impact" on staff workload.
"In the majority of the schools that we visited, interviewees described increased workloads for educational support staff and other staff," the report said.
"Interviewees described educational support staff working outside their contracted hours and taking on tasks from staff who had left and not been replaced."