The government's favoured school-led teacher training routes accounted for nearly half of all trainees last year, figures released today have revealed.
Initial teacher training statistics for 2014-15, released by the Department for Education (DfE) this morning, found school-led routes have the best pass rates, while subjects with large bursaries produce the lowest number of newly-qualified teachers,
The statistics also show that women are out-qualifying men and the percentage of newly-qualified teachers getting jobs is rising.
But perhaps the biggest shift shown in the statistics is the increase in trainees now in school-led routes, such as School Direct and SCITTs (School centred initial teacher training).
The move has been driven by the DfE placing trainee recruitment caps on higher education institutions (HEI), pushing more trainees into school-led routes.
The system, introduced last year, was branded "chaotic, shambolic and unethical" by training providers, but seems to be having the desired effect. The statistics also come after a series of criticism of the government's handling of ITT.
Schools Week has rounded up the key points:
School-led routes now account for nearly half of all trainee teachers
The amount of trainees taking school-led trainee teacher routes has gone up from 33 per cent in 2013-14, to 44 per cent in 2014-15 (HEI routes fell from 67 per cent to 56 per cent).
This figure is likely to continue to balance out with universities now expected to encourage remaining applicants to apply for training places within schools when they have reached their "cap".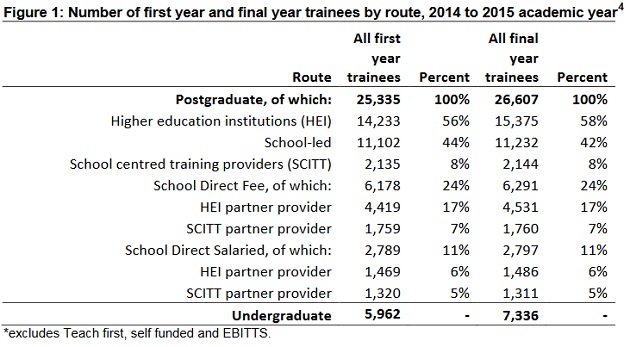 The amount of newly-qualified teachers gaining employment in the first six months is increasing
Of the 26,607 final year postgraduate trainees in 2014-15, 92 per cent achieved qualified teacher status (QTS).
Excluding those with an "unknown" employment status, 95 per cent were in a teaching post within six months, compared with 94 per cent in 2013-14.
Of the 7,336 final year undergraduate trainees in 2014-15, 85 per cent achieved QTS. Ninety three per cent were in a teaching post within six months, compared with 92 per cent in 2013-14.
Only 2 per cent of those awarded QTS were still seeking a school role after six months and only 3 per cent said they did not want to work as a teacher.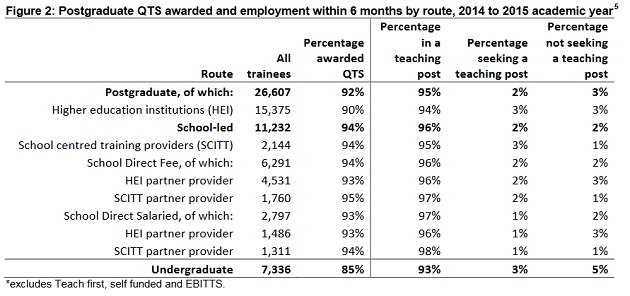 School-led teacher training route has highest number of teachers passing
Of the trainees who went down a school-led route, 94 per cent achieved QTS compared to only 90 per cent of those in HEI.
The proportion of those awarded QTS and in a teaching post within six months is two percentage points higher for school-led routes (96 compared with 94 per cent for HEIs).
Physics trainees have the lowest pass rate despite bursary incentives
Despite receiving bursaries or scholarships of up to £25,000, only 82 per cent of the 536 physics teacher trainees achieved QTS. Ninety four per cent of the passing trainees did however secure a teaching job within the first six months of passing.
History and design and technology trainees achieved the highest QTS pass rate at 97 per cent, while people on modern & ancient languages courses were the least successful at getting a job within six months (91 per cent).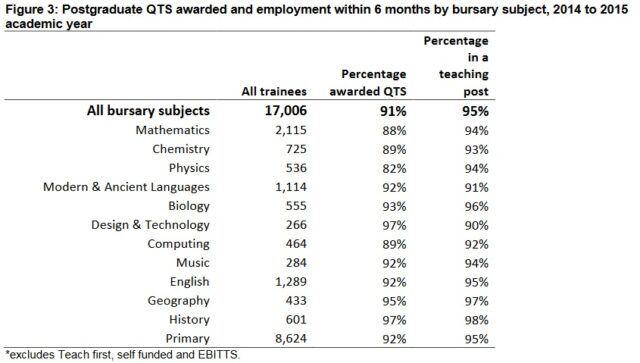 A higher percentage of women are passing their teacher training than men
Of the number of women taking teacher training in 2014-15, 93 per cent passed, compared with 88 per cent for men.
White trainees fared better in passing their training, with 92 per cent achieving QTS, compared to 86 per cent of trainees from other ethnic minority backgrounds.
And trainees under 25 performed better than their older counterparts. Ninety four per cent of the younger trainees achieved QTS, while 90 per cent of over 25s passed.

The east of England outperformed the rest of the country, slightly
Although very similar pass rates were achieved across the country generally, there was some slight variation.
The east of England had the highest percentage of qualified trainees (95 per cent), while Yorkshire and London had the lowest (90 per cent).
There was less variation in the proportions of those awarded QTS who gained a teaching post in six months – the east of England was again the highest (97 per cent) and with the north east and north west lowest (93 per cent).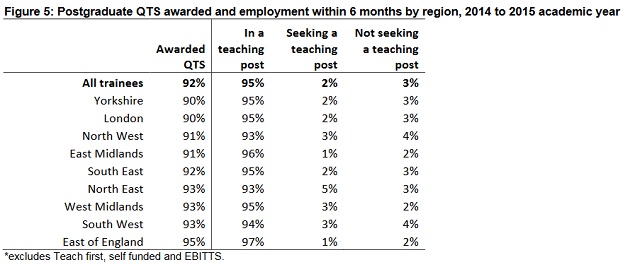 Schools minister Nick Gibb is proud

Responding to the findings, Gibb said: "Today's statistics show the government's approach to teacher training is working, with a higher rate of trainees achieving qualified teacher status than in the last ten years.
"The figures also show a rising percentage of new teachers ?finding a teaching post within six months of qualifying. We have given schools more involvement in teacher training which means head teachers can be sure their new teachers have the knowledge and skills that are needed to be successful in the classroom.
"We know there are challenges facing the teaching profession, not least a more demanding curriculum and our higher expectations for pupils. We are working with the profession to ensure we address concerns over workload and improving pupil behaviour.
"?Today, however, we can be proud of the fact that teaching is an ever more popular profession with more young people embracing the opportunity to inspire and shape the lives of the next generation."