An anonymous group of south London students have chosen GCSE results day to stage a protest about school exclusions, by replacing posters on the Northern line with images of an underground line running from 'School to Prison'.
The imaginary train line pictured on the posters travels from being 'sent out of class', through 'detention', 'isolation', and 'exclusion', all the way to 'prison' and 'reoffending'.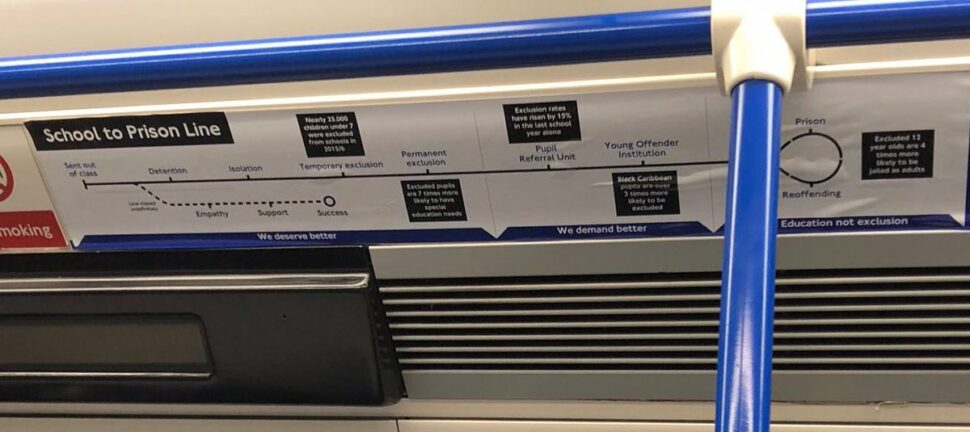 Another poster that accompanied the 'School to Prison Line', gave an explanation of the motivation behind the campaign.
"Today is GCSE Results Day. While most pupils across the country are excitedly awaiting news about their future, thousands remain left behind," it said.
This explainer also highlighted: "Every day, 35 students (a full classroom) are pemanently excluded from school. Only 1% of them will go on to get the five good GCSEs they need to succeed."
The students behind the scheme only identified themselves as a group from South London "who believe in empathy not exclusion", and "demand a more compassionate education system". The poster acknowledged that schools would need more "finanical resources" to make this aim possible.
It also featured the hashtag #EducationNotExclusion, which has been used widely on Twitter today along with photographs of the posters.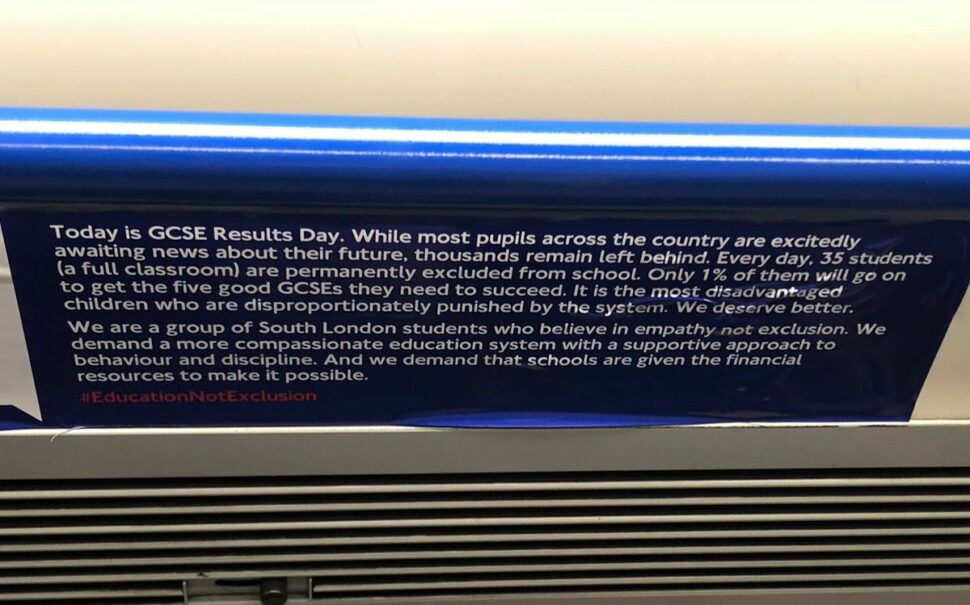 There only appears to be a two or three of sets of photos of the posters that are circulating online, but they have been shared by many users.
Among those commenting was the charity The Difference, an organisation run by Kiran Gill which aims to get more teachers working in alternative provision and pupil referral units.
No we haven't so thanks for showing us @nadiaiona. This is a great piece of awareness raising and so important, today especially and what a wonderful group of students and @TFL #EducationNotExclusion

— The Difference (@TheDifferenceEd) August 23, 2018

Prominent feminist direct action group Sisters Uncut, who stormed the red carpet at the Baftas earlier this year to protest against domestic violence in the UK, also chose to share the images.
spotted on the northern line this morning! young people demanding #EducationNotExclusion on #gcseresultsday 👏 pic.twitter.com/9USYqKGSMf

— Sisters Uncut (@SistersUncut) August 23, 2018
And actress Nicola Thorp, who has featured in Coronation Street, commented that "more needs to be done to provide a supportive approach to behaviour and discipline of pupils in school".
Saw this on the northern line this morning. What a great reminder in #GCSEresultsday that more needs to be done to provide a supportive approach to behaviour and discipline of pupils in school. #EducationNotExclusion

And remember, you are not a letter, you are YOU, not a U x pic.twitter.com/UWRahtcmNh

— Nicola Thorp (@nicolathorp_) August 23, 2018
Responding to the use of the posters, a Transport for London spokesperson said: "These are not authorised adverts. It is fly posting and therefore an act of vandalism which we take extremely seriously. We have instructed our contractors to remove any found on our network."
Did you see these images today? Let us know! news@schoolsweek.co.uk @SchoolsWeek