NCFE's core purpose is to promote and advance learning.
What better way to do that, than to recognise learners, educators and educational organisations with our Aspiration Awards.
With the current COVID-19 outbreak causing uncertainty and unease across the globe, it certainly seems like an important time to give back, provide recognition and give a sense of pride.
First launched in 2018 to help us recognise those going above and beyond in education, the awards have grown significantly in the last 3 years.
We believe that the definition of success goes beyond grades and achievement rates. It could be going over and above to exceed expectations, overcoming obstacles to achieve the unexpected, or coming up with new and innovative ways to work to support achievement.
Not only do the awards remind us of why we do what we do, they also give something back to learners and those working within education and give them pride in what they do.
What better to demonstrate this than looking back at a previous award winner?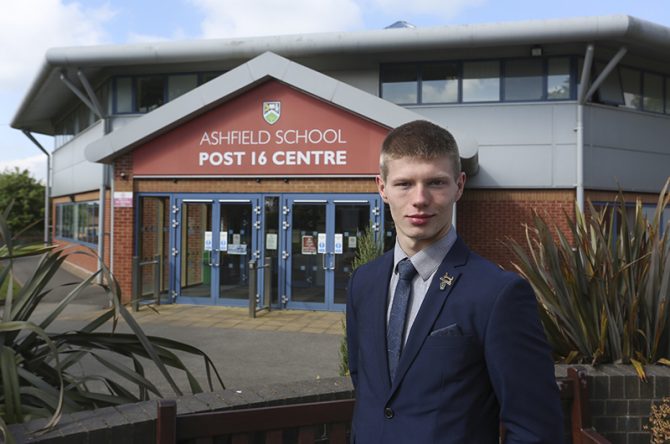 Mark Miles won the award for learner of the year in 2019.
Mark's story
Mark, a Prison Officer and former learner at Ashfield Comprehensive School, won the learner of the year award following the completion of his vocational qualification in Uniformed Services.
Mark is an inspiring young man whose personal circumstances were stacked against him. Having lost his father in 2011, Mark acted as a carer for his mother whilst at school and continues to do so. However, these obstacles didn't prevent him from excelling in his qualification and quickly securing work.
At the time of winning his award, Mark said: 'I am honoured to have won this award and I am so grateful to Mrs. Taylor for nominating me. The skills and knowledge I have developed during my NCFE qualification have been invaluable in all aspects of my life, especially to the beginning of my new career and continue to serve me well to this day. In the future, I know that I will be able to use these transferable skills in order to further develop myself and help me to progress in my career.'
Julie Taylor, Assistant Head of Vocational Education at Ashfield School added: 'Mark is an outstanding example of what can be achieved in the face of adversity and is an inspiring individual whose consideration for others is humbling to witness. We are absolutely delighted that NCFE are acknowledging him in this way; he is a truly worthy winner.'
This year's awards
Following the success of the previous two years of the awards, this year we are opening them up to learners, schools, colleges and training providers, providing more opportunities for recognition.
The four categories are; teacher/tutor of the year, centre of the year, learner of the year and against all odds.
Every year we look forward to the nominations rolling in and reading about the exceptional things going on within the sector. It's the drive and passion of those working in the education sector that makes our job worthwhile, and seeing the success of learners that keeps us going.
Applications for the 2020 Aspiration Awards are open until Friday 10 April and can be made at ncfe.org.uk/aspiration-awards
The NCFE Aspiration Awards are conducted entirely remotely and do not include a ceremony.