Schools have opened their doors again but this Autumn term looks very different with staggered school days, year groups in bubbles and possible localised school closures.
Following the success of last term's Bitesize Daily lessons, we have launched BBC Bitesize Autumn 2020 to support teachers, parents and students during this uniquely challenging term.
We've done that by working with teachers across the UK to enhance the special curricula developed by schools, trusts and local authorities over the last few weeks.  Bitesize Autumn 2020 offers collections of resources for teachers to use in the classroom, to incorporate into homework projects, or for parents to use if they're in a lockdown situation.
"Going back to how we do things is simply not an option." – Dr Emma Kell, teacher and author.
There are four Autumn 2020 offers:  catch-up lessons for primary children who missed out on key concepts last term; resources for years 1-9, we've called This Term's Topics; weekly Live Lessons for primary schools; and the usual great resources for GCSE, Nationals and Highers students.
This Term's Topics is all about what the BBC does best, delivering engaging short-form video, clear concise text, quizzes and infographics – along with extra content from teams like BBC News and Natural History Unit – all mapped to this autumn's special curricula.
The topics content will also include an array of fantastic resources from a range of educational publishers and partner organisations including Twinkl, White Rose Maths, Chester Zoo, the Met Office, Eden Project and the National Literacy Trust.
All topic resources are designed for use in the classroom, as learning at home materials or to recommend as homework.
Primary Catch-Up Lessons are here to help children who have missed key concepts in Maths and English.
Home schooling hasn't been easy, so our catch-up lessons are simple guides to help students in years 1-6 catch up on any learning they may have missed, delivering key learning from last term's Maths and English curricula including content from Bitesize Daily lessons.
Catch-up lessons can be used to introduce a lesson for the first time or used as refreshers for difficult subjects.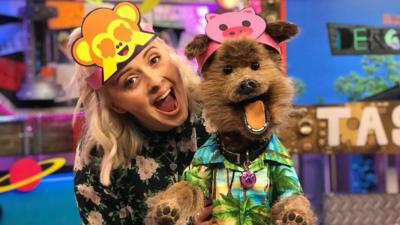 Weekly Live Lessons will bring primary schools and year groups together for fun and interactive shared learning.
The new season of Live Lessons kicks off on September 14th with a special lesson looking at well-being and the impact of lockdown, produced in partnership with the Premier League.
The first Live Lesson will be broadcast live on the BBC Teach website at 2pm on September 14th. Then from September 21st, there will be weekly programmes for KS1 and KS2 classes, alternating between literacy and numeracy.
Live Lessons can help to bring classes and schools together
GCSE: Our comprehensive suite of GCSE and Nationals/Highers self-study modules, which cover the majority of topics and exam boards, will continue to form the backbone of the BBC Bitesize offer to Year 10 and 11 students.
Bitesize functionality allows users to save favourite guides and monitor their own progress, offering an ideal complement to classroom based learning.
Study guides for Years 10 and 11 are packed with exam-board-specific information.
"Catching children up will present a challenge to teachers as they return, easing them into a new routine of learning will be another test altogether." Andrew Cowley, Deputy Headteacher at a South London school.
BBC Bitesize Autumn 2020 content will be updated regularly throughout the year and can be used whether children are learning in school or at home. BBC Bitesize is there for teachers and students this Autumn to help them make a success of a challenging term.
All BBC Autumn 2020 content can be found on the BBC Bitesize website.