In 4,775 schools located in 153 countries, 1.4 million students are becoming inquiring, knowledgeable and caring young people who will help to create a better, more peaceful world through intercultural understanding and respect. They are learning in International Baccalaureate (IB) programmes that are offered to students ages 3 to 19.
For 50 years, the IB has focused on each student as a whole person with distinctive learning styles, strengths and challenges. IB programmes provide a well-rounded education that inspires students, meets rigorous international standards and fulfills national curriculum requirements. They help students learn to ask challenging questions, think critically and develop research skills proven to help them in higher education. Students learn how to learn and to value learning as an essential, integral part of their everyday lives.
Teachers in IB World Schools – schools authorized to offer one of the four IB programmes – are given access to high-quality professional development, offered both face-to-face and online, that encourages critical thinking, self-reflection and dedication to lifelong learning and continuous improvement.
The four programmes are the Primary Years Programme for ages 3 to 12, the Middle Years Programme for ages 11 to 16 and the Diploma Programme and Career-related Programme, both for ages 16 to 19.
Each IB programme, while part of a continuum, provides effective approaches to teaching and learning for its age group. Research suggests that in many cases, IB students perform better than their non-IB peers.
The Primary Years Programme
The first few years of school help young students build a solid foundation as they begin to value education and develop the academic, social and emotional skills they need in order to learn. Informed by research into how children learn, how educators teach and the principles and practices of effective assessment, the Primary Years Programme (PYP) emphasises inquiry-based learning.
Both research and personal experience point to real benefits for students in the PYP. For example, a global International Schools' Assessment study found that PYP students outperformed non-IB students in mathematics, reading and writing: "We are working with a programme that works and encourages us as professionals and the children to take responsibility for our learning and development," says Denise Michel, former PYP coordinator and vice principal at the International School of Hout Bay in Cape Town, South Africa.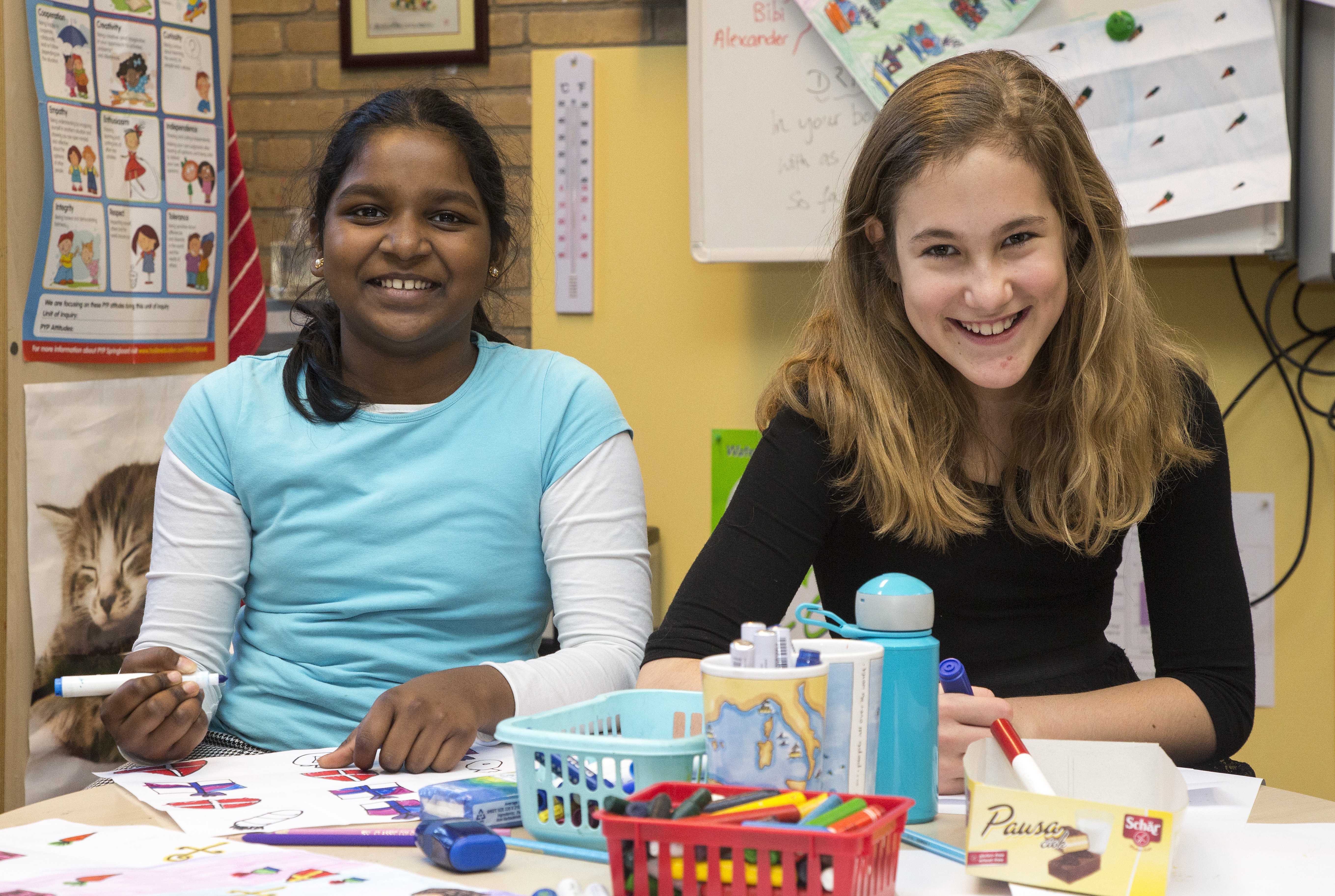 The programme offers students new experiences and provides opportunities for reflection and consolidation, while encouraging them to draw on the knowledge they already have. Among the new experiences is the opportunity to learn more than one language.
Rather than beginning with a list of subjects, the PYP is underpinned by six transdisciplinary themes around which learning is planned:
• who we are
• where we are in place and time
• how we express ourselves
• how the world works
• how we organise ourselves
• sharing the planet.
The subject areas are:
• language
• social studies
• mathematics
• science
• arts
• physical, social and physical education.
Subjects are incorporated into each transdisciplinary theme to guide, support, enrich and connect learning. In other words, the PYP provides a flexible curriculum framework so that school communities can adapt the programme to fit their own school context.
During the final year of the programme, students carry out an extended, collaborative project known as the PYP exhibition. This involves students working together to explore real-life issues or problems in depth.
Learning in the PYP is viewed as a continuous journey, during which teachers determine students' needs and use assessment data to plan the next stage of their learning. Teachers use a wide range of assessment strategies to collect information on the understanding of concepts, the acquisition of knowledge, the mastering of skills, the development of positive attitudes and the ability to take responsible action.
The programme is offered by many types of schools around the world, including state schools, private schools and international schools. Any school teaching students ages 3 to 12 can apply to offer the PYP and become an IB World School. Currently, more than 1,470 schools offer the programme in over 100 countries.
The Middle Years Programme
Students do a great deal of growing up and changing between the ages of 11 and 16. The Middle Years Programme (MYP), which is an inclusive, whole-school programme, keeps them engaged with learning designed specifically for the age group. Students of all interests and academic abilities can benefit from participating in the MYP.
The programme motivates students and helps them to achieve success in school and in life beyond the classroom. It encourages students to make practical connections between their studies and the real world. The result is young people who are creative, critical, reflective thinkers and lifelong learners. Research shows that students participating in the MYP outperform non-MYP students in critical academic skills.
A wide range of curriculum requirements can be met through the programme's interdisciplinary and flexible curriculum, which comprises eight subject groups: language acquisition, language and literature, individuals and societies, sciences, mathematics, arts, physical and health education and design. Integrated learning means students analyse complex issues and develop the habits of mind they need to participate in our increasingly interconnected world.
In addition, an integral part of the programme is service as action, encapsulated in the MYP community project. In each year of the programme, students take part in service learning activities that connect what they study in school with the needs of their communities.
The MYP culminates in the personal project, an extended independent learning project in which students apply what they have learned in the programme to pursue individual interests and passions. Students document their work and report on the project, reflecting on their accomplishments and their growth as learners.
As a leader in education, the IB has created an innovative approach to assessment for the programme. The new MYP eAssessment uses a range of strategies, long term project work, optional portfolio assessments and optional on-screen exams. In 2016, Bonn International School in Bonn, Germany, was among the first IB World Schools to offer MYP eAssessment, seeing it as a good opportunity. "You can't stay away from this digital world, digital tools, digital assessment. It's a matter of when, not whether, you should [change]." says Cijith Jacob, MYP coordinator at the school.
More than 1,300 schools in 108 countries offer the MYP. The programme is offered by many types of schools, including state-supported schools, independent schools and international schools. Any school with students aged 11 to 16 can apply to become authorised as an IB World School in order to implement the MYP. While it is a five-year programme that can be implemented in a partnership between schools, it also can be offered in several abbreviated (two-, three- or four-year) formats.
The Diploma Programme
Preparing secondary school students for college and a career in today's complex world demands far more than providing a good academic grounding. The Diploma Programme (DP), recognised and respected by universities worldwide, develops students who not only have breadth and depth of knowledge but also flourish emotionally, ethically and physically.
Much thought has gone into the DP curriculum, which consists of a core and six subject groups. Made up of three required components, the DP core aims to broaden students' educational experience and challenge them to apply their knowledge and skills.
The three core elements are:
• The extended essay, which is an independent piece of research, finishes with a 4,000-word paper. It provides practical preparation for undergraduate research. Emphasis is placed on engaging in personal research and communicating ideas effectively.
• The theory of knowledge (TOK) course, in which students reflect on the nature of knowledge and on how we know what we claim to know, is assessed through an oral presentation and a 1,600-word essay. By stimulating critical reflection and analysis of knowledge and experience across disciplines, TOK seeks to bridge and unify the academic subjects, in essence, to help students make sense of school and the world.
• Creativity, activity, service, which has students complete a project related to these three concepts. Students complete a wide variety of activities among extracurricular, community service, and athletic options.
The six subject groups are studies in language and literature; language acquisition; individuals and societies; sciences; mathematics; and the arts.
Many subjects are taught at two levels – standard and higher. Students are expected to demonstrate more knowledge, understanding and skills in higher-level courses. At the end of most DP courses, students take written examinations, which are assessed according to rigorous international standards.
Both research and personal experience point to real benefits for students in the Programme. DP students tend to go on to higher education at higher rates than their peers, are admitted more often to selective institutions and tend to perform better in their post-secondary studies.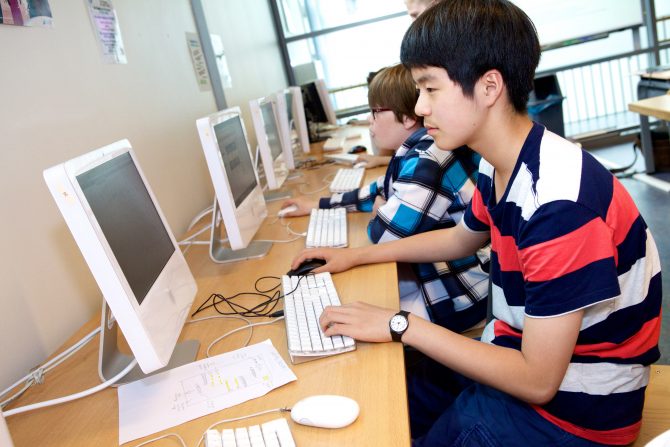 Long-time DP teacher Ramiro Febres sees much to like in both the present and future of his students. "I really enjoy classes where students express opinions, contribute, discuss and find brilliant solutions," says the former IB DP coordinator at Colegio Pestalozzi (Colegio Suizo del Peru) in Lima, Peru. "It is also very rewarding to have alumni who continue studying mathematics and who are now doctors and head up major research departments or who are teachers in an IB programme."
Currently, more than 3,100 schools offer the DP in 153 countries.
The Career-related Programme
As 21st-century life places complex demands on graduates looking for work, enabling students to become self-confident, skilled, career-ready learners must be an integral part of their education. Students in the Career-related Programme (CP) develop skills that are valued by both employers and universities, including:
• critical thinking skills
• linguistic proficiency
• maturity and responsibility
• time management skills
• a strong work ethic.
Universities and other higher education institutions recognise the programme's academic strength and requirement for research and the writing skills students acquire.
A key feature of the CP is that it provides flexibility to allow for local differences. While all CP students take at least two DP courses, a career-related study and a core, each school creates its own distinctive version of the programme. To meet the needs and backgrounds of its students, the school selects which two DP courses it offers and the most appropriate career-related study programme.
The DP courses provide the theoretical underpinning and academic rigour of the programme and should be relevant to the student's career-related study; the career-related study supports the programme's academic strength and provides practical, real-world approaches to learning; and the core gives context to the DP courses and the career-related study.
The CP core consists of three courses: approaches to learning, community and service, language development and a reflective project. The approaches to learning course aims to develop responsibility, practical problem-solving and good intellectual habits. Through the service course, students practice decision-making, problem-solving and initiative. Language development exposes students to a second language. For the reflective project, students analyse an ethical dilemma relevant to their career-related studies. For the project, they analyse and evaluate the issue. Working on the reflective project provides excellent preparation for the kinds of research required during further and higher education.
Each school gets to choose the career-related study programme best suited to local conditions and the needs of its students, but it must meet IB criteria. Four major providers of career-related study programmes collaborate with the IB: Pearson, Project Lead The Way, National Academies Foundation, Savannah College of Art & Design, the Council for Awards in Care, Health and Education and the Institute of Chartered Accountants in England and Wales.
The career-related study element of the CP is designed to prepare students for higher education, an internship or apprenticeship, or a job. It provides the opportunity for students to learn about theories and concepts through application and practice.
At the end of the DP courses, students take written examinations, which are assessed according to rigorous international standards. The components of the CP core are assessed by the school.
Introduced in 2012, the IB's newest programme is offered in more than 210 schools in 23 countries.
An IB education calls forth the very best in students and educators alike. The IB believes that together we can help to prepare students for living and working in our complex, highly interconnected world.