One of the few Shakespearean phrases I knew growing up was "someone knock their bloody heads together".
Unfortunately, I learned one day when I was about 20 that Shakespeare never said it.
It's still a good phrase though. And it's an important one this week.
A problem of politics is that it makes personalities impinge on classrooms. The education select committee has today said that Sir David Carter, the national schools commissioner, and Sir Michael Wilshaw, the chief inspector, are to be hauled in front of a parliamentary committee to give evidence together. (They are always "hauled"; probably Shakespeare's fault again.)
It's an interesting move as the two have had simmering tensions for some time. For school leaders, however, it can feel a bit like watching a stage-fight: interesting enough at the time, but there's no actual consequences to the punches.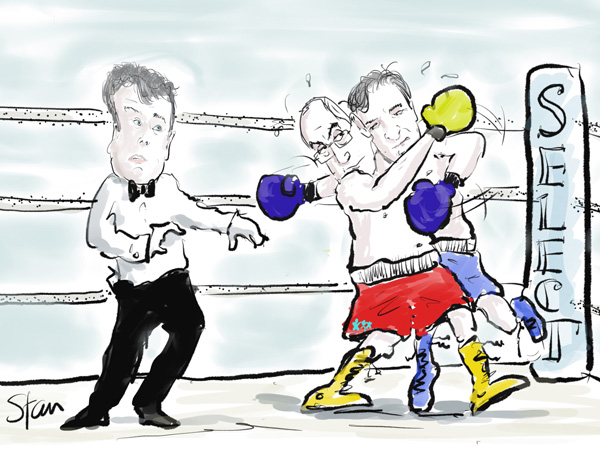 Parliamentary committees can therefore seem a mind-numbing distraction among the daily grind of school life. There you are, trying desperately to stop Miranda in year 8 from bashing Julia over the head for the umpteenth time as Mrs X announces she's resigning five minutes before the end-of-term deadline leaving you with cover teachers from now until Christmas, while these guys think they're improving the country by sitting in parliament chatting about nothing and scoring points.
But, as Shakespeare definitely did say, (I checked): though this may be madness, there is method in it.
Education is funded by taxpayers. Someone must make sure the cash is going towards worthwhile endeavours. The elected government does its part by having an education secretary. Parliament does its part by having a cross-party of MPs check on all the other bits of the education world who carry out ministerial wishes. And that's what the committees are.
The system isn't, in itself, a problem. The issue is that so little actually happens when the people called in to answer for their actions simply avoid the question, or blame other people.
Both Ofsted, the school inspectorate and the schools commissioner's office can currently blame each other for things or – as happens more often – make school's lives miserable because they are ignoring each other.
I recently spoke with an academy trust chief executive whose schools had a ridiculous number of commissioner officials and Ofsted in at the same time. The two groups had made contradictory demands. He was now stuck in the middle.
On top of this, Ofsted has now told local councils they must take more responsibility for academies in their area. So academies can now expect to have schools commissioners, Ofsted and local authority visitors making demands. So much for autonomy.
If Carter and Wilshaw are smart, however, they will work as allies at the committee to get a clear deal for heads. They'll decide exactly who is responsible for what, and then they'll turn on education secretary Nicky Morgan and what she can do to improve things.
For example, the regional structures of the two groups are so different it is making life difficult for everyone. If both point out this problem, and back a solution, it would be tough for the government to ignore.
The committee must also get to the bottom of some thorny questions.
For example, if the two groups – Ofsted and commissioners – disagree on a school's performance whose judgment should take precedent? If Ofsted thinks a school is so poor that it should be shut immediately, can it count on the commissioner for support? It would be a very damaging thing to raise a red flag only for the regional commissioner to say "carry on as you are folks". Likewise, it's confusing for schools if their Ofsted is outstanding but the commissioner sends a warning notice.
Answering these questions publicly and soon, rather than at a time when a school is floundering, is vital.
Carter and Wilshaw were both top-rated headteachers and they take their jobs seriously. It is unfortunate that such head-knocking is needed to sort out the problems of the hotch-botch academy system we are now living in it. But, to botch a final Shakespearean phrase: the course of education policy never did run smooth.