A Doncaster teenager who turned to radio presenting to conquer his shyness is approaching his fifth year in front of the controls.
Sixteen-year-old Sam Wilson joined Balby Carr Community Academy in 2009 as a "shy" and "socially awkward" year 7 pupil. But when he was approached to be the school's radio host, his confidence surged and he hasn't looked back.
"I was very shy and wanted to have a go at something different, so I decided to present on the school's radio," he says.
"The other students would hear me and it made me speak out more and now I know nearly everybody in the school. It has built my confidence up and it motivates me. It puts me in the limelight."
Sam is now in his first year of the school's sixth form studying A-levels in ICT, English literature and product design.
He broadcasts two lunchtimes a week and includes music from Take That and Bruno Mars to Little Mix, Ricky Martin and Busted.
"Mistakes happen naturally . . . I think it helps to make the show what it is and may be why I have such fun presenting it. The 'live' element adds to the excitement."
Sam also uses it as a chance to escape from the stress of his studies. "I have a 'knack,' so to speak, for the radio.
"It gives me a breather from reality. When you're in the mind-set and you've got the mentality, you want to zone out from what you do and always seem to be doing all day, which is work."
Balby Carr's IT technician and Sam's radio co-host, Scott Gunn, has been more than supportive.
"The on-air live relationship has helped me a lot," Sam says. "It is better to have a co-host than being on your own talking to yourself."
Mr Gunn added: "Sam has really developed on his radio show, especially this last year.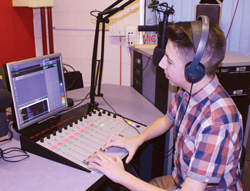 "He's gained so much confidence and I know he really enjoys doing the radio show ­— and the status of being the only sixth-former to host.
"His positive attitude and determination to always improve is something Sam should be really proud of."
But Sam's career plans do not include becoming a radio DJ; instead he hopes to become a primary teacher.
"The radio is entertaining but I've always loved schools. If I wasn't to make it as a teacher, I would be a TV host or based in the media."
But in the meantime he has no plans to quit the air waves.
"I do find it a lot of work but I absolutely love it. I leave in 2016 so I just want to make the most of the time I have left, and make myself known."