Teachers from nine secondary schools across the UK are linking up with Oxford academics to deepen their subject knowledge.
A new professional development programme will pair nine teachers with mentors from St Peter's College, who will share their knowledge over the course of a year.
The programme, launched last week, will be fully funded by the St Peter's College Foundation, including food, accommodation and transport for teachers, who will study with the academics outside school hours.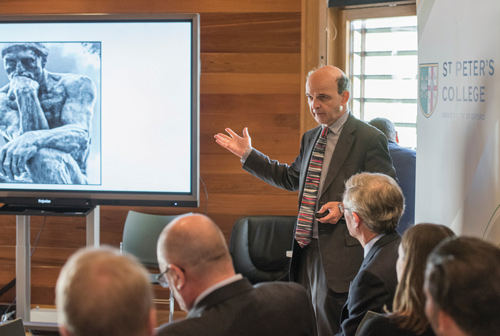 Schools participating in the project are King David High School in Liverpool, Sacred Heart Catholic College in Liverpool, Carmel College in St Helens, Upton Hall School in Wirral, Southgate School in Enfield, the John Warner School in Hertfordshire, St Mary Magalene Academy in Islington, King Edward VII Academy in Kings Lynn, and the Bourne Academy in Bournemouth, all of which were selected by the university.
"We picked areas of the country that we know particularly well, and then we picked some schools that I had been to," said Mark Damazer, the master of St Peter's College and a former controller of BBC Radio 4 and Radio 7.
"The idea is to use a world-class, professional, research-based academic who also teaches, to teach teachers in the same way that they teach undergraduates."
It is the first time the university has run the link-up, and Damazer hopes the project's reach will extend to other areas if the pilot is successful.
"Quite a lot of teachers out there are probably very keen in some way to become adult students again, and go back to their subjects and generate or enlarge their passion for it." he added. "We have academics here full of excitement about the thought of teaching motivated school teachers."