Europe's biggest biomedical research facility is welcoming learners to a new science lab it has opened for local schools.
The Francis Crick Institute, a charity in the north London borough of Camden, recently opened the Weston Discovery Lab, a dedicated space for school pupils to visit and take part in a range of experiments.
Staff from the institute's education team will work with a different local primary or secondary each week of the school year, as well as offer equipment loans and after-school workshops for parents.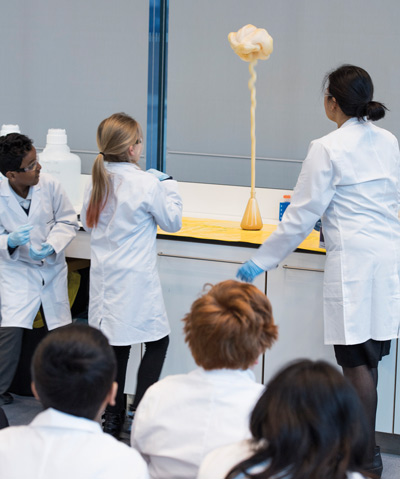 Year 5 pupils from Netley primary were amongst the first to use the laboratory where they created bubble eruptions, launched spinning discs into the air and identified mystery powders.
Kim Abraham, a teacher who accompanied the class, said: "There wasn't a single moment when they weren't fully engaged. They loved it. It's something they can't get experience of at school."
The Crick's education programme aims to reach as many children in local state schools as possible, including pupils in special schools and those in disadvantaged areas.
Clare Davy, its education manager, said: "Other places will provide science sessions for whoever wants to come from wherever they are based, but that's often teachers and schools that are already motivated and doing a lot of school trips.
"We want to provide a great science offer for all children in the schools immediately around us, and then see them repeatedly, year after year, all 11 years of their school careers. It's for them, in their community."
The institute's main building was completed in August last year and currently has 1,500 scientists on staff, researching ways to prevent, diagnose and treat conditions such as cancer and motor neurone disease.
Sir Paul Nurse, its director, said:  "We want to enthuse the next generation of scientists, to build excitement in the possibilities of future developments and the discoveries that can be made."