– This is not a con trick, says company chief
– Pupils must pass an exam (after three days)
School leaders are being urged to enter "vulnerable" pupils into fast-tracked ICT qualifications, taught in just three days, to ensure they achieve five A* to C grades.
The PiXL Club, an organisation that aims to raise attainment in schools, has this week sent emails encouraging its 1,300 members to consider enrolling pupils for the European Computer Driving Licence (ECDL) qualification.
It is worth the equivalent of a GCSE in school performance tables.
PiXL suggested enrolling "vulnerable" pupils who could take the exam as an "insurance policy" to ensure they got five GCSEs.
The email also said the qualification would contribute towards a school's value added scores.
Members were told that some schools were planning to run three days of intensive classes preparing pupils for the online exams – once their other GCSEs were completed.
PiXL is a not-for-profit organisation that charges schools up to £3,200 a year to join. In return, schools receive access to conferences, online resources and development programmes, all with the aim of improving exam results.
Another email, circulated to PiXL members, said: "There are many reasons to consider this course over the longer term but the interest in it short term is to avoid students ending up with English and maths and only two others [GCSEs].
"It happened quite a bit last year and caused considerable upset. It is a good well-established course with a future as well as a past. Many schools have plans longer term and a lot are using it this way for this year. It is over to you, as ever. This is meant to help."
PiXL members were told their applications could be "fast tracked" if they mentioned the membership organisation when contacting BCS, the chartered institute for IT which provides the qualification.
One school leader who received the email told Schools Week that it went against the spirit of messages from the government over "dumbing down and gaming".
"The impression is 'pay your money and do these token things and we'll make sure all your pupils get an extra grade C'. I'm disgusted."
An exam board representative said: "They are essentially saying here is a quick way of getting another qualification and performance points without doing the teaching."
Responding to the criticism, PiXL chief Sir John Rowling – a former headteacher of 19 years – said: "This is not a con trick here. Pupils have to pass an external exam."
He said that the qualification helped schools safeguard against variations in marking and grade boundaries, and ensured pupils secured a sixth-form place.
Former education secretary Michael Gove led a clampdown on "gaming" during his years in office. He described it as "schools using students as a means of gathering points so the school can look better than it is".
But Sir John said that there was "a real crisis" in schools. "The interest of kids and schools are set at odds against each other by the system. I don't sit in judgment of schools that live in fear of their jobs."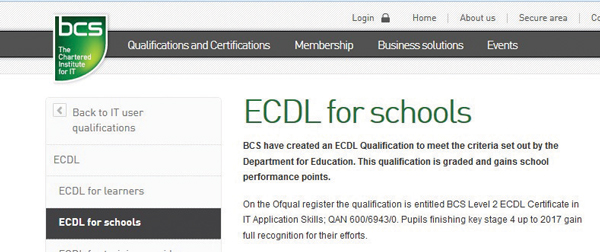 He met with BCS officials last week to discuss the qualification. After speaking to his board, the qualification was featured in a PiXL conference last week and the email subsequently sent to members.
He told Schools Week that his email was passing on the facts from BCS to PiXL's members.
In a statement, BCS said it had initiated contact with PiXL.
"[We] invited them to meet to see how we could work together in the future to help support school leaders with their young people, giving them the opportunity of more choice and raising standards."
BCS said there was no special deal or partnership with PiXL, but that it had passed on marketing material and its pricing structure, which was not available publicly.
BCS refused to say how much they charge for the ECDL qualification because they offer tailored packages to each school.
The BCS website describes the qualification as evidence of the digital literacy skills of learners. It includes four units – word processing, spreadsheets, presentation and application – and offers "performance points" from 58 for a distinction to 40 for a pass.