Three secondary schools in England are piloting the use of body-worn cameras for teachers to tackle bad behaviour, with two already vowing to deploy them in the long term.
Southfields Academy in south-west London, together with a further two unidentified schools, are deploying the surveillance technology amidst its growing use within the public sector.
At Southfields, four teachers across different parts of the school have been wearing the cameras since September. Deputy headteacher Larry Davis believes their presence has helped to "de-escalate" confrontations now that pupils realise their actions are going to be captured on film if they don't stop the inappropriate behaviour.
"My aim is how best can we just focus on the teaching and learning rather than dealing with confrontations," said Davis. "Since we have introduced [them] we have very few issues in regards to that – maybe once a month."
Davis said that there have been no "adverse" comments to date by pupils who have seen teachers wearing the cameras. However, consultation was limited to the parents' forum and key members of staff.
He is keen to continue using the equipment after the trial concludes around Easter.
An unnamed school in South Hampshire decided to try out the camera to protect staff and students in light of high levels of anti-social behaviour caused by unknown children coming on to the school site from outside.
The school has six cameras worn by staff across the school, including the headteacher, according to a case study compiled by Reveal, a body-worn camera provider that has loaned its Calla brand cameras to the three pilot schools.
Each wears a hi-vis jacket with "body worn video" written across the back to make clear that recording may take place.
Footage can be presented to the police as evidence, and arrests of young people have been made, said the headteacher.
The case study reads: "We're definitely going to keep going with the cameras. It's not something we can come back from because of what it has done for us as a tool to safeguard our students."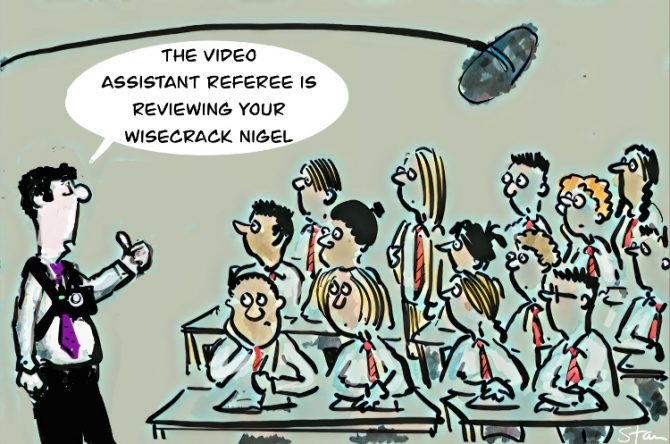 The company Reveal is currently discussing the possibility of an evaluation with the schools.
Body-worn cameras are already embedded within policing and in prisons and are increasingly being used within the NHS.
Last week, Ofsted announced that teams inspecting suspected illegal schools will wear cameras from next month for their own safety.
But the notion of teachers sporting a front-facing camera on their chest to film unruly pupils has proved more controversial.
In 2017, there was an initial flurry of debate when it emerged that two un-named schools were trying out body-worn cameras to help control classroom behaviour.
Both pilots were subsequently dropped – at least one of which was due to the negative publicity that ensued.
But Ben Read, head of marketing for Reveal, said there has been a resurgence of interest from schools this academic year, with around ten schools getting in touch over the past four months. "There are varying reasons, but most of them are to do with the safety of staff and students," he added.
But some observers, such as Silkie Carl, director of Big Brother Watch, said the cameras are "intrusive surveillance devices that have no place in our schools… Young people shouldn't see teachers as walking CCTV cameras, or fear being filmed without their consent. There is no evidence that recording children deals with the causes of behavioural issues but it can create oppressive environments, and so we urge these schools to reconsider."
When the camera is switched on to film an incident, the default option means that the footage is encrypted and it cannot be edited prior to being uploaded to a secure Cloud account.
The market cost for the cameras is a one-off payment of £249 for the hardware and £15 a month for storage of the footage.
The Department for Education said it does not collect information on the use of body-worn cameras in schools and believes schools are best placed to decide how to manage pupil behaviour and security risks – subject to respecting the laws surrounding data protection and privacy issues.