Schools are breaking into their supply of emergency Covid tests in a desperate bid to get children back in the classroom. 
Last month the government sent schools ten coronavirus home-testing kits each, to be used "only in exceptional circumstances". 
However, delays in accessing the government's Covid testing is already forcing schools to break into their limited reserves to ensure teachers and pupils get back to the classroom as soon as possible. 
Andrea Howard, a school business manager in Cornwall,  told Schools Week one pupil who attends her primary had been attempting to book an appointment since Friday – with their siblings also having to stay at home.  
She said a lack of available spaces and a constantly crashing testing website, compounded by limited internet access, made it difficult for some parents in their "high deprivation area".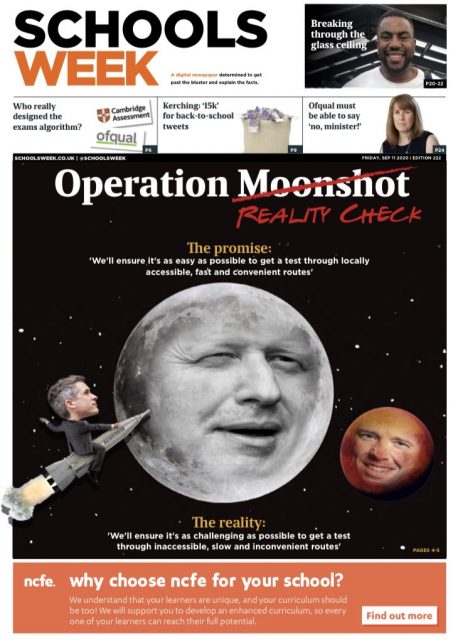 After repeated failures to book a government test the school has sent out an emergency test to the family in the hopes of securing a quicker return to school.
"If we have to hand them out every few days because parents and staff can't book tests then we will be without very quickly", Howard added. 
In the DfE's schools reopening guidance, it states that schools can give the home testing kits out directly to parents collecting a child who has developed symptoms at school, or staff with symptoms at school, where "they think providing one will significantly increase the likelihood of them getting tested".
Schools Week also spoke with a teacher from the Midlands who has been self isolating since Monday after her son exhibited symptoms of Covid-19.
After failing to secure a government test, her school said it would send an emergency kit for her son so she could get back to the classroom as soon as possible. 
"Situations like mine are going to be replicated over and over as children come back to school," she said.
"When the whole family has to isolate it has a knock-on effect."
The Department for Education has said schools can order more tests if required. 
Problems with the government's current testing capacity have been well documented this week with people finding it near impossible to book a test, or being told their "nearest" testing centre is hundreds of miles away – one reportedly a 1,100-mile round trip.
Yesterday Geoff Barton, general secretary of the Association of School and College Leaders, warned the chaos is undermining the reopening of schools, with more than 200 headteachers reporting delays in getting tests.

To expand timeline click HERE
In July, the Department for Education pledged: "The government will ensure that it is as easy as possible to get a test through a wide range of routes that are locally accessible, fast and convenient."
But Barton said his association was concerned that the "fantastic" work of schools and colleges to ensure an autumn term reopening could be derailed because of a lack of capacity in the test and trace system.
He said the government had "failed to live up to its promise to ensure that the test and trace system is able to meet the level of demand that it must have been perfectly obvious would be needed".
In September, Nick Gibb, the schools minister, promised that pupils or staff members with Covid-19 symptoms would be given "priority in the testing regime".
But Matt Hancock, the health secretary, said the testing system had struggled because "we've seen a sharp rise in people without symptoms coming forward. That has led to people with symptoms, who need a test, either not being able to get one or having to travel long distances."