It's been two years since the first regional schools commissioners and their headteacher boards were appointed.
To keep you up to date, Schools Week is running four updates in which Freddie Whittaker looks at two RSC areas each week. Who's new, who's still there – and how they are doing on those all-important academisation rates.
East of England and north-east London: Tim Coulson
Tim Coulson has been highly visible at events and committee hearings over the past two years, but his proactive behaviour has not boosted the number of academies in his region.
East of England and north-east London is highly disparate: Coulson (pictured) is one of three commissioners with a part of the capital in their patch, but his also spreads to Great Yarmouth.
London has not embraced the academies programme with as much vigour as other areas in the past two years – in part because some areas had already increased academy numbers in the early days; in part because the rest don't see any reason to jump now.
The overall proportion of academies in the region, 32 per cent, therefore is lower than one might expect, given the increase in academies in areas such as Norfolk and Suffolk.
Excluding the London boroughs, which under Coulson's stewardship have had a small increase in the number of academies, almost 36 per cent of schools are academies – a more promising proportion.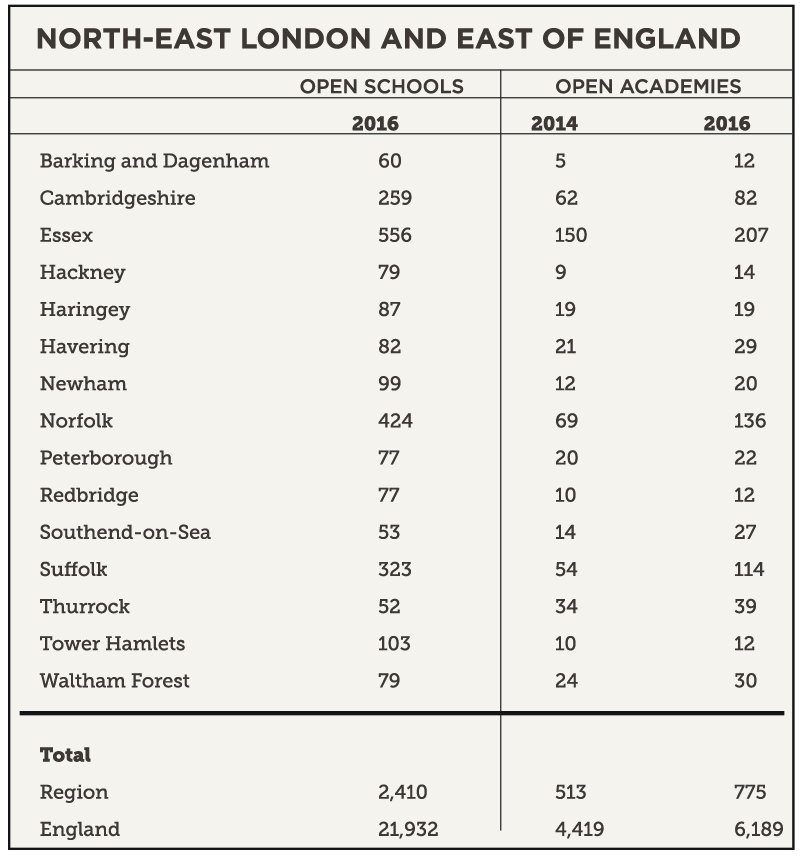 In Norfolk, the number has risen 97 per cent since 2014, from 69 to 136. In Suffolk, it has increased from 54 to 114, a rise of 111 per cent.
In November last year, Coulson's office went through a frenetic period, issuing seven schools with warning notices in the space of five days. And a landmark judicial review case was settled out of court this month.
The Association of Colleges joined with Havering sixth form college to challenge a decision by Coulson to fund a new sixth form at Abbs Cross academy and arts college, in Hornchurch, Essex.
They claimed Coulson failed to follow the government's own rules when approving the request from the Loxford school trust, which took over the school in February.
The rules state that sixth forms should only be created in schools that expect to enrol 200 students or more.
The planned high court hearing was settled behind closed doors after the school said the evidence it had submitted to Coulson was not up to standard and asked that he renege the decision.
Coulson's headteacher board is a who's who of "superheads". Among the most prominent are Sir Steve Lancashire, the chief executive of the Reach2 trust, knighted for services to education in 2014, and Stephen Munday, the Comberton academy trust boss who chaired the government review into teacher training.
Also on the board is Dame Rachel de Souza, chief executive of the Inspiration trust.
She recently made headlines with the launch of the new Parents and Teachers for Excellence campaign group, set up with David Cameron's former adviser Rachel Wolf and her husband James Frayne, a former director at influential think tank Policy Exchange.
Initially co-opted to the board, de Souza and Lancashire have the lowest attendance, appearing at 23 and 22 meetings respectively out of a possible 35.
Other members of the board include head Margaret Wilson and executive heads Caroline Haynes and Debbie Rogan. Mark Jeffries, from the education specialist law firm Mills and Reeve LLP, is a co-opted member. Roy Blatchford, the head of the National Education Trust, left this summer.
As of last September, Coulson was paid a basic annual salary of between £130,000 and £135,000.