When Janet Renou gave her first interview to Schools Week in 2014, just 13 per cent of schools in her region were academies, well below the national figure of 20 per cent.
More than two years later, that proportion has sneaked up to 19 per cent, still well short of the new national figure of 28 per cent.
In North Yorkshire, there are now 36 academies, a 177 per cent rise on the 13 of 2014.
In Cumbria, the number of academies rose 55 per cent from 33 to 51 over the same period.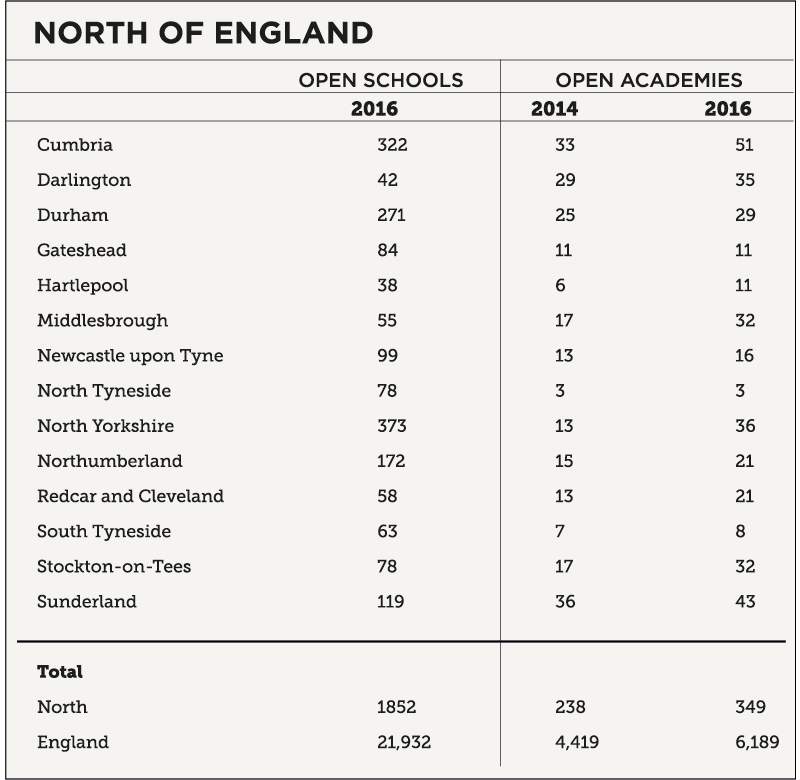 Renou, a former headteacher of Skipton girls' high school, warned when she took on the job two years ago that the geographical isolation of schools in her region could present a barrier to academisation, and said she planned to build the north's pool of academy sponsors.
In Durham, the number of academies has risen from 25 to 29, a lift of 16 per cent.
In Sunderland, the number of academies went up 19 per cent, from 36 to 43.
All four members of the headteacher board elected in 2014 to support Renou remain in place, although Zoe Carr now represents the Wise academies trust, rather than an individual school.
The family approach takes away the issues we have in transition [of pupils]
Appointed member Andrew Bayston is still there, with two co-opted members, Elizabeth Horne and Sir Michael Wilkins, joining this summer.
Wendy Heslop, from Cramlington Learning Village, also served on the board between October 2014 and July 2015, and guest attendees at meetings have included Jim O'Neil and Matthew Robinson from Future Leaders, and Duncan Baldwin from the Association of School and College Leaders.
During a recent education select committee hearing, Renou described her preference for a "family of schools" approach to
multi-academy trust development.
"The family approach takes away the issues we have in transition [of pupils]," she told MPs.
"If you go into a staffroom in any school they are always talking about transition from key stage 2 to key stage 3, or from key stage 4 to sixth form. If you have that family of schools the staff can work across the age range.
"Also it gives the chance for the community to have the one entity that they work with. They can get to know that trust and the trust can get to know the community and take the career of that child right the way through."
But she said her team was "slowing down" the academisation rate in her areas to focus on quality.
"We are taking more time for each MAT that comes in and we take a look at," she said. "If they come in and the material is not there and the names are not there on the trust, we are wanting to go back and make sure that we know the people that they are pulling together to lead those trusts."
According to Department for Education data, Renou was paid between £125,000 and £130,000 as of last September.