Dominic Herrington started his tenure with a distinct advantage over his colleagues.
As a Department for Education insider – he had been the director of its academies group – he was well-placed to work closely with Whitehall officials.
But has the inside knowledge helped?
Although the number of academies in his area has grown 35 per cent from 675 in 2014 to 914, the overall proportion of schools that are academies is still one point behind the national figure of 28 per cent.
As with other regions that include parts of London, most of the large-scale growth has been outside the capital, in areas such as East Sussex where the number has increased  66 per cent, and Kent, where the rise has been 48 per cent.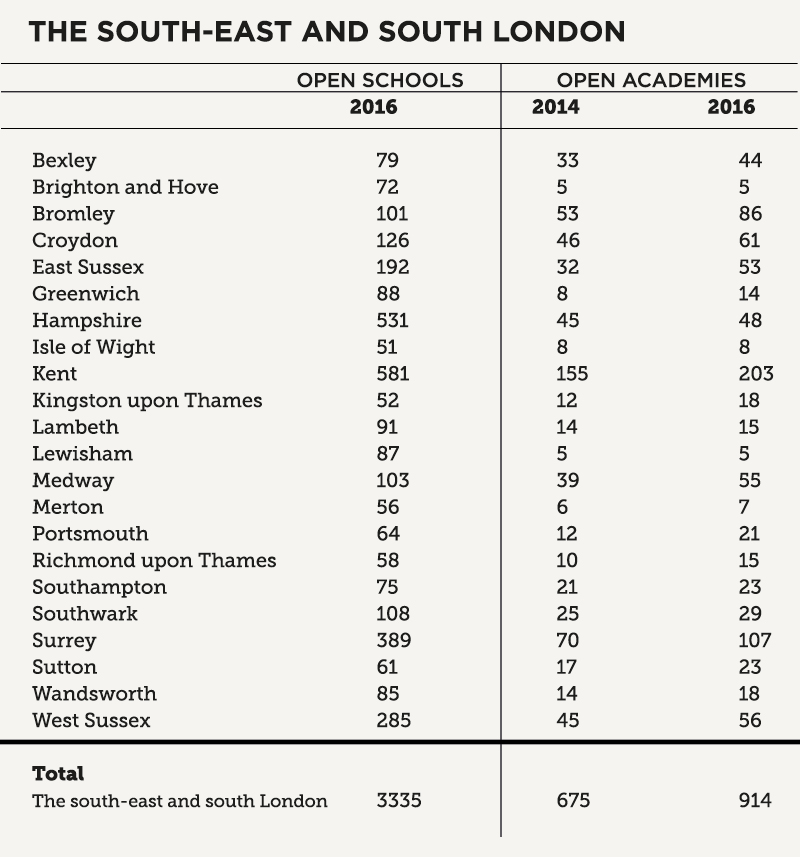 Herrington has proved to be at ease when fielding questions from MPs, but has also courted controversy with his interventions
in schools.
Last November, he was criticised for requesting an underperforming school to grade its teachers, despite Ofsted ditching the controversial practice the previous year.
He had written to Astor college in Kent to ask for evidence that at least 80 per cent of teaching at the school was "rated to be good or better" including in English and maths, and was duly rebuked by education leaders.
That same month, on a dull Wednesday morning, Herrington also gave us the joyful news that the regional schools commissioners occasionally shared best practice and experience over dinner.
"We meet monthly. Occasionally we have dinner together," Herrington told MPs in one of the lighter moments of a routine grilling from the education select committee.
The headteacher board Herrington assembled in 2014 remains fairly intact, although several of its elected members now represent trusts, rather than individual schools.
Rhona Barnfield and Ian Bauckham, both initially listed as heads and now included as representatives of the Howard Partnership trust and Tenax schools trust respectively, remain on the board, with Sir Andrew Carter, the head of South Farnham school.
Angela Barry still represents the Woodland academy trust as an appointed member, while Nikki King, whose appointment was made two years ago while she was the boss of the Isuzu trucks company, now officially sits on behalf of the Greenacre academy trust.
Mark Ducker, from the STEP academy trust, was co-opted in early January 2015 and has been one of the most regular attendees since. Solent academies trust boss Alison Beane was co-opted earlier this year.
The only member to leave is Denise Shepherd who, according to minutes, attended the last recorded meeting in May, but is no longer listed by the Department for Education as a member.
This follows a trend of summer appointments and departures, presumably to avoid disruption.
As of September 2015, Herrington earned a basic salary of between £125,000 and £129,999.