The rate of pupils given fixed-term exclusions from school has risen for a fifth year running – with youngsters being handed repeat suspensions said to be driving the increase.
Government figures published today show the number of fixed-period exclusions, also called suspensions, has risen from 410,800 in 2017-18, up to 438,300 last year (a seven per cent rise).
That means the rate of suspensions is up from 508 pupils per every 10,000, to 536 in 2018-19 – the highest figure recorded since 2006-07.
This was mostly in secondary schools – where the rate of suspensions rose from 1,013 pupils per every 10,000 in 2017-18 up to 1,075 last year. It remained pretty much static among primary schools and decreased at special schools.
And the rise has been driven "most strongly" by more pupils getting repeated fixed-term exclusions. A total of 84,500 pupil enrolments had two or more suspensions in 2018-19, an increase from 78,900 in 2017-18.
Three quarters of pupils with more than one suspension missed a total of a week of less, with 29 per cent missing a single day.
Persistent disruptive behaviour was the most common reason for suspensions, making up 31 per cent of all fixed-period exclusions last year (slightly up on 30 per cent in 2017-18).
Physical assault against a pupil (16 per cent) and verbal abuse or threatening behaviour against an adult (15 per cent) were the next most prominent reasons.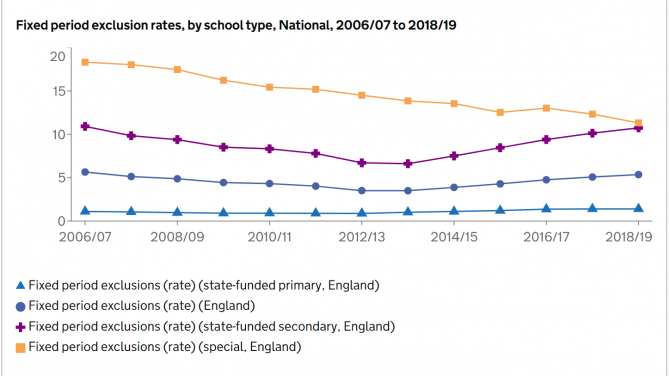 Meanwhile the rate of permanent exclusions has continued to remain stable at 0.10 last year, with the actual number of exclusions dropping by 11 to 7,894 last year.
But there were more appeals against permanent exclusions being lodged: 661 last year, an increase of 3.2 per cent on 2017-18.
Of those determined by an independent review panel, 108 (17.7 per cent) were recommended for reconsideration by the governing body, up from 16 per cent in 2017-18.
Boys have more than three times the number of permanent exclusions than girls. But the number and rate of exclusions for boys has decreased, while the number of exclusions for girls has increased.
As in previous years, pupils of gypsy/roma ethnic backgrounds had the highest rates of both permanent and fixed-period exclusions.
The rate of suspensions has increased for all other ethnic groups, except black Caribbean and Irish – the DfE report said.
However it comes as analysis commissioned by Liberal Democrat MP Layla Moran, published today, shows black pupils in some areas in England are more than three times more likely to be excluded than their peers.
Based on House of Commons library data, the analysis showed the rate of temporary exclusion for black pupils than for others in 96 of 152 local authorities
Moran called for an urgent review into what was causing the gap.