Pupils' views sought for the first time as Ofqual looks at future of marking reviews and appeals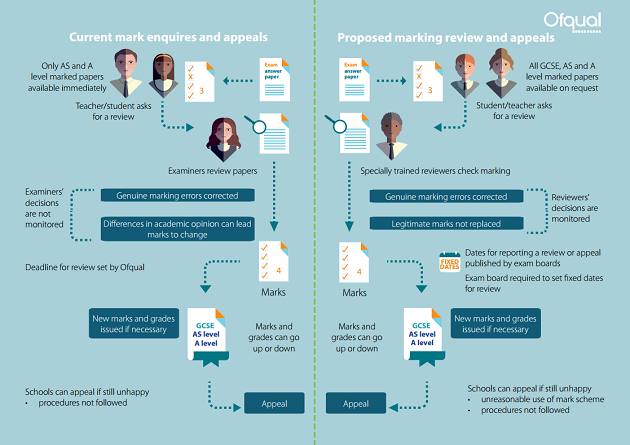 Pupils' views are being specifically sought by Ofqual for the first time in the regulator's history as it consults on the future of marking reviews and appeals.
The watchdog will write to headteachers in 6,500 schools on Monday to ask for their help in recruiting pupils to take a short survey on marking, with a chance to win an iPad.
It is the first time Ofqual has specifically sought the views of young people, and follows the launch of a consultation on how Ofqual deals with reviews of and appeals against the marks awarded by exam boards, commissioned in response to a sharp rise in the number of enquiries about GCSE and A-level exam grades.
Teachers, schools leaders and other members of the teaching workforce have already been asked for their views as part of the wider consultation, but Ofqual is hoping to collect pupils' views specifically, and has launched a video and Vine post to explain the process to young people.
The watchdog's communications director Chris Shadforth told Schools Week his organisation was aware that responding to the full consultation was a "big time commitment", and was instead focusing on a "couple of key aspects" of its systems in its student survey.
He said: "We're conscious that the decisions we make directly impact students across England, so it's important that they know we want to hear from them.
"We don't know how many students will chose to respond, but hopefully the opportunity to win an iPad is a good incentive."
Ofqual revealed in December that the number of enquiries about GCSE and A-level exam grades had soared by 27 per cent in just one year.
The number of individual enquiries rose from 451,000 in the summer of 2014 to 572,350 last summer, resulting in changes to 90,650 grades, up from 77,400.
In response, the regulator is consulting on plans to offer schools the right to request copies of marked GCSE exam papers as they consider appealing against marks.
The watchdog also wants to make exam boards use specially-trained reviewers, rather than ordinary examiners, to check marking when results are queried as part of proposals for a new review and appeals process.
Julie Swan, Ofqual's acting executive director for general qualifications, said: "Our proposed changes are designed to make the system fairer, more effective and transparent."
Ms Swan said those who usually responded to Ofqual's consultations were adults, adding: "We would really like to have more input from young people who are directly affected by the marking review and appeals system."
The survey asks four questions adapted from part of the full consultation, which will run until March 11. It has been released along with a video and infographic summarising the main points. One pupil who completes the survey will win an iPad Air 2.