Pupils from poorer families are more likely to miss out on a university place because teachers and tutors' ideas about what makes a good personal statement are a "world apart", a new report has claimed.
The "Making a Statement" report published today by the Sutton Trust found just under a quarter of personal statements reviewed were awarded the same grade by both teacher and admission tutors.
The charity says this means many disadvantaged youngsters are not getting the advice and guidance they need to get into top universities – while pupils from advantaged backgrounds can afford to pay for extra help.
Dr Steven Jones, author of the research brief, said: "The advice and guidance that some young people receive at school when composing their personal statement may not reflect the content and style expected by admissions tutors at the UK's most selective universities."
The report looked at the application outcomes of 44 state-educated pupils who got help writing their personal statement as part of the "Academic Apprentices" programme.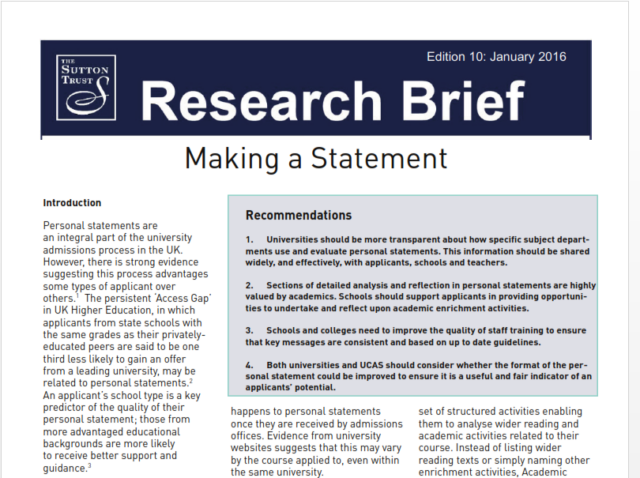 All of the students got at least one offer from a Russell Group university, compared to fewer than three quarters of pupils in a control group.
Only ten of the 44 personal statements were awarded the same grade by both teachers and admission tutors.
Of those, 13 were awarded two grades different and one statement was three grades different.
The charity is now calling for universities to be "more transparent" about how specific departments use and evaluate personal statements.
Sir Peter Lampl, chairman of the Sutton Trust and of the Education Endowment Foundation, said today: "Today's research shows how important it is that students get good advice about their personal statements, which are a key part of the application process to universities.
"The views of teachers and admissions tutors can be a world apart, so it is vital we ensure teachers, students and parents are well informed about what universities want in the statements."
Previous research by the Sutton Trust has suggested personal statements may explain why applicants from state schools with the same grades as their privately-educated peers are a third less likely to gain an offer from a leading university.
The Russell Group said its universities "make it clear" that personal statements are simply an opportunity for applicants to show their academic interest in studying a particular subject.
Dr Wendy Piatt, director-general of the Russell Group, said: "Our universities give lots of help and advice to teachers, especially those working in deprived areas. This includes organising free conferences for teachers to advise them on the applications process, including specific sessions on writing personal statements."
She added: "We want every student with the qualifications, potential and determination to succeed at a Russell Group university. But there is still some way to go in improving other areas of advice and information for students.
"Russell Group universities are constantly trying to spread the word that with the right grades in the right subjects a place at a Russell Group university is well within their grasp. But students need good advice and information from a range of key sources."