Youngsters are missing out on applying for around £85,000 in scholarships to support them at university because of a "lack of information" – with grants available for vegetarians, sewing enthusiasts and designers of zombie-destroying weapons.
A new app, called GrantFairy, has been created to find scholarships that students are eligible to apply for based on their personal profile.
Developers say that, so far, users are typically matched with at least £85,000 in funding opportunities, which they say prospective students are often missing out on because they aren't told about the cash.
It's not something that in my experience schools are particularly aware of or have expertise in helping the kids with at all
A search of the app by Schools Week found that scholarships were available from a range of organisations for youngsters currently studying.
They included £500 for vegetarian students, £1,200 for sewing or woodwork enthusiasts and £1,500 available for anyone who has completed a triathlon.
Students can even earn £500 plus a laptop for submitting designs of weapons used to destroy zombies (see box outs below).
James Kewin, deputy chief executive of the Sixth Form Colleges Association (SFCA), said principals report that they are "not aware of lots of grants for students", adding anything that could "help to connect students with grants at no cost can only be a good thing".
GrantFairy developers claim around £1 billion of scholarship funding is available for students in the UK university education each year.
The app's creator Myles Jardine said the sector's lack of knowledge around which scholarships are available could be because of the rapid changes to tuition fees in the UK.
In 14 years, UK university degrees have gone from being fully-funded to costing £9,000 per year, he added.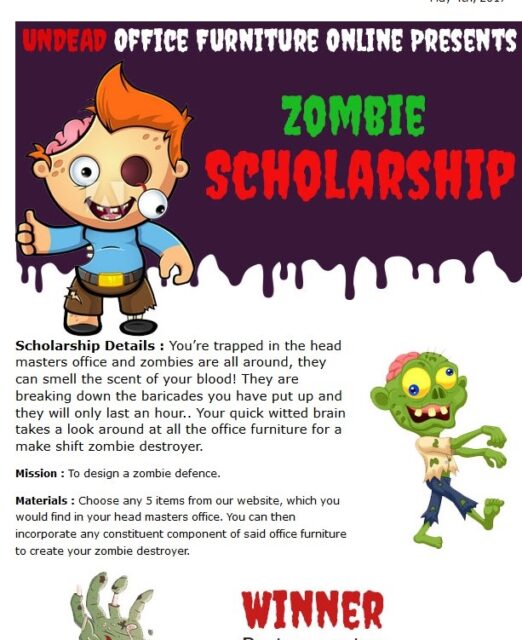 "In the US they have had high tuition fees for a very long time and as a result a scholarship culture has had time to develop. In the UK no one really knows about them," he said.
Jardine highlighted that the money isn't just from universities, and GrantFairy has worked with trusts and charities that say they haven't been able to give away their scholarships for several years.
Opportunities also have a variety of eligibility criteria and are not just for the most able or pupils from low-income families, Jardine added.
Ros McMullen, executive principal of the Midland Academies Trust, suggested advice for pupils on scholarship opportunities could be built into schools' careers-education programmes.
"It's not something that in my experience schools are particularly aware of or have expertise in helping the kids with at all.
"It really is pretty tragic that these funds are available and no one is making use of them."
Schools are allowed to use GrantFairy for free, which they can then use to search for grants available for their pupils. The app is currently working with more than 250 sixth forms and charities, including the Prince's Trust and the Social Mobility Foundation.
Students currently at university are charged £2 per month to use the app.
Conor Ryan, director of external relations at the Office for Students, the higher-education regulator, said: "It's important that students can access accurate information on what's available, and universities and colleges have an important role to play in making sure that prospective students are aware of what may be available to them before they start their courses."
Dead good
This is perfect for design and technology teachers – students must design a "zombie destroyer". Available from officefurnitureonline.co.uk, applicants design a weapon from five items which could be found in a headteacher's office. They send in their designs and the public votes online on the best. The winner gets £500 and a Dell laptop.
Eat your greens
The Vegetarian Charity offers a £500 grant to vegetarians or vegans in studies and aged under 26 – but you won't be eligible if you eat fish or even fruit pastilles. Applicants have to explain how long they've been a vegetarian and what they need the grant for, and trustees vote on the best application.
Tailor made
For young people into DIY, TeachYouToSew.com offers a £1,200 "Self Developing Scholarship" aimed at students passionate about hobbies like sewing or woodwork. You have to submit an essay explaining why your hobby is important and how it has helped you to develop as an individual.