A year 8 pupil has been living off water he has collected from a local spring for three days as part of a school project.
Henry Garrard, a pupil at Wycliffe Preparatory School in Gloucestershire, has been using just 20 litres of water a day to raise money for WaterAid. For comparison, the average person in the UK uses around 150 litres each day.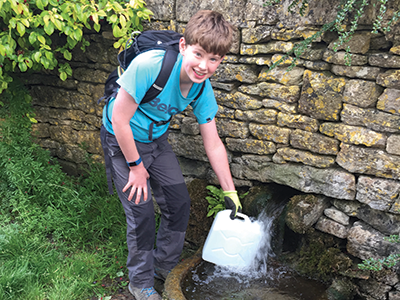 Through donations and online fundraising, he raised a total of £556 for the charity, which campaigns to bring access to clean water and sanitation to people in poverty-stricken areas.
The project was part of an annual school initiative that encourages pupils to undertake an activity that benefits the school or the wider community.
In order to collect the water – which he used for drinking, cooking and cleaning – 13-year-old Henry walked three kilometres to the nearest spring in Chalford and back again, and then had to boil it for ten minutes in a kettle in order to make it safe to consume.
"I carried 10 litres in my rucksack and then two five-litre bottles in my hand. On average someone in Africa walks six kilometres a day to get water and return home with it," Henry said.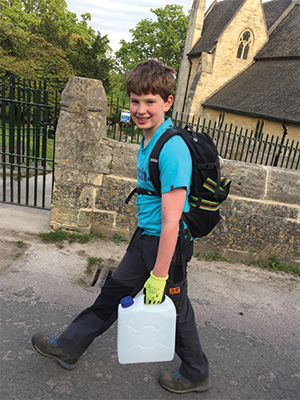 "The hardest part of the challenge was to carry the water and then wash in a centimetre of water when you really wanted a power shower. It felt like I was washing up in a puddle with a flannel.
"Now when I turn on a tap I think about how much water is being wasted and I make sure that I am more careful."
Other projects organised by pupils included organised sports tournaments, cake sales, sponsored swims, and a tea dance for pensioners.
Adrian Palmer, the school's headmaster, said: "The 'Kirby Challenge' award was developed to prepare year 8 pupils for the transition to the senior school.
"Henry's imaginative and difficult project embraces the spirt of the challenge. He has pushed himself but also helped the community by raising more than £550 for WaterAid."