Property website Rightmove has added a resource on its website to allow people to easily find the Ofsted result of schools close to where they plan to move.
Rightmove will now include catchment "indicators" on all properties on its website, as well as inspection results for all the schools in the area.
It has teamed up with the online information website School Guide to provide the service.
Every listing now displays the most likely catchment area of the schools in the vicinity, based on the latest available pupil data.
For houses in England Ofsted data will be used, and in Wales and Scotland the appropriate inspection bodies will be used.
Users can search for primary or secondary schools near each property, and can automatically read the latest Ofsted report for those schools. It also gives a breakdown of further information about the school, for example if it is a faith school, how many pupils it has, and if it is mixed or single sex. Independent schools are also included in the results.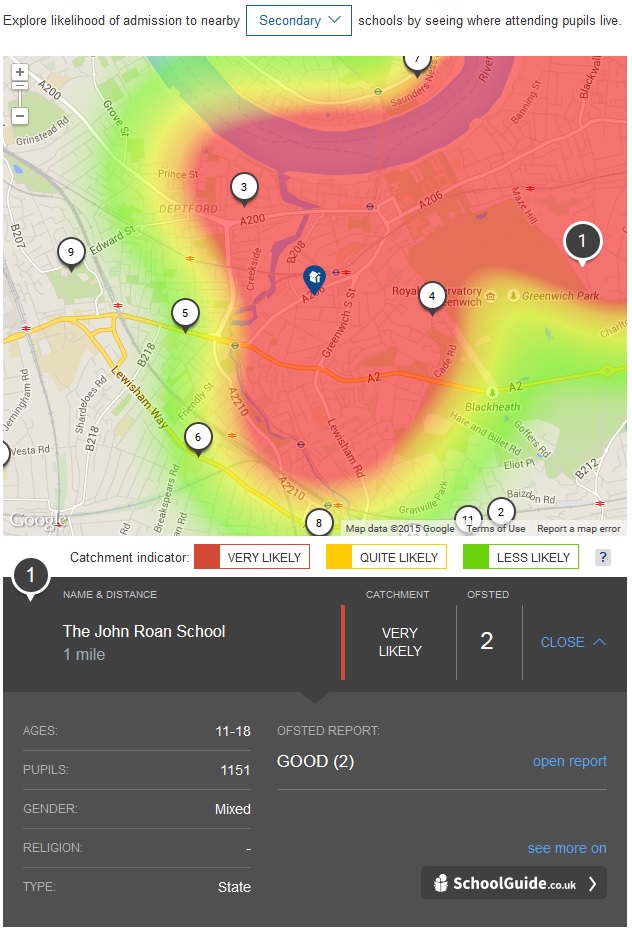 The property site said it had decided to add the resource as, according to its research, 93 per cent of parents consider schools when deciding on a location to move to and 83 per cent of parents would consider moving to be near a good school.
Rightmove said a third of home-hunters without children would also move to be near a good school.
Chief executive and founder of School Guide Victoria Bond said: "Finding the right home near the right school can be a minefield and, until now, there has not been a destination that connects the two.
"We are delighted to partner with Rightmove to empower users by putting the highest quality property and school data at their fingertips."
James Micklethwait, Rightmove's head of product development, said: "Given how important local schools are to many home-hunters, we're really excited about the launch of our new School Checker.
"This is a resource which will provide home-hunters with valuable schools information including catchment indicators that they cannot find anywhere else, and we hope it will help them find the right property.
"By partnering with School Guide we've been able to bring all of the information together in one place to help people who in the past were having to search across a number of sources to find the right home near the right school.
"This is the first stage of enhancing the schools information on Rightmove, and we'll be building on it further in the coming months."
Mary Bousted, general secretary of the Association of Teachers and Lecturers, told Schools Week: "It is true that if parents can afford it they will put the quality of the school into the mix when buying a house. It's also a logical development in terms of the marketing of schools.
"But my advice to parents is always to go and look at the school. Ofsted will not be able to tell you the atmosphere of the school."