The government is under growing pressure to review its guidance on the use of face coverings in schools, as one of England's largest academy trusts announced it had ordered visors and masks for staff and some pupils.
Oasis Community Learning, which runs 52 academies across England, will provide face coverings for all staff and visitors and for secondary pupils to use during transition between lessons, its founder said today.
If there is going to be any U-turn by the government that it does this sooner rather than later because the start of the new term is imminent
It comes as specialist education lawyers said schools can legally introduce policies requiring the wearing of face coverings by pupils, even if it conflicts with government guidance.
Current Department for Education guidance states that face coverings are not required in schools in England because "pupils and staff are mixing in consistent groups, and because misuse may inadvertently increase the risk of transmission".
But the decision this week by the Scottish government to make face coverings mandatory for high school pupils, and recently-updated World Health Organisation guidance stating pupils aged 12 and over should wear masks "under the same conditions as adults" has prompted speculation that England may soon follow suit.
Alok Sharma, the business secretary, told Sky News this morning that there was "no current plan" to review the guidance on face coverings in England's schools.
But Geoff Barton, general secretary of the ASCL school leadership union, said it would be "prudent" in the light of the decision in Scotland and the WHO guidance for the government in Westminster to review its existing guidance that face coverings are not required in schools in England "and provide clear direction one way or another".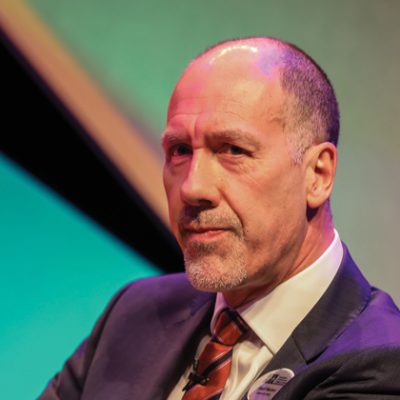 "We have two concerns. First, parents, pupils, and staff, will be anxious about the situation and need reassurance from the government about the public health basis for its policy over face coverings in England, rather than it being left entirely to schools to explain the government's rationale.
"And, second, if there is going to be any U-turn by the government that it does this sooner rather than later because the start of the new term is imminent."
It comes as a number of schools across England have already announced they will break with the government guidance to either provide or require face coverings.
Steve Chalke, founder of Oasis Community Learning, said the trust had "booked face visors & masks for all our school staff & masks (colour coded for year groups) for our secondary students for transition in corridors etc".
"We're also booking extra space (offices, church halls etc.) for a number of our schools. Think 'Hands, Face & Space'," he said on Twitter.
And last week it was revealed that Eaton Mill primary school in Bletchley, Milton Keynes, had told parents that all children aged five and above would have to wear face coverings when they return to school.
According to the MK Citizen, headteacher Warren Harrison told parents in a newsletter that the government was "doing everything on the hoof" and that the school was "common sense, logic and reason" in mandating masks.
Education specialist law firm Stone King LLP has also issued guidance on the matter today, following questions from a number of schools.
Lawyer Laura Berman said it would "currently not unlawful to have a policy requiring the use of face masks, although such a policy may be vulnerable to challenge as being contrary to current guidance".
"The guidance is not however statutory and the policy could be justified on the grounds of health and safety. Ordinarily, any amendments to school uniform policy would require consultation but the current circumstances and requirements of health and safety could justify not carrying out a consultation.
"Schools will need to ensure that it is covered off adequately in their uniform policy i.e. it should state whether there are restrictions or requirements in the type of mask required such as plain or no slogans etc. and exactly when/where students/staff are required to wear them. "
Some school leaders have however spoken out against the use of face-coverings in schools.
Katharine Birbalsingh, headteacher of Michaela Community School in Brent said masks in schools would "cause complete chaos".
"Masks will make behaviour explode in schools because kids not only will bully each other over masks, teachers won't be able to stop the chatter. Poor behaviour is incremental. It starts with chat. It ends up with massive fights. Teachers will lose all authority," she tweeted.