The government has reported a boost to year 1 phonics check results, but pupils' writing standards are falling behind reading and maths.
Department for Education statistics on the phonics check show that 81 per cent of year 1 pupils met the 'expected standard' this year, up from 77 per cent in 2015. The rate at the end of year 2 has risen by one percentage point from 90 to 91 per cent in the same timeframe.
But data in the same release on key stage 1 teacher assessments, the first since a new "more challenging curriculum" was brought in two years ago, shows fewer pupils reach the expected standard in writing than in other subjects.
Just 65 per cent of pupils reached the standard in writing this year, compared to 73 per cent in maths and 74 per cent in reading. At the same time, the proportion of pupils considered to be working 'at greater depth' was almost half that in writing (13 per cent) as it was in reading (24 per cent).
The government has insisted the results this year cannot be directly compared with previous years because of curriculum changes, but a table in its own release shows that the proportion of pupils reaching the expected standard this year is much lower in all three areas than the proportion who achieved a 2b or above in previous years.

The data also shows very little difference between local authority maintained schools and academies in terms of key stage 1 teacher assessment results.
In both reading and science, LA-maintained schools were slightly ahead of academies, but were slightly behind them in maths and neck-a-neck in writing.
Of the types of academy, sponsored academies performed the worst across all areas, while free schools were the best-performing.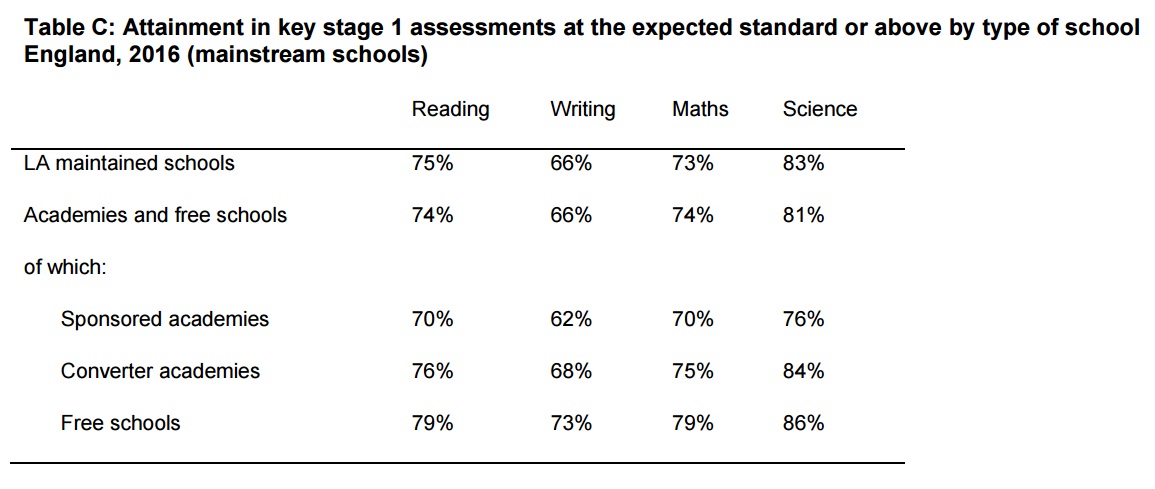 The phonics results, although an improvement across the board, do continue a trend of lower performance among certain groups.
For example, just 42 per cent of year 1 pupils with SEN achieved the expected standard this year, compared to 86 per cent of those with no identified SEN, while 69 per cent of pupils in the same cohort eligible for free school meals achieved the standard, compared to 83 per cent of other pupils.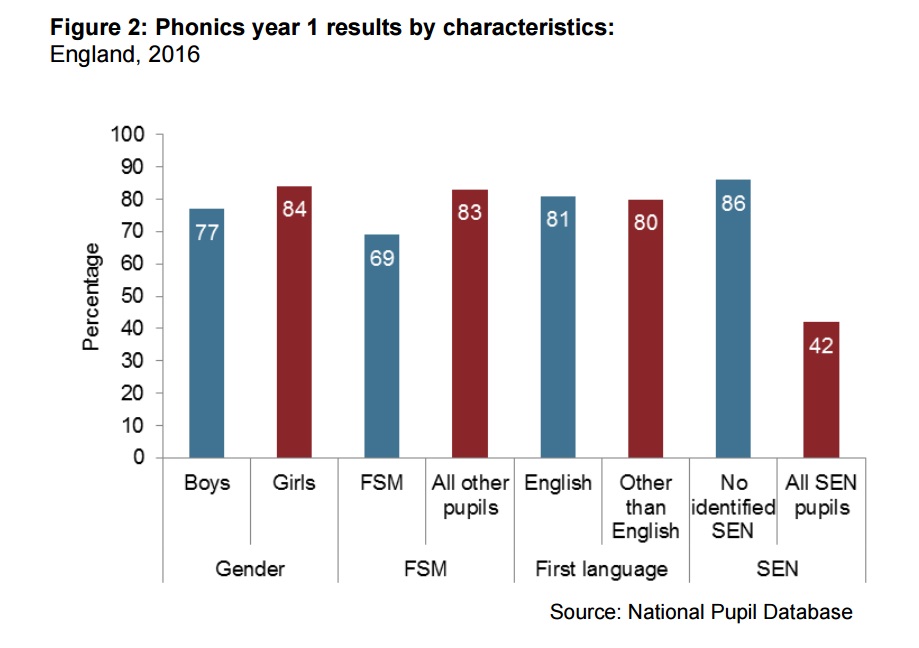 The data also shows pupils who are travellers of Irish heritage or of a Gypsy or Roma ethnicity falling a long way behind their peers.
Just 37 per cent of Gypsy and Roma pupils and 41 per cent of those pupils recorded as being travellers of Irish heritage achieved the expected standard this year. The next lowest-attaining ethnic groups were white and black Caribbean and non-British or Irish white pupils, both on 78 per cent.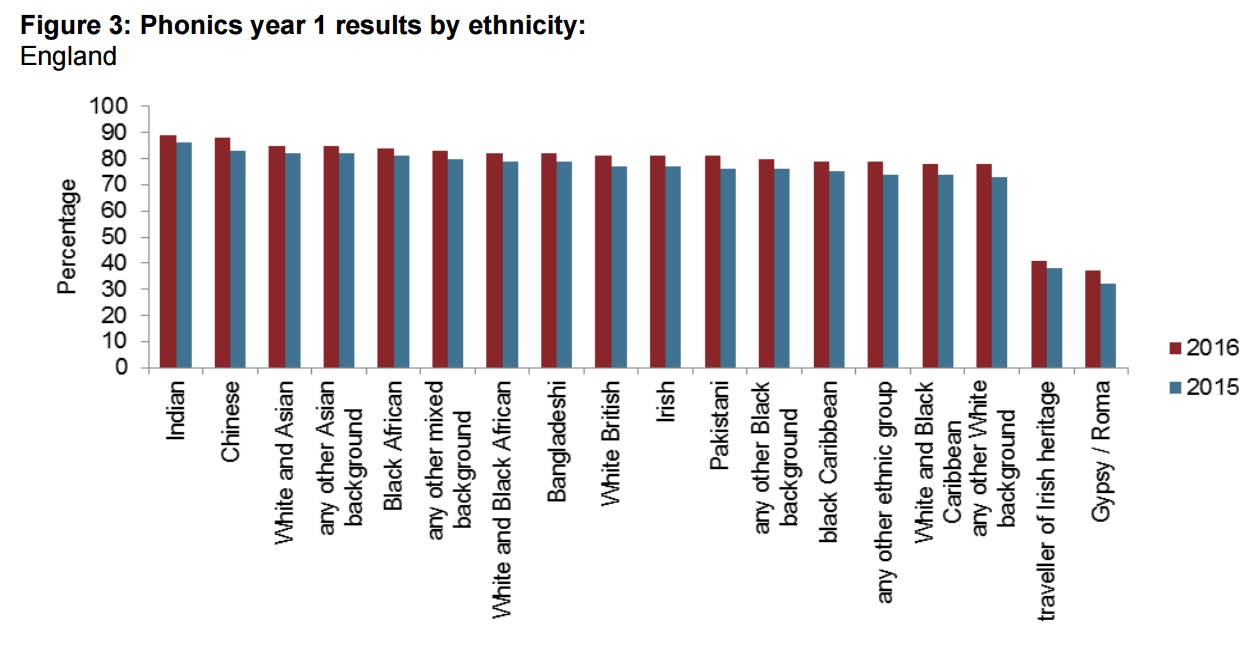 Although the statistics show that the proportion of pupils getting the expected standard in phonic decoding in year 1 has risen solidly since 2012 when just 58 per cent achieved the benchmark, the rise does mean that the relative of pupils between years 1 and 2 has slowed.
In 2013, 85 per cent of the year 2 cohort reached the standard when just 58 per cent had done so the previous year, a 27 percentage point improvement.
But among 2016's year 2 cohort, the 91 per cent result was a 14 percentage point improvement on their result last year.