The government's phonics screening check needs an "urgent rethink" after new figures show "something dodgy" with scores, a policy expert has warned.
Figures published last week show 81 per cent of year 1 pupils met the "expected standard" in phonics checks this year, up from 77 per cent in 2015.
But the reliability of results has been questioned after mark distribution data showed a steep rise around the pass mark of 32 (see graph).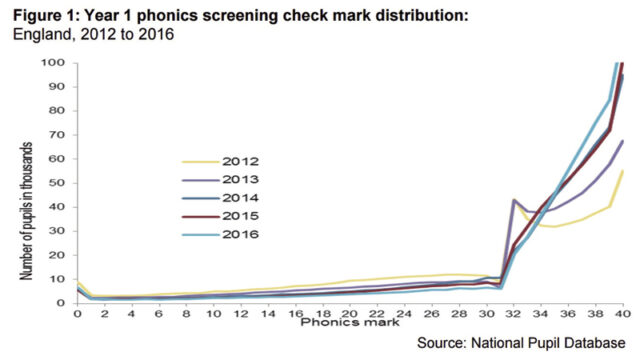 Data for key stage 1 teacher assessments, also published last week, shows fewer pupils reached the expected standard in writing last year, with 74 per cent of pupils at the expected level for reading.
Anne Heavey, education policy adviser at the Association of Teachers and Lecturers, said: "Sadly the phonics and key stage 1 results this year demonstrate one thing and one thing alone – something dodgy is going on with these assessments and they require an urgent rethink."
This year's phonics data showed the spike in pupils attaining the pass mark of 32 is actually less severe than the first two years of the test – when teachers were told the pass mark before the test.
The government now reveals the pass mark after the test, resulting in the spike smoothing out around the 32 mark.
Dorothy Bishop, a professor of developmental neuropsychology from the University of Oxford's department of experimental psychology, told Schools Week the data reveals a "deep problem" that teachers "clearly don't like classifying children on a 'pass/fail' basis".
She said this could be down to concerns that such a tag could damage pupils psychologically, or that teachers' own work may be evaluated on the results.
Along with the rise in year 1 scores, figures show the year 2 phonics pass rate also rose from 90 per cent in 2015, to 91 per cent this year.
The government has celebrated the rise, and academies have highlighted the value results offer for helping target intervention. But critics question the data's reliability.
Russell Hobby, the general secretary of the National Association of Head Teachers, told Schools Week: "Any test that is used for accountability gradually loses its value as a diagnostic.
"The results of the phonics screening check are increasingly used in this way and therefore its ability to tell us anything meaningful about progress in early literacy is eroding."
The data released last week also shows a continued underperformance in phonics of pupils eligible for free school meals or with special educational needs, and those from certain ethnic backgrounds, such as gypsy or Roma children, or those of Irish traveller heritage.
Bishop said that "any test result is imperfect" and that scores close to a pass-fail boundary are unreliable. But there is "some value" in identifying children who are "struggling with a key component of reading so that they can be given extra help".
Heavey added: "It is time for ministers to accept that their new assessment system requires significant improvement, and must not be run again this year without major modifications."
A Department for Education spokesperson said the government would take action if there was any evidence of maladministration.