Exam grades should be "permanently rebased" to 2020 levels despite fears about "baking in" grade inflation, a report by a former government education adviser has recommended.
The Institute for Government's Covid tests: school exams in 2022 and beyond report, written by former Michael Gove aide Sam Freedman, also called for a "full review" of secondary assessment.
It comes after pupils received A-level grades based on teacher assessments yesterday, with the proportion of top grades rising to more than 44 per cent.
The government is consulting on plans for exams next year, including some mitigations to address Covid disruption.
But the report warned measures announced so far were "unlikely to be enough to make up for lost learning".
Fairness fears outweigh concerns about 'baking in' inflation
The report looked at four options for grading in 2022, and recommended that results be "permanently rebased" to the standard seen last year.
This would be "fair to 2022 and subsequent cohorts who have suffered learning loss", but unfair to cohorts from 2019 and earlier who were assessed "against a more difficult standard".
Grade inflation seen last year would also be "baked in" to the system, complicating university admissions.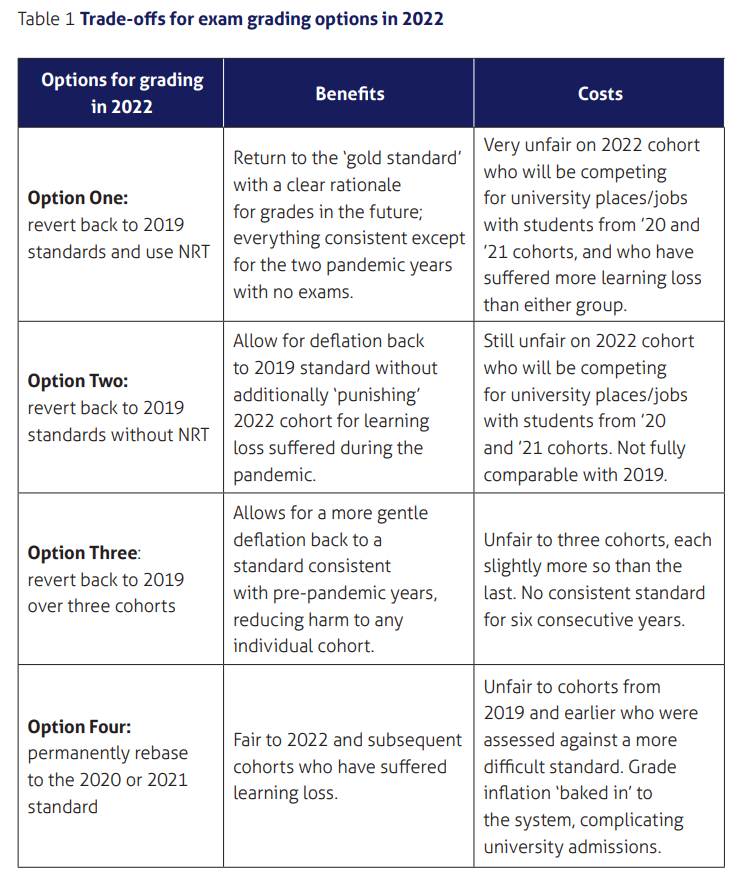 Given Ofqual's legal duty to maintain standards, Freedman said the most "technically correct approach" would be to use the 2019 results as the benchmark.
But because of pandemic disruption, the correct application of comparable outcomes in 2022 would lead "not just to significantly lower results than 2021 but likely lower than 2019".
This would be "very unfair" on the 2022 cohort, who will have to compete for university places and jobs with students from the 2020 and 2021 cohorts, despite having suffered "more learning loss".
This "outweighs concerns around unfairness on earlier cohorts and 'baking in' grade inflation", Freedman said.
Using 2021 results could make uni admissions 'unworkable'
The report does not recommend using 2021 results, as they are "so high as to make the university admissions system potentially unworkable".
This year, 44.3 per cent of A-level grades issued were As and A*s, up from, 38.1 per cent in 2020 and 25.2 per cent in 2019.
However, to pursue the option of rebasing on 2020, the DfE "may need to formally direct Ofqual to use the 2020 results as a benchmark to allow them to set aside their legal duty to maintain standards".
One downside of the approach would be that grades become rebased "for as long as exams are in this form", and grades from before 2019 "would never be comparable to grades afterwards".
The report said the government must issue "clear guidance" to universities, further education institutions and employers "to ensure they understand the differences between cohorts when they make selection decisions".
Review needed, particularly of GCSEs
The report also recommended a full review of secondary assessment to consider "broader reform, particularly of GCSEs".
Exams play an "important role", but "recent controversies" risk the exams system becoming "entirely undermined, possibly even being scrapped by a future government".
Freedman warned scrapping GCSEs without a replacement was "not a viable option" because 62 per cent of pupils in England do not attend a school after 16.
The report called on the DfE to set up a review group to "think through whether the ongoing disruption caused by Covid is a good opportunity for wider reform and rebalancing of secondary assessment".
Ofqual should publish 'resilience strategy'
The report also recommended that Ofqual publish a "resilience strategy" in 2022 so England's schools system is "better prepared for future crises".
The pandemic has "raised serious questions around the resilience and appropriateness of the current assessment system", which is "particularly prone" to disruption because everything is done through end-of-course written assessments.
The strategy should look at options such as having essays written earlier in the course "where appropriate" and marked using "comparative judgment" – where markers compare and rank papers rather than apply a mark scheme.
The report said it was also worth the government and Ofqual "considering whether to reverse the abolition of AS-levels".
Government mulls numerical A-level grades
It has been reported this week that the government is considering overhauling A-level grades to switch from numbers to letters, as happened with GCSEs in 2017, as a way to combat grade inflation.
But NAHT general secretary Paul Whiteman said the suggestions were "unrealistic", given the change to GCSEs had followed the introduction of new specifications.