The new teacher and school leadership pay rates for 2019-20 have been confirmed by the Department for Education.
In July, the DfE announced pay rises of 2.75 per cent for teachers on all pay grades.
While local authority-maintained schools are required to follow these pay scales, academies and free schools are allowed to set their own scales.
Here are the new pay rates, effective from September 1 2019.
Classroom teachers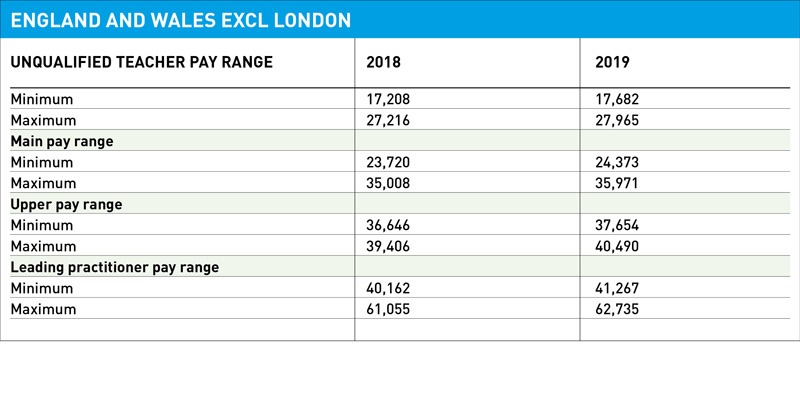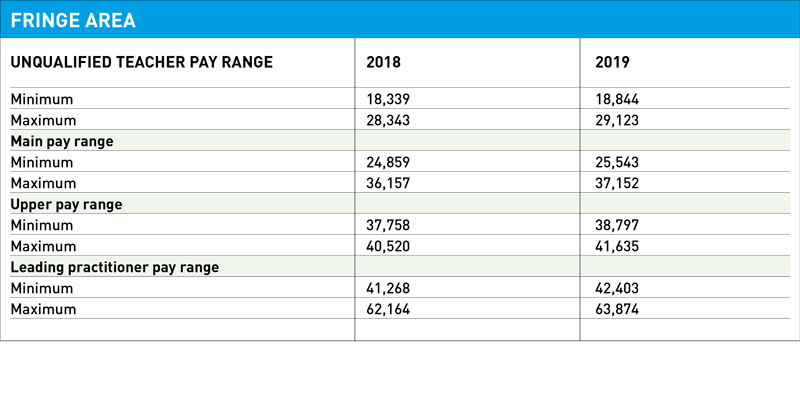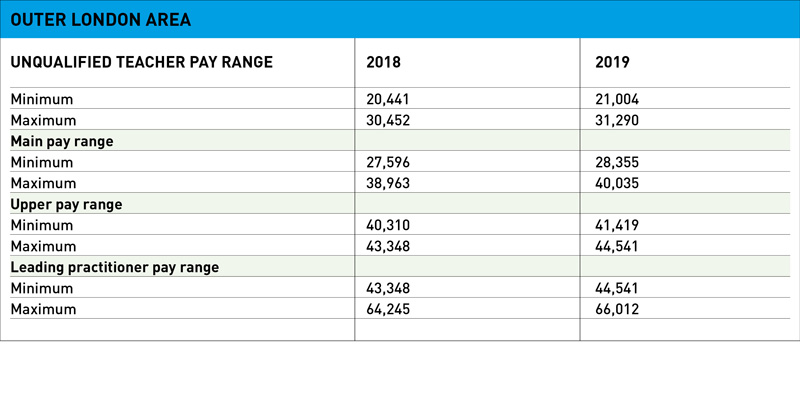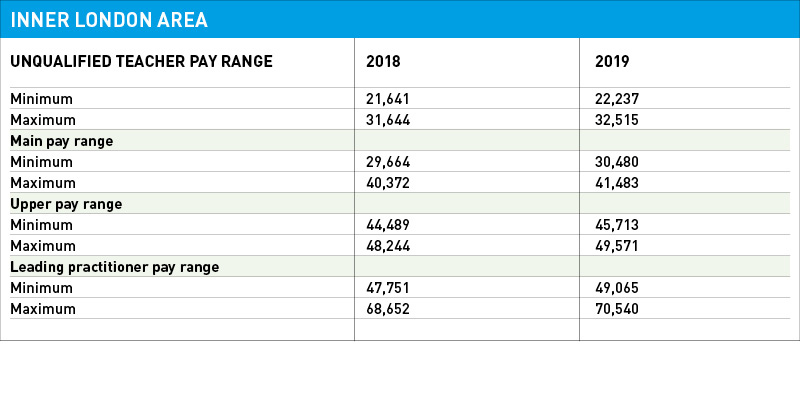 Headteachers and school leaders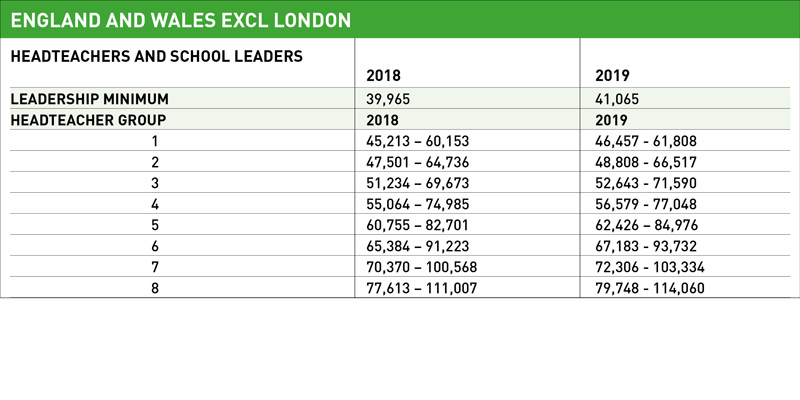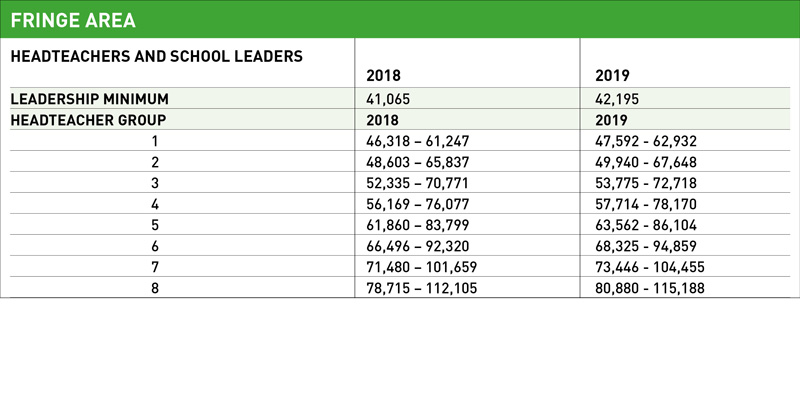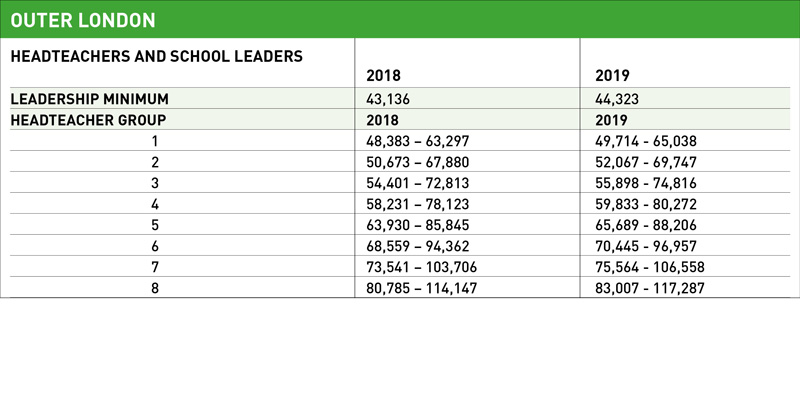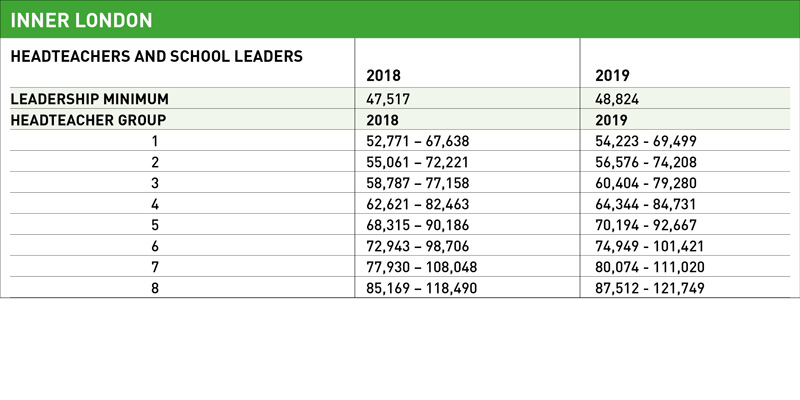 Here's the text version in case you need to copy and paste…
England and Wales excl London
Unqualified teacher pay range
2018
2019
Minimum
17,208
17,682
Maximum
27,216
27,965
Main pay range
Minimum
23,720
24,373
Maximum
35,008
35,971
Upper pay range
Minimum
36,646
37,654
Maximum
39,406
40,490
Leading practitioner pay range
Minimum
40,162
41,267
Maximum
61,055
62,735
Fringe area
Unqualified teacher pay range
2018
2019
Minimum
18,339
18,844
Maximum
28,343
29,123
Main pay range
Minimum
24,859
25,543
Maximum
36,157
37,152
Upper pay range
Minimum
37,758
38,797
Maximum
40,520
41,635
Leading practitioner pay range
Minimum
41,268
42,403
Maximum
62,164
63,874
Outer London area
Unqualified teacher pay range
2018
2019
Minimum
20,441
21,004
Maximum
30,452
31,290
Main pay range
Minimum
27,596
28,355
Maximum
38,963
40,035
Upper pay range
Minimum
40,310
41,419
Maximum
43,348
44,541
Leading practitioner pay range
Minimum
43,348
44,541
Maximum
64,245
66,012
Inner London area
Unqualified teacher pay range
2018
2019
Minimum
21,641
22,237
Maximum
31,644
32,515
Main pay range
Minimum
29,664
30,480
Maximum
40,372
41,483
Upper pay range
Minimum
44,489
45,713
Maximum
48,244
49,571
Leading practitioner pay range
Minimum
47,751
49,065
Maximum
68,652
70,540

Headteachers and school leaders

England and Wales excl London
2018
2019
Leadership minimum
39,965
41,065
Headteacher group
2018
2019
1
45,213 – 60,153
46,457 – 61,808
2
47,501 – 64,736
48,808 – 66,517
3
51,234 – 69,673
52,643 – 71,590
4
55,064 – 74,985
56,579 – 77,048
5
60,755 – 82,701
62,426 – 84,976
6
65,384 – 91,223
67,183 – 93,732
7
70,370 – 100,568
72,306 – 103,334
8
77,613 – 111,007
79,748 – 114,060
Fringe area
2018
2019
Leadership minimum
41,065
42,195
Headteacher group
2018
2019
1
46,318 – 61,247
47,592 – 62,932
2
48,603 – 65,837
49,940 – 67,648
3
52,335 – 70,771
53,775 – 72,718
4
56,169 – 76,077
57,714 – 78,170
5
61,860 – 83,799
63,562 – 86,104
6
66,496 – 92,320
68,325 – 94,859
7
71,480 – 101,659
73,446 – 104,455
8
78,715 – 112,105
80,880 – 115,188
Outer London
2018
2019
Leadership minimum
43,136
44,323
Headteacher group
2018
2019
1
48,383 – 63,297
49,714 – 65,038
2
50,673 – 67,880
52,067 – 69,747
3
54,401 – 72,813
55,898 – 74,816
4
58,231 – 78,123
59,833 – 80,272
5
63,930 – 85,845
65,689 – 88,206
6
68,559 – 94,362
70,445 – 96,957
7
73,541 – 103,706
75,564 – 106,558
8
80,785 – 114,147
83,007 – 117,287
Inner London
2018
2019
Leadership minimum
47,517
48,824
Headteacher group
2018
2019
1
52,771 – 67,638
54,223 – 69,499
2
55,061 – 72,221
56,576 – 74,208
3
58,787 – 77,158
60,404 – 79,280
4
62,621 – 82,463
64,344 – 84,731
5
68,315 – 90,186
70,194 – 92,667
6
72,943 – 98,706
74,949 – 101,421
7
77,930 – 108,048
80,074 – 111,020
8
85,169 – 118,490
87,512 – 121,749