More than 800 schools face being labelled as coasting, official figures published today have revealed – with one in ten secondary schools eligible for government intervention.
Department for Education figures published this morning show that 804 schools are coasting under provisional Progress 8 measures.
One in ten secondaries (327) and 3.5 per cent (479) of primaries fall under the new accountability measure, which could result in intervention by the government.
The figures, broken down by school type, also show that troubled schools already converted into academies after government intervention (sponsor-led academies) are most likely to fall under the new accountability measure at primary level.
They are also the second most likely school type to be coasting at secondary level, with one in five sponsored secondary academies set to fall under the accountability measure.
The disclosure is likely to prove awkward for the government. Dr Becky Allen, director of Education Datalab, which already highlighted the finding in previous research, said it shows the sponsorship model hasn't worked for these schools.
But Nick Gibb, minister for school standards, said today: "It is crucial we identify schools that are not doing enough to help their pupils fulfil their potential. This is about ensuring struggling schools have the support they need to make improvements so every child has access to the best education."
He added that a good school place still "remains out of reach for too many".
No school will be formally classed as coasting until revised results are published in December for key stage 2, and January for key stage 4.
Schools have to miss certain performance criteria for the previous three years to be labelled coasting.
Schools commissioners will then review if the school needs additional support to help its current leadership team, with potential for a school to be turned into an academy or handed to a new trust.
Although the government said today it only expects a school to be handed to a new sponsor in a "minority of cases".
A breakdown of today's key stage 4 figures by school type show that foundation schools (22.4 per cent) and sponsored academies (19.5 per cent) are most likely to be coasting.
Just 9 per cent of secondary academies overall fall into the coasting category, compared to 13.9 per cent of council schools (table right).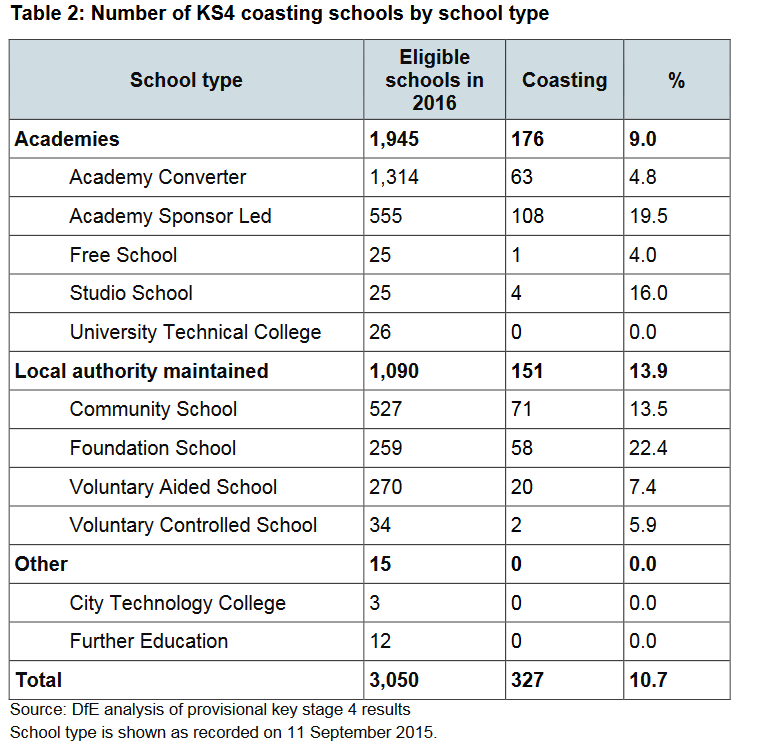 Key stage 2 figures show that sponsor-led academies and free schools (4.8 per cent) are most likely to be coasting.
However just one of the 21 free schools eligible were rated coasting, compared to 39 of 818 sponsored academies.
A total of 4.3 per cent of academies fell into the coasting category, compared to 3.4 per cent of local authority maintained schools.
Today's data has also been broken down per regional schools commissioner area. At primary level, Christine Quinn, schools commissioner for the west Midlands, has the highest percentage (4.7 per cent).
At secondary, Vicky Beer, schools commissioner for Lancashire and west Yorkshire, has the highest at 16.8 per cent.
Ministers said the coasting measure would hit schools in "leafy areas with more advantage" that have "gone below the radar".
But an analysis by the Education Policy Institute found schools are "far more likely to be labelled as coasting if they have rates of disadvantage that are above average".
Save
Save