The Department for Education has been mocked for encouraging schools to take part in a campaign that involves children singing an "anthem" that end with children repeating the line "strong Britain, great nation".
One Britain One Nation (OBON), which aims to a create a "strong, fair, harmonious and a proud British Nation", was set up by former police officer Kash Singh, but has close links to Conservative MPs. 'OBON day 2021', an event celebrating "pride and unity", is due to take place on Friday.
So why is the government promoting a previously little-known event, and why has it angered so many people? Or are people just making a fuss about nothing? Here's what you need to know:
1. DfE tweeted campaign support after Tory MP request
On Monday, Conservative MP Philip Davies asked the education secretary if he would "encourage all schools to take part in OBON Day on Friday"?
Gavin Williamson called the project "amazing" and said it was "incredibly important that schools take part".
He added: "We have already asked schools to participate, and I am happy to reiterate the endorsement of the project from the Dispatch Box and to encourage them to play their part in it."
The parliamentary session ended just after 3.30pm and the DfE had tweeted its support out at 4pm.
We're encouraging schools across the UK to celebrate One Britain One Nation Day on 25 June, when children can learn about our shared values of tolerance, kindness, pride and respect.#OBONDAY21 @1Britain1Nation

For more information:https://t.co/y7PQblUeDN

— Department for Education (@educationgovuk) June 21, 2021
2. Pupils 'must' sing 'We are Britain' anthem
The DfE encouraged schools to take part in the event this Friday. The campaign's website asks for the "support of your school to celebrate the day in the spirit it is intended".
Schools are urged to "do the following as a MUST please": encourage every child to clap for a minute to recognise and pay tribute to all those who helped during Covid and also sing the "OBON Day 2021 anthem".
The song, titled "We are Britain and we have one dream to unite all people in one Great Team", was written by school children at St John's CE Primary School, in Bradford.
Other advice for the day includes dressing children in the colours of the British flag (red, white and blue) and "this theme throughout the school to decorate classrooms etc".
OBON aims to create a "strong, fair, harmonious and a proud British Nation, celebrating patriotism and respect for all our people". The campaigns Twitter feed cites several schools that have signed up.
3. Why is it being mocked?
The DfE tweet has had huge interaction: 5.7k shares and another 9.4k comments on Twitter.
While people questioned government support for what was a relatively unknown national campaign, it was the OBON anthem that came in for particular ridicule. The song includes the line "we are Britain and we have one dream, to unite all people in one great team" and ends with children repeatedly singing "Strong Britain, great na-ation".
Former NHS trust boss Adrian Bull tweeted it was "awful on many levels … This song would not be out of place in North Korea!". Others called it "creepy and just plain wrong" and "embarrassing nonsense".
Some also pointed out that most schools in Scotland will have broken up for the summer holidays by this Friday.
But others have dismissed the outrage. Primary school teacher Solomon Kingsnorth tweeted some of the reaction is "embarrassing. Many reasons to dislike such a damp squib. However, a song written by primary children for an anti-hate organisation run by an Indian migrant & retweeted by a DfE donning pride flag is … far from the Hitler Youth."
The DfE said it had "not asked people to sing songs or censored any specific materials for One Britain One Nation day". The department supports the campaign's "aims to help children learn about equality, kindness and pride, and it is for schools to decide how they teach these important values".
4. Former cop founded campaign for nation to 'showcase pride' …
Founder Kash Singh was a former police inspector in Bradford with West Yorkshire Police. He also set up the British Indian Association.
According to the Bradford Telegraph and Argus, Singh moved to Bradford from the Punjab with his parents at the age of six and joined West Yorkshire Police when he was 20.
He set up OBON in 2013, after he retired, because of a "personal desire to put back into the country that has given him so much".
The campaign has a vision of creating "a strong, fair, harmonious and a proud British nation, celebrating patriotism and respect for all our people", according to its website.
After starting in Bradford and West Yorkshire, Singh now wants to take it nationwide.
He told Times Radio: "This country is a brilliant country. I came to this country as a six-year-old kid who couldn't speak a word of English. My parents were labourers, they worked in a factory and foundry, and there are fantastic people in this country.
"One of the things that was missing for me was what we need to do, is we need an organisation that the people of this country can align themselves to, to showcase their passion, pride and love for this great nation."
5. … but campaign is closely linked to Tory MPs
The group has some high-profile Conservative politician backers. Speaking in Parliament in 2018, Conservative MP Andrea Jenkyns said she and fellow Tory MP Andrew Rosindell launched the "One Britain One Nation all-party group, which will be working with schools to promote pride in our country, and respect, tolerance and inclusion regardless of one's background".
A website for the group states its purpose is to "bring people together – regardless of race, religion or background – to celebrate what unites us in being British".
It also listed then Labour MP John Grogan as an officer. Jenkyns and Rosindell hosted an evening reception with "MPs, ministers and peers" to celebrate formation of the group. Attendees included Jacob Rees-Mogg (see pic below).
However the parliamentary group is not in the latest list of all-party parliamentary groups (APPGs). It was last registered on July 31, 2019. The group is thought to now be "defunct".
But support for the national day resurfaced recently. Prime minister Boris Johnson backed the campaign in parliament earlier this year. The OBON website lists actress Joanna Lumley as a fan.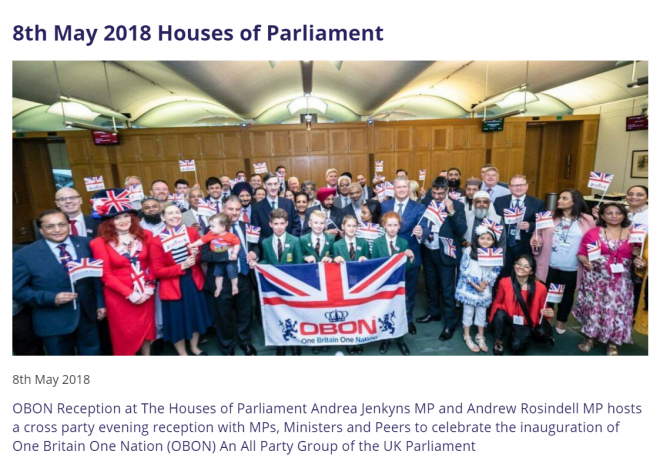 6. OBON is a Community Interest Company
According to Companies House, OBON is a community interest company (which exists to benefit the community rather than private shareholders). It was set up in 2013.
Accounts filed this year state the campaign has "had a huge impact in bringing people of all communities and ages together". It has also "attracted immense positive media attention".
The accounts state that "all moneys [sic] used to progress the Vision of OBON has been the Directors [sic] own money".