Exams regulator Ofqual is no longer seeking to harmonise the number of pupils achieving top grades across different subjects – admitting it is too difficult to do.
The regulator launched a consultation into the difficulty of GCSE and A-level subjects in December 2015 to address the issue of comparability across examined subjects.
One of the options considered was for the regulator to take action to ensure the same amount of top grades were awarded in both "easy" and "hard" subjects (see image right).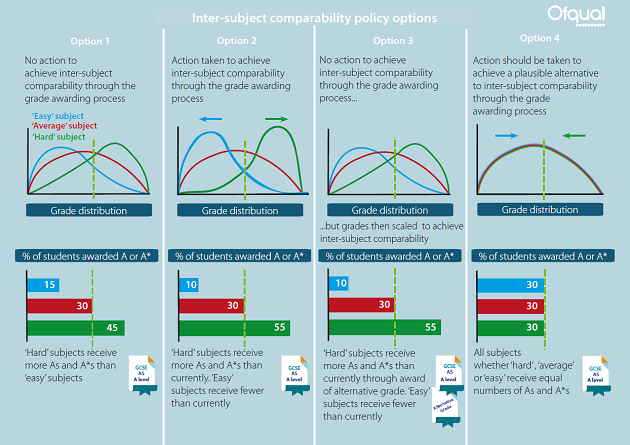 But the regulator announced today it has decided to take no action, stating the "challenges apparent in conceptualising and measuring" how different subjects compare on level of difficulty were too great.
However Ofqual included a caveat that it may still consider making "one-off" adjustments to grade standards where there is a "compelling case".
The regulator said it is in talks with subject communities from A-level physics, chemistry and biology over potential issues that could result in grade standards changes.
Separately the regulator also announced today it will consider taking action over grade standards in A-level French, German and Spanish.
It follows research suggesting awarding should take into account the fact native language speakers take these subjects but, in practice, it's very difficult to achieve.
Sally Collier, chief regulator Ofqual, said while grade standards between exams boards in the same subject are expected to be comparable, inter-subject comparability is "more difficult to consider".
"We are extremely grateful to the stakeholders who have offered their opinions and the many researchers who have helped us reach our policy decision."
Save