Ofqual's report into events at the exam board last summer which almost led to them failing to release A level results on time gives us an insight into what went wrong. Here, Freddie Whittaker brings you the highlights…
OCR had a LOT more papers to mark last summer
900,000 in fact, as a result of the new linear exam structures which scrapped January A level modules and re-sits. The company had also introduced another level of monitoring, and accepted this would result in more markers being prevented from marking than in previous years.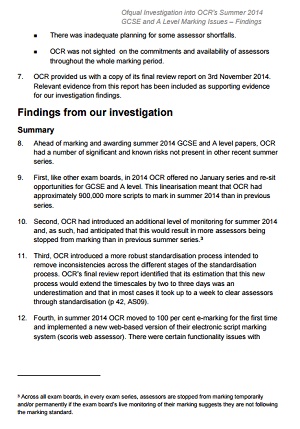 The company "underestimated" the time it would take for a new process to be followed
OCR introduced a "more robust standardisation process" intended to remove inconsistencies in exam marking. It estimated the change would extend timescales by two to three days. In fact, it typically took up to a week to clear markers through the new process.
There was a glitch with the firm's new e-marking system
Last year, OCR moved to 100 per cent e-marking, using a system called 'Scoris web assessor'. According to Ofqual's report, there were "certain functionality issues" with the system which contributed to OCR's subsequent significant marking issues.
An "intensive restructure" at OCR affected contingency planning
The exam board had carried out a restructure during the year leading up to last summer, which included the removal of about 120 qualification managers, who had been the "primary operational interface with assessors during the marking period".
According to the company's own internal reviews, a focus on the restructure "limited the effect of contingency planning undertaken for events such as the Scoris web assessor performance issues".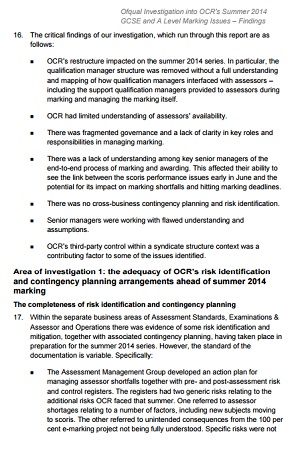 There were issues around a lack of understanding and planning 
The report claims OCR "had limited understanding of assessors' availability" and suffered from "fragmented governance and a lack of clarity in key roles and responsibilities in managing marking".
It also says there was a "lack of understanding" among key senior managers of the end-to-end process of marking and awarding: "Senior managers were working with flawed understanding and assumptions. OCR's third-party control within a syndicate structure context was a contributing factor to some of the issues identified."
---
Response
An OCR spokesperson said: "Last summer's marking did not go as smoothly as OCR would have wanted. We welcome the regulator's report as it confirms we delivered the results on time, took the right steps to improve our system resilience and that Ofqual did not need to take any regulatory action. OCR met the UCAS deadline – seven days before results day itself – despite having nearly a million extra scripts to mark electronically.
"Although we delivered the results on time, as soon as possible after the actual results day we launched a voluntary 'warts and all' investigation.  We then appointed an experienced, senior team whose job was to ensure we learnt the lessons of the summer and took the right action to make our processes more robust.
"Regardless of the timing of this report, students and teachers can feel confident about this summer. All A Level marking has been completed and the quality of marking has been upheld. The Ofqual report does not raise any issues about last year's marks, so teachers and students can be confident about the marks they received then."