The new leader of the National Union of Teachers has said he "can envisage" further walk-outs by teachers this term as he warned school budget pressures could exceed the 8 per cent cuts predicted by financial experts.
Kevin Courtney, who was recently elected to replace Christine Blower as general secretary of the 300,000-member union, said teachers could strike again before Christmas without the need for another ballot if concerns about finances are not addressed by the government.
The NUT believes that additional spending needed to tackle teacher recruitment problems means real-terms cuts to school funding could rise above the 8 per cent reduction predicted by the Institute for Fiscal Studies.
Thousands of teachers walked out on July 5 in protest over workload, terms and conditions and funding, and Courtney told Schools Week that union bosses would not need to seek another mandate from their members for further action.
"Realistically, I can envisage further strikes this term," he said, "but the union is making decisions as we go on that.
"We have a mandate for strike action from the summer, and we have to see what the government is saying about the consultation on the national funding formula and in the autumn statement."
Courtney said he believed there was a "campaign to be fought" over school funding, which the government claims to have protected on a per-pupil basis, but unions claim is threatened by rising costs.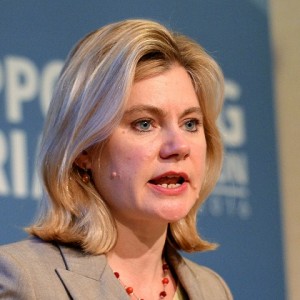 "I am hearing from headteachers about other costs rising faster than inflation, especially to do with teacher recruitment difficulties," he said, adding that schools were being forced to spend more on advertising and agency fees, while new starters were able to demand higher starting salaries because of a shortage of candidates.
An investigation by Schools Week found schools are paying tens of thousands of pounds to recruitment agencies in a bid to get new teachers.
Courtney said he had enjoyed a "good conversation" with the new education secretary Justine Greening shortly after her appointment, and he hoped the new government would decide that "investing in education is a good idea".
Courtney enjoyed a "good conversation" with the new education secretary after her appointment
The NUT will seek the backing of other unions for further strikes at the Trades Union Congress annual meet later this month, but it will be up to each organisation to ballot their members on industrial action.
The National Association of Head Teachers (NAHT), Association of Teachers and Lecturers (ATL) and National Association of Schoolmasters and Union of Women Teachers (NASUWT) will also submit motions for debate at the event in Brighton, and are likely to work together to get them passed.
For a full TUC Congress preview, see edition 76 of Schools Week, out next Friday.
The Department for Education has been approached for comment.
Save